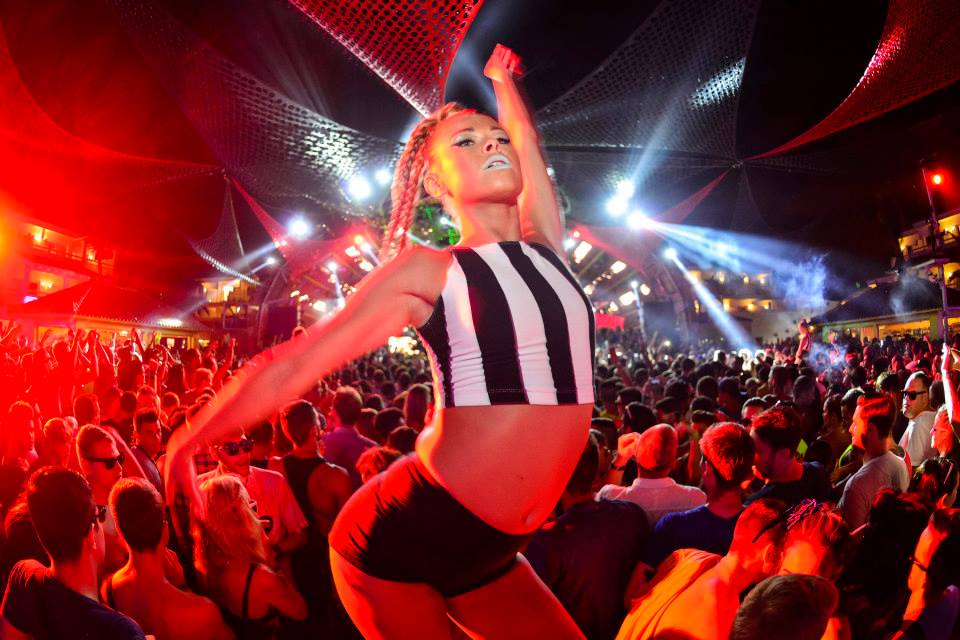 Used + Abused Easter Sunday Exclusive!
Following on from its inaugural Ibiza season last summer, Loco Dice's Used + Abused party comes to the UK for the very first time on Easter Sunday, with an exclusive event at London's cavernous O2 Academy Brixton. Set to be one of the biggest nights of underground house and techno taking place in the UK this year, Used + Abused looks ready to take the Capital by storm. Having welcomed thousands of clubbers to Playa D'en Bossa's open air clubbing phenomenon Ushuaia, it's now South London's turn as we reveal the very special guests joining Loco Dice on the night.
Making his Used & Abused debut at Brixton Academy and returning to London for this first time in six months is the unmistakeable Chris Liebing. Recognised as a global ambassador of techno, Chris has become a customary fixture at many of the world's leading clubs and festivals. As well as being the driving force behind his label CLR and a monthly podcast with over 200,000 listeners, his own productions are remixes are a continuous inspiration to those around him. The addition of Chris and his carefully manipulated power-driven sound adds a whole new level of performance to the night.
Paul Ritch's name already resonates around the globe. His productions, full of life and energy, have elevated him to worldwide recognition. Paul quickly became internationally renowned back in 2007 after his debut on the Resopal Schallware imprint and hasn't looked back since. Paul's success continued to grow in 2013 as he returned to Drumcode with his 'Run Baby Run' EP reaching #7 in Beatport's Techno Top 100 chart, accompanied by appearances at Elrow, Timewarp and Detroit Electronic Music Festival to name just a few.
Thanks to his curious and creative ideas combined with his classically trained past, Guti has composed one of the most finely tuned live shows in electronic music. Having spent the past twelve months establishing himself amongst South America's most in demand electronic producers, Guti returns to London for Used + Abused. With a soundtrack catering to all four corners of the globe, Guti's worldwide interest is clear having visited Australia, Thailand, Russia, Italy, Austria and Switzerland in December alone.
When it comes to the underground circuit, Tobi Neumann is certainly no stranger. His deep sets balances on the fine, almost unrecognizable line between the tangible worlds of house and techno and develop their own hypnotic gravity in the process. Tobi is often found providing the soundtrack to Europe's most dominant dance floors including regular visits to Watergate (Berlin) and Cocoon (Amnesia). With one of the most impressive and extensive back catalogue of productions and remixes around, we are delighted to welcome Tobi to Used + Abused London.
Still in his early twenties, UK based DJ and producer wAFF has an undeniable talent that far exceeds his years. Since bursting onto the scene with his 'Rainbows' EP on Hot Creations, which included Ibiza anthem 'Jo Johnson', wAFF has gained himself a substantial presence within the underground scene. Recognised by Pete Tong as one his carefully selected 'Future Stars', 2013 witnessed wAFF become an Ibiza favourite as he regularly performed at Paradise (DC-10) and VIVa Warriors (Sankeys).
Firmly schooled in the history of dance music, Matthew Styles' productions carry a uniqueness that refuse to be pinned down in time or space.
His regular appearances across the years at premier clubs such as Fabric, Watergate, Harry Klein and Panorama Bar show that Matthew's priority has always been intrinsically placed with servicing the needs of the dancefloor. This can come through his diverse and far reaching DJ sets or in his productions for labels such as Dinky's Horizontal, Diamonds and Pearls, Ostgut Ton, Cocoon and Rekids.
From Fabric to Playa Del Carmen via Ibiza and back to Berlin, Hector is evolving into one of the most exciting producers on the planet, effortlessly balancing his will to experiment with the founding spirit of house. Performing sets bursting with energy, precision and soul, Hector mixes up styles and moods which nod to house music's past but also fully engages its future. 2013 has seen the Mexican born DJ continue to grow as an artist individually with frequent performances at Used & Abused (Ushuaia), Enter (Space), and Flying Circus (Privilege).
EASTER SUNDAY 20TH APRIL 2014
O2 BRIXTON ACADEMY, LONDON
WWW.USEDANDABUSEDLONDON.COM
LOCO DICE
CHRIS LIEBING
PAUL RITCH [LIVE] · GUTI [LIVE]
TOBI NEUMANN · WAFF
MATTHEW STYLES · HECTOR