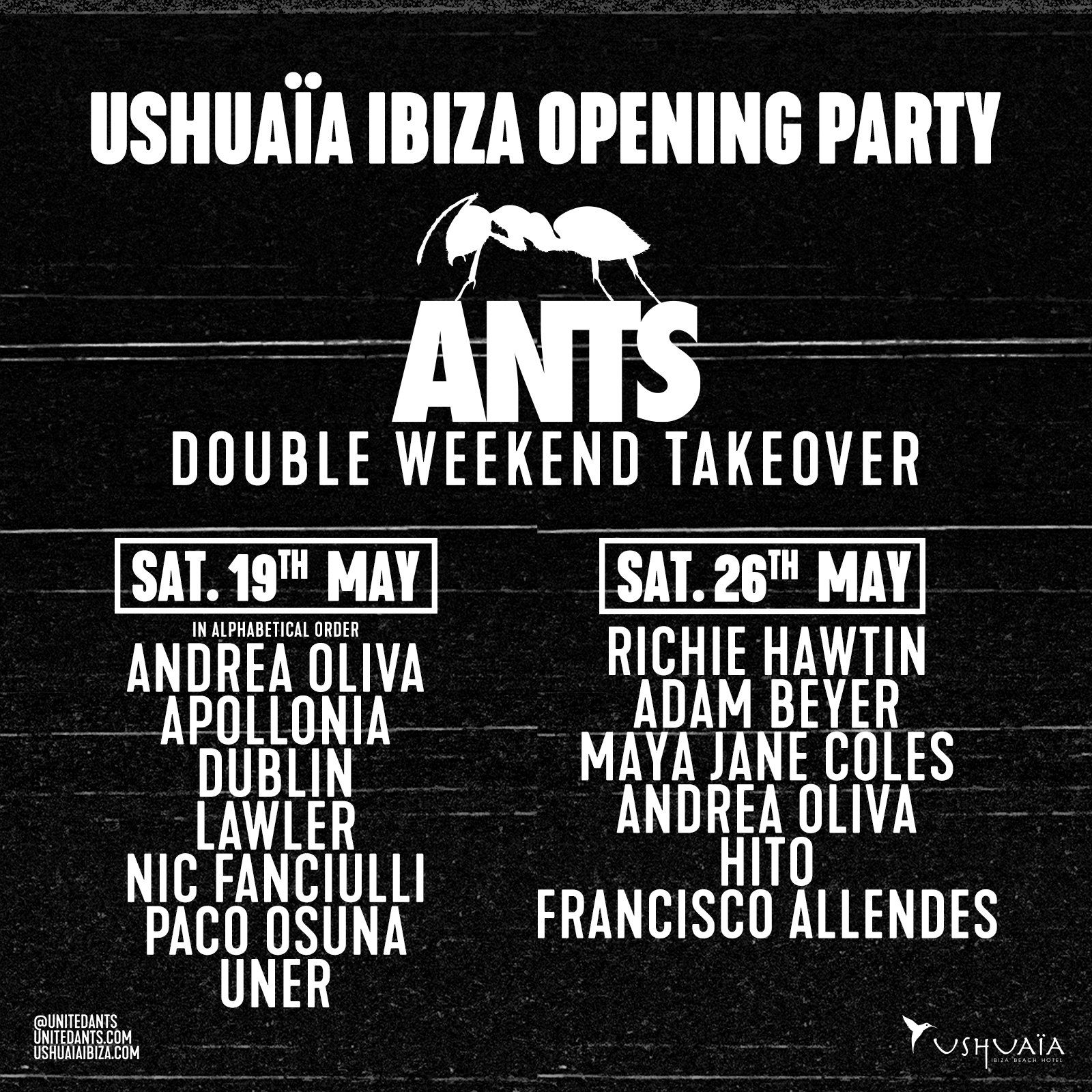 Ushuaïa Ibiza Announces Lineup For Ants Double Weekend Takeover Opening Party
With the end of winter finally in sight and thoughts turning to warmer climes, long hazy summer days and even hotter nights, Ushuaïa Ibiza have revealed the official dates & lineup for its huge two dates Opening Party 2018.
Always guaranteed to be one of the most sought after tickets on the island, Ushuaïa Ibiza have announced a mammoth ANTS takeover to take place across two weekends to kick off the 2018 season in true Ushuaïa style.
The first day of Ushuaïa Ibiza's official opening party will take place on Saturday 19th May. Kicking off at 2pm, the lineup will feature a huge array of ANTS finest talent with the following names all set to take their place behind Ushuaïa's poolside decks: (in alphabetical order) Andrea Oliva, Apollonia, Dublin, Lawler, Nic Fanciulli, Paco Osuna and UNER.
The second weekend of the Ushuaïa opening party will take place the following Saturday 26th May with yet another huge lineup with Richie Hawtin, Adam Beyer, Maya Jane Coles, Andrea Oliva, Hito and Francisco Allendes all on hand to make this one of the biggest opening parties the island has ever seen.

One of the world's most dynamic underground parties for the past five years ANTS has been taking over Ushuaïa Ibiza every Saturday. The Colony dances and grows organically around the front of house DJ booth and the pool. As the sun sets the action moves to the iconic main stage in a breathtaking transition of spectacular pyrotechnics and awe-inspiring light shows that keep the party going right up to midnight. Each crowd-centric show is equipped with spell-binding production and an incredible energy that reveals the true essence of a party in Ibiza.
The jewel in Ibiza's party crown, Ushuaïa's dedication to bringing the most sought after names to their world-famous stage ensures they remain one step ahead of the game every time. Renowned around the world for their legendary poolside parties, year after year the team behind the no 1 open air clubs raises the bar ever higher, with an impeccable lineup of superstar residents from across the electronic music spectrum playing from daytime to midnight. Not just content with packing their nights full of world class artists, Ushuaïa constantly outdoes itself when it comes to phenomenal productions, with a different theme each night of the week. With incredible pyrotechnics, mind-blowing lighting, visuals and a state of the art soundsystem, not to mention the beautifully designed gogo costumes, as well as an abundance of confetti, streamers and CO2, it's no surprise people flock from around the world for the inimitable Ushuaïa experience.
TICKETS: https://ushuaiaibiza.com/YfGJOR
ROOMS: www.ushuaiabeachhotel.com
USHUAÏA IBIZA BEACH HOTEL
PLAYA D'EN BOSSA, IBIZA
SATURDAY, MAY 19TH OPENING PARTY LINEUP
Andrea Oliva / Apollonia / Dublin / Lawler / Nic Fanciulli / Paco Osuna / UNER
SATURDAY, MAY 26TH OPENING PARTY LINEUP
Richie Hawtin / Adam Beyer / Maya Jane Coles / Andrea Oliva / Hito / Francisco Allendes
TICKETS ON SALE NOW: http://ushuaiaibiza.com/YfGJOR