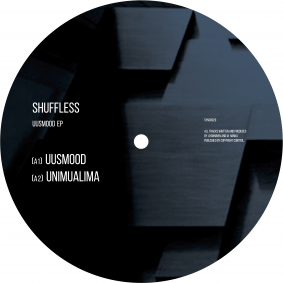 Shuffless - Uusmood EP
he Paris based record store and distribution service Syncrophone's own imprint returns this February with the 'Uusmood' EP from Finnish duo Shuffless.
Shuffless is the duo formed of Jukka Hänninen & Mika Hanka who deliver live, improvised electronica recorded in their studio in the forests of middle-Finland on an array of hardware equipment, here we see the duo offer up their latest material in the shape of 'Uusmood', translated to 'new mood' and set for release via the highly respected Parisian bastion of all things house and Techno, Syncrophone's in house imprint. Shuffless "The magic appears when the basic foundation of the track is formed. Then everything else just comes together without thinking or planning. The parts are recorded right away, live, first take.''
Title-track 'Uusmood' kicks off the package, setting the tone with rock-sturdy analogue rhythms, billowing pad sequences and a snaking bass groove before 'Unimaulima' tips the focus over to broken electro-tinged drums, growling bass tones and ethereal atmospherics.
'Liveelektro' follows and as the name would suggest sees the duo explore their love of the deeper end of Electro via crunchy drums, airy strings and acid-tinged arpeggios to breath taking effect across its seven dynamically unfolding minutes. '3h18' then rounds out the package on a deeper tip with loose shuffled percussion, heady arp sequences and the pairs signature encapsulating, atmospheric feel tucked into the depths of the composition.
Shuffless' 'Uusmood' EP is out on Syncrophone 5th February 2018.
Tracklist:
1. Uusmood
2. Unimualima
3. Livelektro
4. 3h18