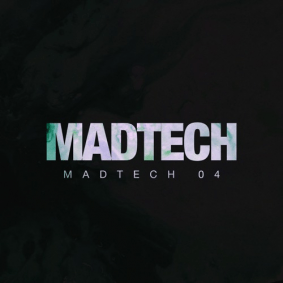 Various Artists – Madtech 04
Madtech welcome Ray Mono, Kreutziger, Devv and Azteca to the label in late May to mark the latest in their self-titled Various Artist series.
A staple name for many within the industry, Madtech Record's evolution since its formation back in 2012 as a sister label to the legendary Madhouse has seen the label welcome a host of top tier names to its catalogue whilst also helping to establish a number of those artists at the beginning of their careers. Having recently welcomed Cologne native DJOKO to deliver his impressive 'Alpha Centauri' EP in March, the Madtech Records camp look to keep things moving here with fresh new V/A installment in their self-titled series as they reveal fresh cuts from four of the genres most exciting up-and-coming talents.
Liverpool based artist Ray Mono kicks things of with the snaking and shuffling 'Dissonance Theory' as loose, rolling polyrhythms work alongside a warm bassline, before handing over to Amsterdam duo Kreutziger who employ dubby chords, punchy kicks and crisp hats throughout 'After Midnight'. Next, Canadian talent Devv's 'What's So Different' takes the energy up a notch, fusing skipping percussion beneath resonant chord and pad swells, before handing over to Romanian DJ / producer Azteca as he closes out the package with a restrained, smooth blend of bumping sub-bass and well worked drum arrangements.
Madtech 04 drops on Madtech Records on 24th May 2019.
DJ Support: Carlo Lio, Traumer, Archie Hamilton, Seb Zito, Roger Gerressen, East End Dubs, Rich NxT, David Gtronic, Mihai Popoviciu & more…
Tracklist
 1.             Ray Mono – Dissonance Theory
2.              Kreutziger – After Midnight
3.              Devv – What's So Different
4.              Azteca – Psychedelic Consciousness