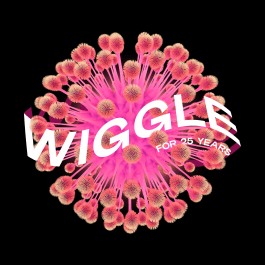 Various Artists – Wiggle for 25 years
Wiggle celebrate 25 years and relaunch their iconic label with a releases including co-founders Terry Francis, Nathan Coles and Eddie Richards, as well as artists like D'julz, Silverlining, Mihai Popoviciu, and more.
Wiggle, the brand that gave birth to tech house a sound that would power London's club music community for over two decades, step out into their 25th year. To mark reaching this remarkable milestone, they plan a special series of international shows and a relaunch of their influential and ground- breaking label.
Taking their lead directly from the acid house movement, Nathan Coles and Terry Francis first brought Wiggle to life through their heady warehouse parties in the early 90s. Unpretentious to their core, these now infamous events were known for their purist values – community and a sound that booms. Finding a kindred spirit in another new face, Eddie Richards became resident from early sets and was a key figure from the off.
Through these now historic events, they embedded themselves deeply into London's party landscape becoming familiar faces at cultural institution fabric. Heavily based around the core residents they also invited parts of the international and local world from Richie Hawtin, Jay Tripwire, Abe Duque and Colin Dale.
It's about here we acknowledge Wiggle's place in originating tech house – working the hard line swagger of techno together with the depth of feeling of house, matching rhythm with bass in a way perfectly aligned with endless hours of hedonism. This potent mix of musical elements is where it began and set down the foundation of London's rich and active community of DJs, producers and ravers.
The label was founded close to the parties, sourcing tracks from the ever building network of producers who were fuelling this sound evolution. For their 25th birthday you can expect to see the Wiggle imprint coming back in strength – returning to cutting tracks to wax and continuing its legacy for bass fuelled party sounds and pioneering new talent.
2019 will see a series of international shows and a quarterly London party bringing the much loved Wiggle sensibilities and celebrate what they are and have achieved. Already hosting a hot ticket 25th Birthday party on the 20th of April at one of London's burning new party spaces The Cause, their annual Brighton Music Conference Birthday party on the 26th of April, hosting a 25 years of Wiggle tent at Alfresco festival in May and lots more exciting gigs worldwide in the pipeline.
'Wiggle for 25 years' drops on 31st May 2019.
Digital Tracklist
Tigerskin – Heathrow Circle
Dachshund – Take
Gideon Jackson – Destination Rise
Ollie Drummond – Bats In A Cave
Joseph S Joyce – Sunday Evening Doodle
Corrie – Hidden Reaction
Jay Tripwire – Zero Mustard
Pure Science – I Wanna Do Something
Terry Francis – Get Over Yourself
Daniel Poli – Funny Valentine dub
D'julz – Random 9
Dexter – Fantasia
Mihai Popoviciu – Flexing Muscles
Dub Taylor – T2
Marco Resmann – Lost
Nathan Coles, David Coker – Brain Fried
Eddie Richards – Othersound
Silverlining – Industry feat. Natamiq
Vinyl Sampler Tracklist (Four tracks only)
Daniel Poli – Funny Valentine dub
Dub Taylor – T2
Corrie – Hidden Reaction
Mihai Popoviciu – Flexing Muscles
Wiggle celebrate 25 years at The Cause in London on 20th April: