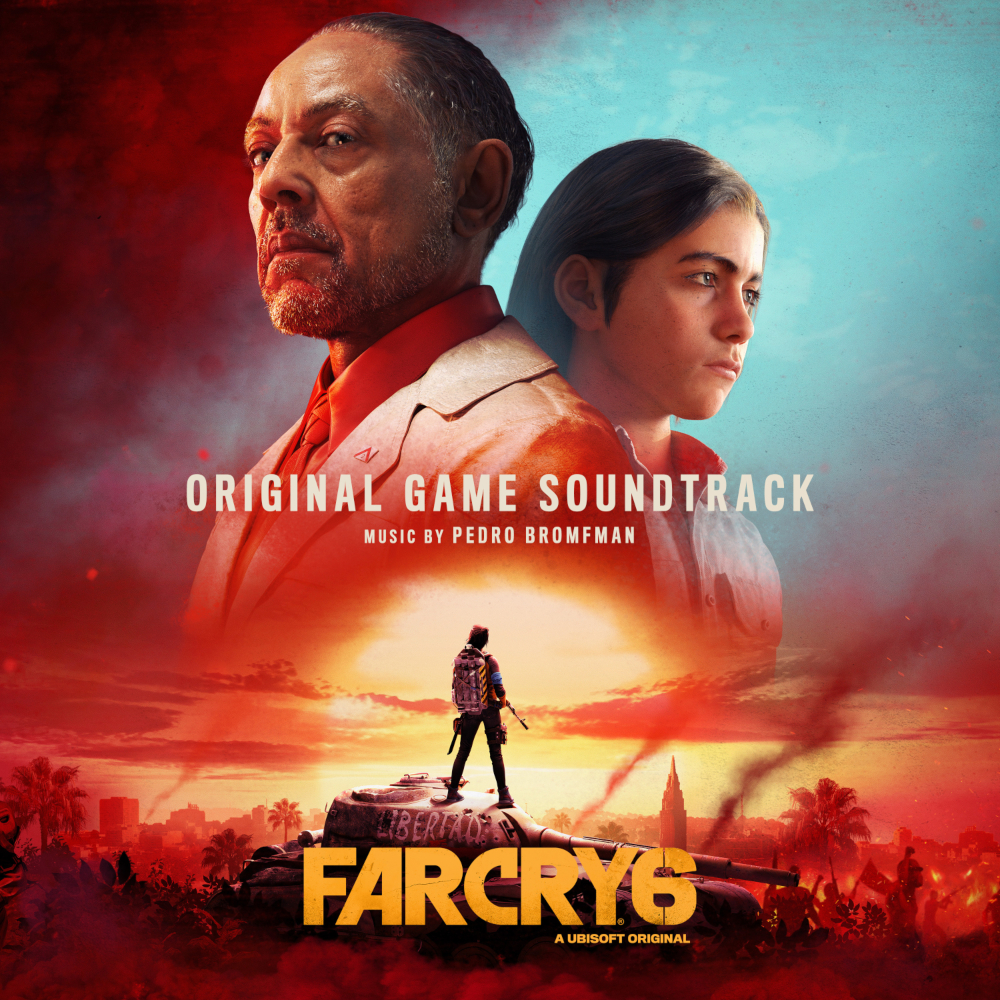 Video Game Publisher Ubisoft REVEALS Far Cry® 6 (Original Game Soundtrack) Album
Leading creator, publisher and distributor of interactive entertainment and services, Ubisoft has released  Far Cry ® 6 (Original Game Soundtrack) composed by award-winning Pedro Bromfman on the 30th September via Ubisoft Music. On the LP, listeners will find the enthralling song, 'Libertad'. The 21-track album accompanies the highly-anticipated action-adventure first-person shooter video game starring Breaking Bad's Giancarlo Esposito which will be released on the 7th of October. Composer Pedro Bromfman is primarily known for having scored 2014's RoboCop (for which he won the ASCAP Award), three seasons of music for the Netflix series Narcos, the EPIX feature documentary Deep Web (narrated by Keanu Reeves). Other creations include music for Elite Squad and Elite Squad II, the highest-grossing film in Brazil's box office history, The Story Of Us with Morgan Freeman. 
Born and raised in Rio de Janeiro, Pedro Bromfman is currently based in California. The composer has received support from a variety of publications for his work, including NY Times, Complex, Billboard, GQ Taiwan, Hollywood Reporter, Buzzfeed, Billboard, NME and Decider. Pedro Bromfman has also received significant support from his fans, with his play count sitting at just under 20 million across platforms. Most recently, Pedro has scored the feature film The Blackout. With a sound that sits closely to the likes of Hans Zimmer, Ólafur Arnalds, Sigur Rós and even Mogwai, it's easy to see why he's quickly gaining recognition. 
Beyond the mists of tall mountains and rolling seas, there lies Yara, a fictional tropical paradise frozen in time in the heart of the Caribbean. It's here that adventure calls to your heart and soul: where you have the power to reshape the destinies of both yourself and the people in the island. Pedro Bromfman highlights the Latin and Caribbean elements found within Yara while pairing them with modern electronic-classical compositions in the theatrical soundtrack for Far Cry 6. 'Libertad'  is a powerful melody, full of beauty and longing created to highlight the anthemic struggle for freedom both young and old face.
Speaking of the creation of the album, Pedro Bromfman tells us: "The album is based on a very modern score, drenched in lush soundscapes, driving percussion, processed organic instruments and a ton of synthesizers. We tried to capture the soul of Yara, and its characters, by rooting the score on traditional Latin American and Caribbean music, while being completely free to experiment with contemporary sounds, elements and techniques, in hopes of creating something very fresh and unique. The score for Far Cry 6 overflows with distinctive, haunting melodies and character themes, accompanying and further immersing the players in their amazing journey through Yara. A journey full of beauty, violence, adrenaline and passion.'"
About Far Cry 6
Far Cry® 6 is an open-world first-person shooter that plunges players into the heart of a modern-day guerrilla revolution. On the island of Yara, President Antón Castillo vows to restore his nation to its former glory while grooming his son Diego to follow in his footsteps. Yet paradise comes at a cost and enriching his country means subjugating those who don't follow his vision. Players will take up the cause to liberate Yara as Dani Rojas, a local military drop out, who tries to escape the island but ends up joining revolutionary group, Libertad. As Dani, players will experience the adrenaline and chaos of "resolver" guerrilla Far Cry® style, with the most creative and innovative arsenal yet.
About Ubisoft
Ubisoft is a leading creator, publisher and distributor of interactive entertainment and services, with a rich portfolio of world-renowned brands, including Assassin's Creed, Far Cry, For Honor, Just Dance, Watch Dogs, and Tom Clancy's video game series including Ghost Recon®, Rainbow Six and The Division. The teams throughout Ubisoft's worldwide network of studios and business offices are committed to delivering original and memorable gaming experiences across all popular platforms, including consoles, mobile phones, tablets and PCs. For the 2020-21 fiscal year, Ubisoft generated net bookings of €2,241 million. To learn more, please visit: www.ubisoftgroup.com.