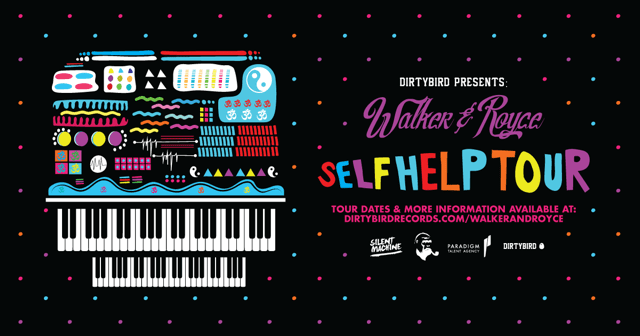 Walker & Royce Announce International Dirtybird Tour
Dirtybird's newest golden boys, Walker & Royce, announce today they will set out on a border-hopping fall tour sponsored by the label, in celebration of their highly-anticipated debut album Self Help. With an arsenal of new tracks set to redefine modern house and an out-there style crafted by party-ready, yet emotional sound design the duo step to the tour with the rhythm of a new generation in tow.
Walker & Royce's Self Help tour kicks off with a run of European dates in Estonia, Hanover, Hamburg, and Berlin, plus a stop at the iconic dancefloor of Egg London. They then turn their sights back towards home as they set down with their Birds in Arms at Claude VonStroke's Dirtybird Campout which had been a testing ground for some of the album's most well known hits. From there, Walker & Royce begin their victory lap around North America, with key gigs at Los Angeles' Sound, Portland's Jade, San Francisco's Halycon, Chicago's Spybar, Detroit's Grasshopper Underground, San Diego's Bang Bang, and many more blow out dates with others to be announced on the horizon.
Walker & Royce have also released a visual portrayal of the lead single off their album and one of the most notable tracks of summer 2017 'Take Me To Your Leader'. The music video portrays the outrageous antics and deep sense of storytelling shared by themselves and vocal collaborator and longtime friend Dance With White Girls. Watch here:
It is this interconnection between producer and vocalist that helps to create the deep sense of emotion felt throughout the release. By giving up the bedrock of song structure to the creative process of the vocalist, Walker & Royce explore a selfless and diversely passionate style of production known by few. Their journey is one defined by such relationships and this album stands as a culmination of the highs and lows shared along the way.
Self Help puts forth a career-defining debut album – an immensely clever project that lures listeners in with club-ready grooves only to leave them in contemplation. Walker & Royce invite you to get lost in the flowing constructs of their imagination while they search for the constantly evolving remedy of Self Help.
Walker & Royce Self Help Tour Dates
9/15 – Eleven Club, Tallinn, Estonia
9/16 – WEIDENDAMM, Hanover, Germany
9/22 – Waagenbau, Hamburg, Germany
9/23 – Platform, Shrewsbury, UK
9/30 – Egg, London, UK
10/1 – Kater Blau, Berlin, Germany
10/7 – Dirtybird Campout, Bradley, CA
10/14 – Halcyon, Portland, OR
10/19 – HiFi Club, Calgary, Canada
10/20 – 9910, Edmonton, Canada
10/21 – MIA, Vancouver, Canada
10/28 – 1UP, Reno, NV
11/11 – Spybar, Chicago, IL
11/16 – Grasshopper Underground, Detroit, MI
11/18 – Birdhouse @ Goldrush Festival, Chandler, AZ
11/20 – Billy's Lounge, Grand Rapids, MI
12/1 – The Nines, Dallas, TX
12/8 – Sound Nightclub, Los Angeles, CA
12/9 – Kingdom, Austin, TX
12/23 – Bang Bang, San Diego, CA
More Dates To Be Announced