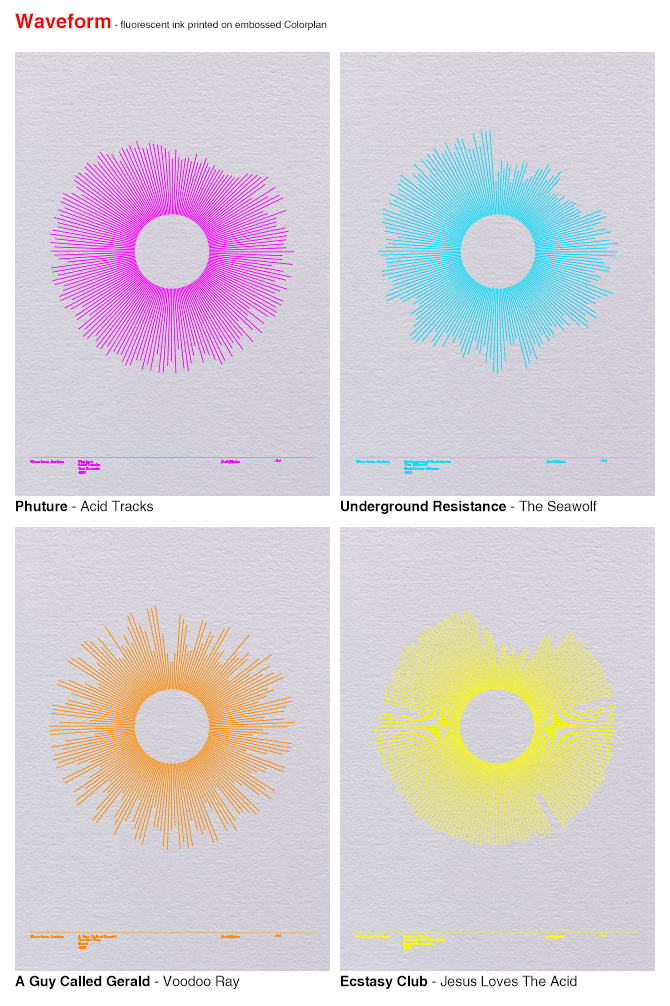 Waveform: Second Wave
Alex Szabo-Haslam visualises 29 pieces of iconic electronic music
Not everyone has the ability to visualise music but with Waveform: Second Wave, UK graphic designer, Alex Szabo-Haslam, has done exactly that.
In incredible painstaking detail, Alex has taken the waveforms of 30 iconic tracks from across the entire electronic music spectrum and recreated them as a series of stunning pieces of art. Taking the familiar visual waveform that every piece of music creates and platforms like Soundcloud popularise, Alex has given each track a new lease of life and a literal twist of graphic genius.
This Kickstarter project is the second in the Waveform series with the first edition gaining support from the likes of Surgeon, LFO, Luke Vibert and Mark Archer of Altern8. The second series expands on the first edition's focus on niche acid and techno tracks by presenting 29 prints across seven sets that take in classic rave, acid, techno, disco, modern electronic and a special set dedicated to electronic music from his home city of Sheffield, UK.
Think Jeff Mills, The Prodigy, Dave Clarke, Donna Summer, Baby D, Bronski Beat, Leftfield, Human League, LFO, Chemical Brothers, Daft Punk, New Order, Orbital, Massive Attack and A Guy Called Gerald and you're on the right lines.
Each individual print costs just £30 and there are limited discounted options for purchasing multiple prints. The project has already smashed Alex's original target of £1000 and has gained the public support of 2 Bad Mice, Stephen Mallinder of Cabaret Voltaire, Martyn Ware of Heaven 17, Surgeon and Mark Archer.
Upon the project's end date of 12th September, the prints will no longer be available anywhere on the planet so if you want to grab one of these stunning limited edition, hand-crafted silkscreen printed pieces – you'd better act fast.

Waveform: Second Wave is on Kickstarter
http://kck.st/1opmvgc