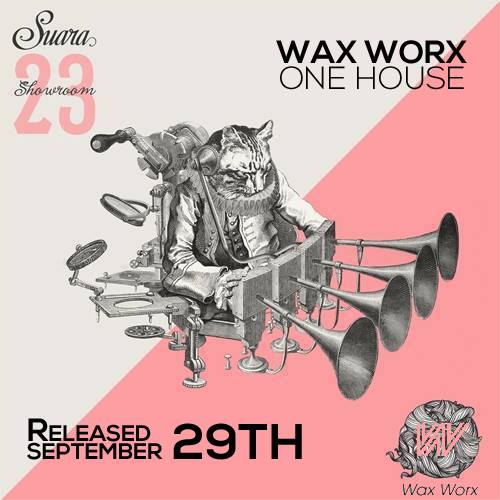 Wax Worx – One House
From the underground of the UK's South coast a new talent is emerging. Shining a bright light of rave spirit with the sound of his Brighton beats, the name Wax Worx is being whispered amongst his peers, and the word on the street is the force is strong with this DJ.

The well travelled aspiring Jedi set up camp in the mountains of Canada to practice his art, bringing peace, love and harmony to the raves of yesteryear, conducting the people to the magic of his forceful beats. Before long the pyramids of Egypt called him to their Ministry of Sound, where he made his home their preaching his music to the adoring masses.

Love then called him back to his native land, and under different pseudonyms he played to worldwide fans weekly, while burying himself in making the house beats that would make the world dance, in unity, as one again…"You only need One House" he said.

Sweeping through the hearts of real and ideal people everywhere, the support shot his 1st official release 'Dirty Looks' to No.7 in the House chart on Traxsource, his 2nd, the garagey 'Ghetto Dusk' to No.6 and none other than Shadow Child dropped his exclusive VIP booty

Meanwhile a DJ king of now, the burger loving Eats Everything got wind of Wax Worx and heard One House. "That's a f**king belter" he said "I'm going to hammer this bad boy" and that he did. Taking it in his musical weaponry that very week to tear up the dance floor at Story in Miami, Amnesia in Ibiza, Summer Solstice Festival in Iceland, and home to Glastonbury 2014, where he played it as his penultimate track LIVE to millions, at peak time Friday night, on BBC Radio 1.


Riding on the power of love the Wax Worx journey then took him to the hallowed land of Black Rock City, in the Nevada desert. At Burning Man on the Root Society stage he unleashed One House and a set full of personal edits, and the fire started to burn.
Returning on a spiritual high, along came the kitty express and the big Spanish cat Coyu came calling. Snapping up One House for his prestigious label Suara after road testing it at Booom Ibiza to a rave reception of arms in the air. 29th September now sees the most eagerly anticipated house anthem of the underground released to the worldwide masses, and from the grave you'll hear a voice you might recognise preach his fundamental message and Wax Worx 'One House' will be born…