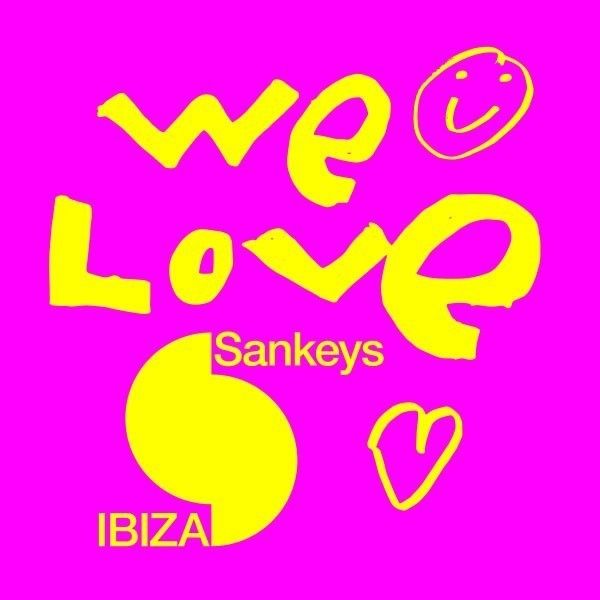 WE LOVE COMPLETES THE 7 WONDERS OF SANKEYS IBIZA
It's with huge excitement that we can finally announce Sankeys Ibiza's last remaining residency. Joining the fastest growing club on the island, every Wednesday for 15 weeks this summer, will be Darren Hughes's legendary party, We Love.

From the 17th of June through to the 23rd of September, We Love will be providing Sankeys Ibiza with some of the best musical acts the island will see this summer.

David Vincent explains just how much it means to him to be working with the true pioneer that is Darren Hughes on this epic new venture:
"The word 'legend" in dance music has been used too frequently and not correctly recently on various people but I know Darren Hughes is one of them. Darren was a huge inspiration in my younger university days and one of the few people I truly admired for that Acid House Old School mentality of promoting. If you ever watched Darren back in the Cream Full On days he always was on the dance floor "watching the crowd and partying, similar to the David Vincent mentality now, I wonder where I got that from? Anyway it is an amazing final piece to the Sankeys Ibiza Jigsaw to get Darren and We Love join our ever growing team, Wednesdays are now "We Love Sankeys".

After 17 years at Space, Darren Hughes tells us how he feels about the move:
"After 17 years of We Love on Sunday's at Space" it is now time for the next phase in the genesis of We Love, and that it is to be now moving on to work alongside David Vincent & Danny Whittle (Danny being an integral part of Home at Space/We Love Space right at the very beginning back in 1999 ), and I cannot wait for this to start, We Love Sankeys… Yes we do!!!"
Buy Special Early Bird Tickets for We Love at €25 here: http://www.essentialibiza.com/ibiza-club-tickets/we-love
FREE HEALTH & TRAVEL INSURANCE
And if that wasn't enough news, here is some more! Now that all seven nights have been confirmed, the Ibiza club is offering free health and travel insurance to all Ibiza clubbers who purchase a seven day pass to Sankeys Ibiza during the summer. Sankeys have teamed up with Assure-U Ltd, a large independent healthcare broker handling both UK and International healthcare globally. Sankeys Ibiza confirmed this deal after David Vincent suffered serious health problems in Ibiza earlier this year. After a successful operation the reality of not having proper health insurance in place made quite a hit. After this happened, David wanted to give something back to the loyal customers of Sankeys Ibiza and show how important it is to have proper health insurance when travelling abroad.

For just 99 euros you can buy this ticket exclusively through Skiddle. It will include 7 consecutive nights entry to Sankeys Ibiza running from the 12th of June through to the 4th October. Offer closes on the 18th May. Package will include free classic health/travel insurance. T&C's apply.