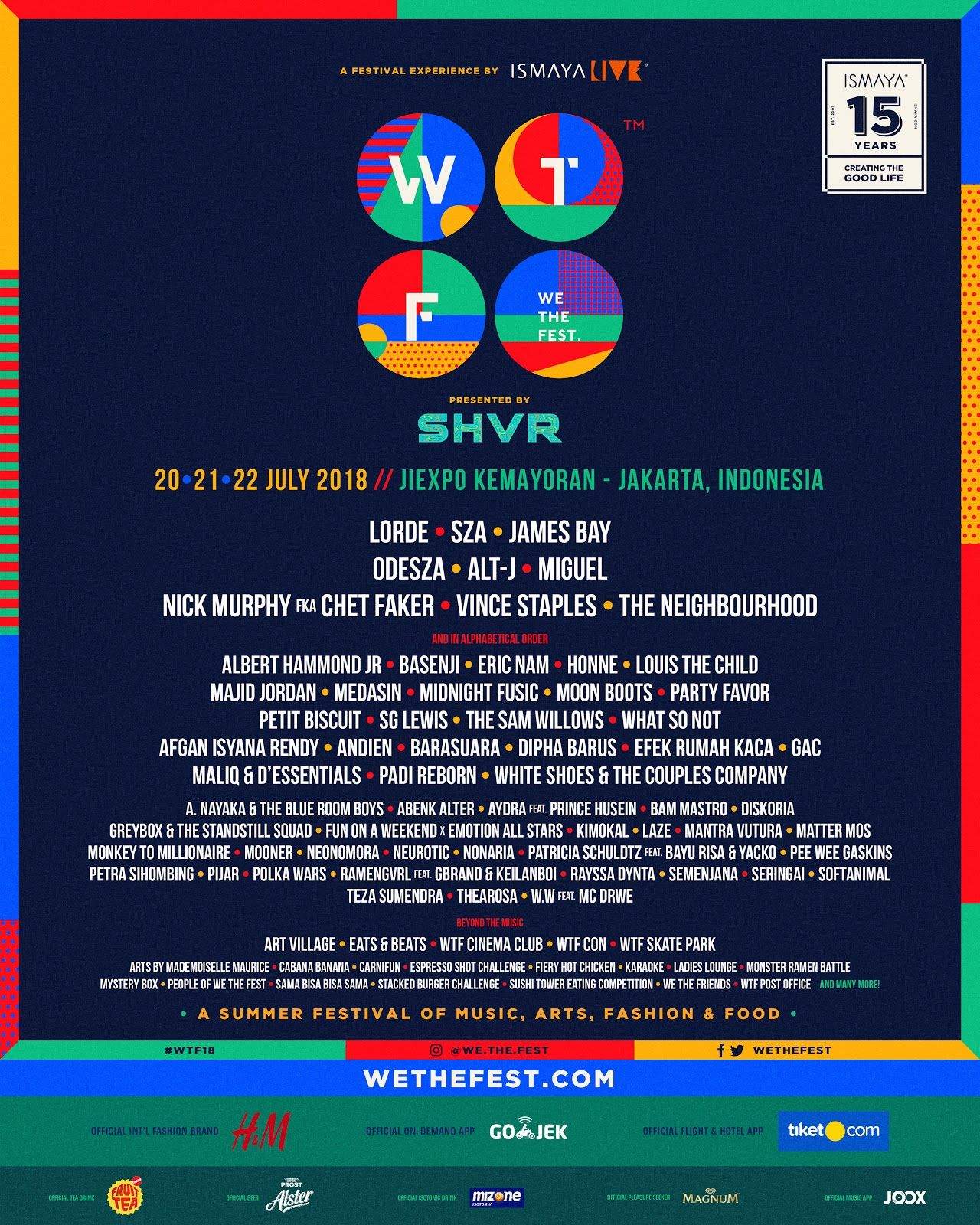 We The Fest announce Phase 3
With just over a month to go until We The Fest 2018 descends on Indonesia's bustling capital, festival organisers Ismaya Live have decided to throw even more major acts into the mix as the countdown to day one begins.
First up is Grammy-award winning singer, songwriter, and producer Miguel. Having spent a handful of years behind the scenes honing his craft before his breakthrough LP Kaleidoscope in 2012, Miguel now sits at the very top of the pop/R&B crossover genre. With frequent comparisons made between him and Prince, and collaborations with Dua Lipa, J. Cole, A$AP Rocky and Hudson Mohawke to name but a few, this vocal talent is not to be missed. Adding some support are Malaysian rock four-piece Midnight Fusic and sibling pop group The Sam Willows, who are both set to bring their distant sound to downtown Jakarta.
SZA, one of the hottest alt-R&B singers to come out of the States in recent years, is also added to the WTF billing today. Her major label debut, 2017's Ctrl, helped SZA score the most nominations of any female act at the 2018 Grammy awards. Appearances on records from Rihanna to Cardi B as well as on Kendrick Lamar's 'All The Stars' – which featured in Marvel's blockbuster 'Black Panther' – has made SZA one of the most in demand acts currently on the circuit. She joins Aussie talent and future classic mainstay, Basenji, and one of the most exciting names new to the EDM scene, Party Favor.
Flying the flag for South Korea is pop-sensation, Eric Nam. Named GQ Korea's 2016 'Man Of The Year', and boasting Timberland and Gallant cosigns, this one of a kind act will be lighting up the WTF stage in July. He joins Jakarta's very own Dipha Barus, who has turned heads with his electrifying DJ sets and up-beat future-bass productions, keep eyes peeled for his special guests. Another homegrown talent set to grace the stage is Andien, whose smooth and soulful voice has struck a chord with fans in Indonesia and further afield, catch her laid-back and jazzy set at this year's event along with another 10 local acts set to perform.
Vince Staples caps off the international headliners and adds further weight to WTF's already stellar lineup. With a background in hip-hop, Staples has carved a career out of music that is both socially aware and at times lyrically comical. His latest LP, Big Fish Theory, touches on dance and electronic influences and is sure to go down a treat with the WTF crowd.
For those that are after a quick break from the music, more activations have been announced today including WTF Con, where a spectacular array of artists, brands, and exhibitions will be on show to the crowds. New also this year will be a WTF Skate Park for those that fancy showing off their tricks and flips, as well as a WTF Post Office where punters will be able to make their own designer stamps and postcards to send home to loved ones. This year's event will also see a return of WTF Cinema Club, a place to chill out and watch new and old films in a cosy and comfy environment.
With a star-studded lineup and with tickets selling fast, We The Fest 2018 is now within touching distance. To avoid disappointment buy tickets at www.wethefest.com/ticket, and stay up to date with all things new via socials