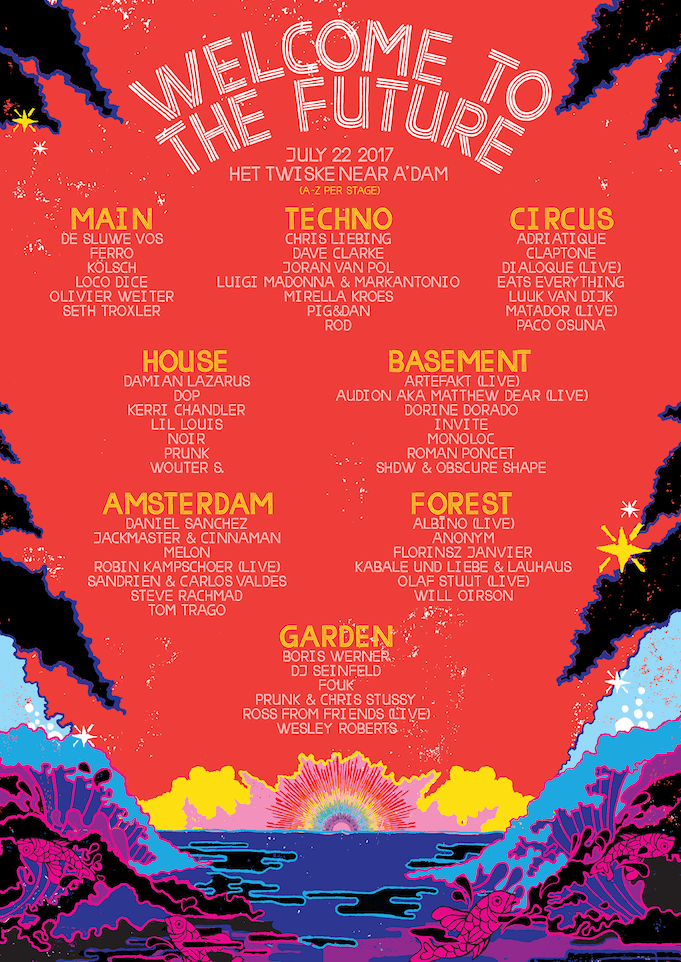 Welcome To The Future Festival announces 2017 lineup
This year's Welcome to the Future Festival will take place on July 22nd, 2017. For the eleventh year in a row, Het Twiske's mesmerising nature reserve––just outside of Amsterdam––will host one of the Dutch summer's most extraordinary house & techno events. Headliners include Loco Dice, Chris Liebing, Seth Troxler, Dave Clarke and Damian Lazarus.
"This is the future, and everyone's invited!" Welcome to the Future founder Gert van Veen explains the vision he had for his very first parties in 1991, when house and techno had only just reached the European mainland. A lot has changed since then: electronic music culture has become a worldwide phenomenon, and Welcome to the Future Festival has blossomed into one of Holland's most popular festivals. But this original vision of inclusiveness and innovation has always stayed at its core.
A festival is nothing without the people, they are part of the artwork. It's what the Germans call a Gesamtkunstwerk. This comprehensive approach makes Welcome to the Future Festival feel more like a family gathering––of both the artists and their dedicated crowd. Uniting on the dancefloor, they exemplify a movement, that cherishes values like positivity, togetherness and freedom of expression.
Welcome to the Future family members include some of house and techno's most relevant DJs and live-acts. Household names like Loco Dice, Chris Liebing, Seth Troxler, Dave Clarke, Kölsch, Damian Lazarus, Kerri Chandler and Lil Louis are among those headlining the eight stages. And, as always, the Dutch scene is strongly represented, with names like Tom Trago, Steve Rachmad, ROD, De Sluwe Vos, Joran van Pol and Wouter S.
Both on the house and the techno side, there are new sounds to be discovered. The addition of the eighth stage, Basement, allows further exploration into the deepest realms of techno, with artists like Artefakt, Monoloc and Audion aka. Matthew Dear (live). And two of lo-fi house's most remarkable names are set to bring the heat at the Garden: Dj Seinfeld and Ross From Friends (live).
Not to mention all the other amazing talent taking to the stage. And sustainability, of course. With its leave no trace philosophy, organic food and free water bars, Welcome to the Future is in the top ten greenest festivals in the world.
This is the future, and everyone is invited. Be sure to join the gathering, July 22nd. Tickets on sale now at http://tickets.welcometothefuture.nl
22 JULY 2017
HET TWISKE, NEAR AMSTERDAM
www.welcometothefuture.nl
LINEUP (A-Z BY STAGE)
MAIN
De Sluwe Vos
Ferro
Kölsch
Loco Dice
Olivier Weiter
Seth Troxler
TECHNO
Chris Liebing
Dave Clarke
Joran van Pol
Luigi Madonna & Markantonio
Mirella Kroes
Pig&Dan
Rod
HOUSE
Damian Lazarus
dOP
Kerri Chandler
Lil Louis
Noir
Prunk
Wouter S.
CIRCUS
Adriatique
Claptone
Dialoque (Live)
Eats Everything
Luuk van Dijk
Matador (Live)
Paco Osuna
AMSTERDAM
Daniel Sanchez
Jackmaster & Cinnaman
Melon
Robin Kampschoer (Live)
Sandrien & Carlos Valdes
Steve Rachmad
Tom Trago
BASEMENT
Artefakt (Live)
Audion AKA Matthew Dear (Live)
Dorine Dorado
Invite
Monoloc
Roman Poncet
SHDW & Obscure Shape
GARDEN
Boris Werner
Dj Seinfeld
Fouk
Prunk & Chris Stussy
Ross From Friends (Live)
Wesley Roberts
FOREST
Albīno (Live)
Anonym
Florinsz Janvier
Kabale und Liebe & Lauhaus
Olaf Stuut (Live)
Will Oirson
MORE INFO
Website www.welcometothefuture.nl
Ticket shop tickets.welcometothefuture.nl
Facebook page www.facebook.com/welcometothefuture
Facebook event www.facebook.com/events/599339273502387/
Instagram www.instagram.com/welcometothefuturefestival/