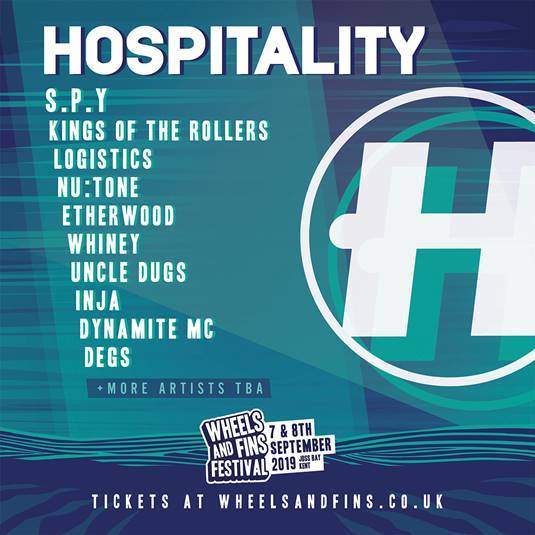 Wheels and Fins Festival Announces Hospitality Takeover
On Saturday 7th September, the beach-side weekender situated at Kent's beautiful Joss Bay in Broadstairs (near Margate) will feature, drum'n'bass superstars S.P.Y, Kings Of The Rollers, Logistics, Nu:Tone, Etherwood, Whiney, Uncle Dugs, Inja, Dynamite MC and Degs.
Wheels and Fins Festival (7-8th September 2019) has announced the first wave of talent to play at the seventh edition of its boutique, beachside event, at the stunning Joss Bay in East Kent. The iconic and pioneering drum'n'bass label, Hospital Records, will bring its biggest hitters as its hosts the festival's dance tent on Saturday 7th September featuring S.P.Y, Kings Of The Rollers, Logistics, Nu:Tone, Etherwood, Whiney, Uncle Dugs, Inja, Dynamite MC and Degs. With an eclectic mix of music and entertainment including internationally acclaimed live acts, leading electronic DJs, the best pro-skateboarders, and beach-based activities such as yoga, surfing and paddle boarding, Wheels and Fins Festival is an intimate, coastal event not to be missed. Various ticket and camping options are available from www.wheelsandfins.co.uk with an adult weekend ticket costing just £75.
Wheels and Fins is a hidden gem in the UK festival calendar. It's one of very few where guests can sunbathe, dance and camp by the sea at a breathtaking location just 90 minutes from central London. 10,000 revellers are expected to turn out for 2019 for this eclectic mix of action sports, outdoor activities for all ages, and world-class music acts appearing over three impressive stages. Past guests include The Libertines, Sister Bliss (Faithless), Feeder, High Contrast, Sub Focus, Example, Friction, Camo & Krooked, Kideko and many more. Check out the2018 after movie where over 80 acts performed.
The Hospitality Takeover in 'The Bunker' dance tent at Wheels and Fins 2019 is a special event for drum'n'bass fans. The seminal label has been at the heart of the scene since 1996 and continues to define the genre with renowned artists and groundbreaking releases.
Hospitality brings a mix of long-time legends, fresh new faces, and key MCs to Wheels and Fins, guaranteed to ramp up the energy. First up is Brazilian S.P.Y whose stellar releases have bagged him a Drum'n'Bass Arena Award for Best Album ('What The Future Holds'), Radio 1 airplay from Annie Mac and a prestigious Essential Mix for Pete Tong. Then come the Kings Of The Rollers collective who have risen to the top thanks to their pioneering new take on the genre, with debut single 'Burnt Ends' pulling in support from bonafide drum'n'bass legends, Doc Scott, Randall, Friction and more.
Label mainstay Logistics is set to smash up the dancefloor at Wheels and Fins with his vast catalogue of releases, alongside brother Nu:Tone who is one of the most highly respected producers in the scene, with LTJ Buken and Sub Focus busting his tunes. Etherwood joins the bill with his beautiful and unique production style, as well as MC and rapper Degs who mixes the styles that very few can. Completing the Hospitality Takeover are the serene sounds ofWhiney, Rinse FM's Uncle Dugs, the MC of choice by many Hospital Records' artists, Inja, and the world-class talents of Dynamite MC.
With its heady-mix of top-notch live music, DJs and unique entertainment, including the best pro-skateboarders in the UK Mini Ramp Champs, Wheels and Fins has a lot to offer, and it's exceeding good value. Tickets come in a variety of packages to suit different tastes and budgets. Adult day tickets start from £40, weekend tickets from £75, or opt for a VIP experience with access to the VIP area, private bar and luxury toilets from £80 for the day or £150 for the weekend. Add an extra £20 to any ticket and glamp in style with striking ocean views of Joss Bay. Children's tickets are also available starting from £6 for the day or £12 for weekend. For full ticket options and information on payment plans, visit www.wheelsandfins.co.uk.
Wheels and Fins Festival is unlike any other music festival in the UK. From the daring action-sports shows, the sea facing main stage, extensive beach activities such as SUP Racing and surf competitions, plus mouthwatering street food, it truly is a destination for those seeking an alternative festival experience.
Further line up announcements for the festival's live music stage, dance tent and emerging talent stage will be made over the coming weeks. Follow Wheels and Fins Festival on Facebook for all the latest news and updateswww.facebook.com/wheelsandfins.
EVENT INFO
Wheels & Fins Festival
Joss Bay Beach, Broadstairs, Kent, CT10 3PG
Saturday 7th – Sunday 8th September 2019
Tickets: available from www.wheelsandfins.co.uk/tickets
2019 LINE UP SO FAR…
Hospitality Takeover: S.P.Y, Kings Of The Rollers, Logistics, Nu:Tone, Etherwood, Whiney, Uncle Dugs, Inja, Dynamite MC, Degs.
LINKS
www.wheelsandfins.co.uk
www.facebook.com/wheelsandfins
www.twitter.com/wheelsandfinsuk
www.instagram.com/wheelsandfins