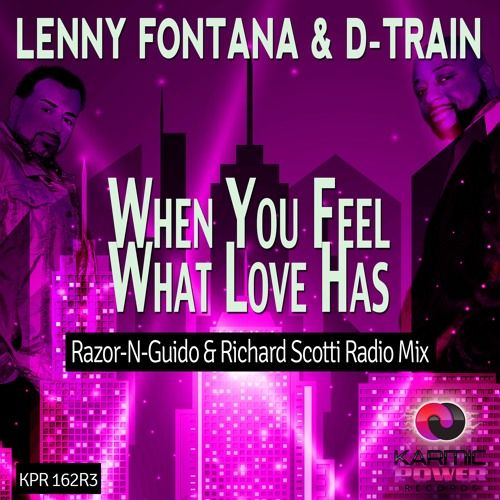 Lenny Fontana & D-Train - When You Feel What Love Has (Razor-N-Guido & Richard Scotti Remix)
Lenny Fontana is known for his top 10 UK Crossover Hit under the name Powerhouse Feat. Duane Harden.
D-Train the vocalist who is known for his huge hits "Keep On" and "Your The One For Me" team together to come with this massive track When You Feel What Love Has. This electronic remix is super hot and mixed with fire by Razor-N-Guido & Richard Scotti.
BIOGRAPHY LENNY FONTANA:
Lenny Fontana has been on the house music scene for more than 20 years as a DJ Producer & Remixer and since 2013 Owner of Karmic Power Records. Born and raised in the "Melting Pot" of New York City, which has proven to be a constant creative influence on his fresh sounds, playing a major contribution that led to Lenny's worldwide recognition.
His productions have crossed commercially worldwide and some have become classics.
He is best known for #11 on UK Pop Chart with Powerhouse feat. Duane Harden "What You Need", #17 UK Pop Chart Lenny Fontana & DJ Shorty "Chocolate Sensation" and many other chart hits. Lenny has played in the famous Studio 54 NYC, The Shelter, The Underground, Wildpitch, Ministry of Sound, Club Yellow, Club Gold, Club Eleven, Webster Hall, Space Ibiza, Amnesia and many popular clubs around the world.
He was the first American DJ to play in Pacha Ibiza and in Dubai…..
BIOGRAPHY D-TRAIN:
Born and nurtured in Brooklyn, New York, James "D-Train" Williams began his singing career at age 6. He sang in many church choirs and school choirs.
While attending school at Erasmus High School he earned the prestigious title "D-Train" as a Defensive Tackle, football star. ("When he hits you, you felt the impact of the Train"). James' career came into play by a chance meeting, while helping out his fellow classmate the legendary Will Downing in the studio, he met producer Hubert Eaves III and the two embarked on a musical journey of Number 1 Billboard Hits.
James "D-Train" Williams gave memorable and fresh-sounding R&B/dance tracks of the early to mid-1980's. Along with Hubert Eaves III their first single, the brilliant "You're The One For Me," was released on Prelude Records in 1981.
The song hit number one on the dance chart in early 1982 and kept that position for three weeks. Their first album for Prelude was 1982's entitled "You're The One For Me." The album stormed the club charts and produced three powerhouse 12″ singles. Besides the stunning title track it also featured "Keep On" and the much-covered "Walk On By." "Music," D-Train's second album, followed in 1983 and was supported with another batch of singles: "Keep Giving Me Love," "Are You Ready For Me," and the major club smash "Music" amongst them. "Something's On Your Mind,." Followed by "Oh how I Love You Girl", top 10 R'N'B hit, "Misunderstanding" (from his debut Columbia album, "Miracles of The Heart",) "In Your Eyes", and a host of others.
Having signed to the Epic/Prelude label, they found greater success in the UK than in their home country. They enjoyed three UK Top 30 hits with "You're The One For Me" (1982), "Music, Part 1″ (1983) and "You're The One For Me (Remix)" (1985). D-Train's biggest US hit was the Billboard R&B Top 5 single, "Something's On Your Mind" (1983). James "D'Train Williams has worked with the following artists; Michael Jackson, Luther Vandross (Dance With My Father CD), Vanessa Williams ( Everlasting Love CD) Bette Midler, Cher, Mary J. Blige Cheryl Lynn, Patti Austin, Kirk Whalum, Judy Collins, Aaron Carter, Elton John (Aida CD), Clay Aikins (Christmas CD), Natalie Cole (Snowfall On The Sahara CD), and many others.
Along with singing background vocals on CD's for many outstanding artists, James D-Train Williams is one of the number one Jingle vocalists in the industry. Spots such as; Be All That You Can Be (Amy & Navy), Verizon, Kmart, Pampers, Got Milk, Cotton, AT & T, Optimum Online, New Jersey Bell, Kodak, Nescafe, Hanes, Budwiser, Home Improvement, and New York One to name a few.
James has appeared in such films as; "Keeping The Faith" with Ben Stiller, "A Walk In The Park " with Richard Gere & Winona Ryder. He is also the lead Vocalist for the television theme Pokemon, Pokemon The Movie and background vocalist for Walt Disney's "Hercules" The Movie. James continues his musical journey as an On Air Personality with Sirius Satellite Radio. He can be located on Channel 51 Heart & Soul.