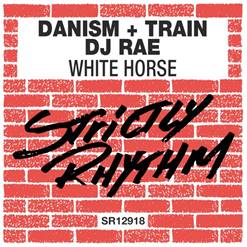 Danism + Train, DJ Rae - White Horse
UK trio Danism + Train are back with us once more, following previous excursions Hatch and the gritty vocal workout Let's Go with blondewearingblack. This time they flip the style guide for a reimagination of the seminal electronic dance classic White Horse, joined by the inimitable DJ Rae on vocals.
Since her debut with Kings Of Tomorrow, Can't Stop (Defected) , Rae has become a tour de force of the scene as a DJ, producer, songwriter and singer, releasing records on Toolroom, Armada, Spinnin' as well as several majors, and collaborating with the likes of ATFC & Duane Harden, Vanilla Ace and Lupe Fuentes.
She's also part of the ridiculously good Hacienda Classical project, performing orchestrated house classics at major venues like the Royal Albert Hall and Glastonbury. Their reworking of White Horse arrives in a straight vocal version and a minimal, looped-up Bass Dub.
https://www.facebook.com/strictlyrhythm/ @strictlyrhythm
https://www.facebook.com/agirlcalledrae @agirlcalledrae
https://www.facebook.com/danismandtrain/ @danismandtrain
https://twitter.com/strictlyrhythm @strictlyrhythm
https://twitter.com/raedjartist @raedjartist
https://twitter.com/danismandtrain @danismandtrain
https://www.instagram.com/strictlyrhythm
https://www.instagram.com/dj_rae_official
https://www.instagram.com/danismandtrain
SmartURL http://smarturl.it/SR12919D