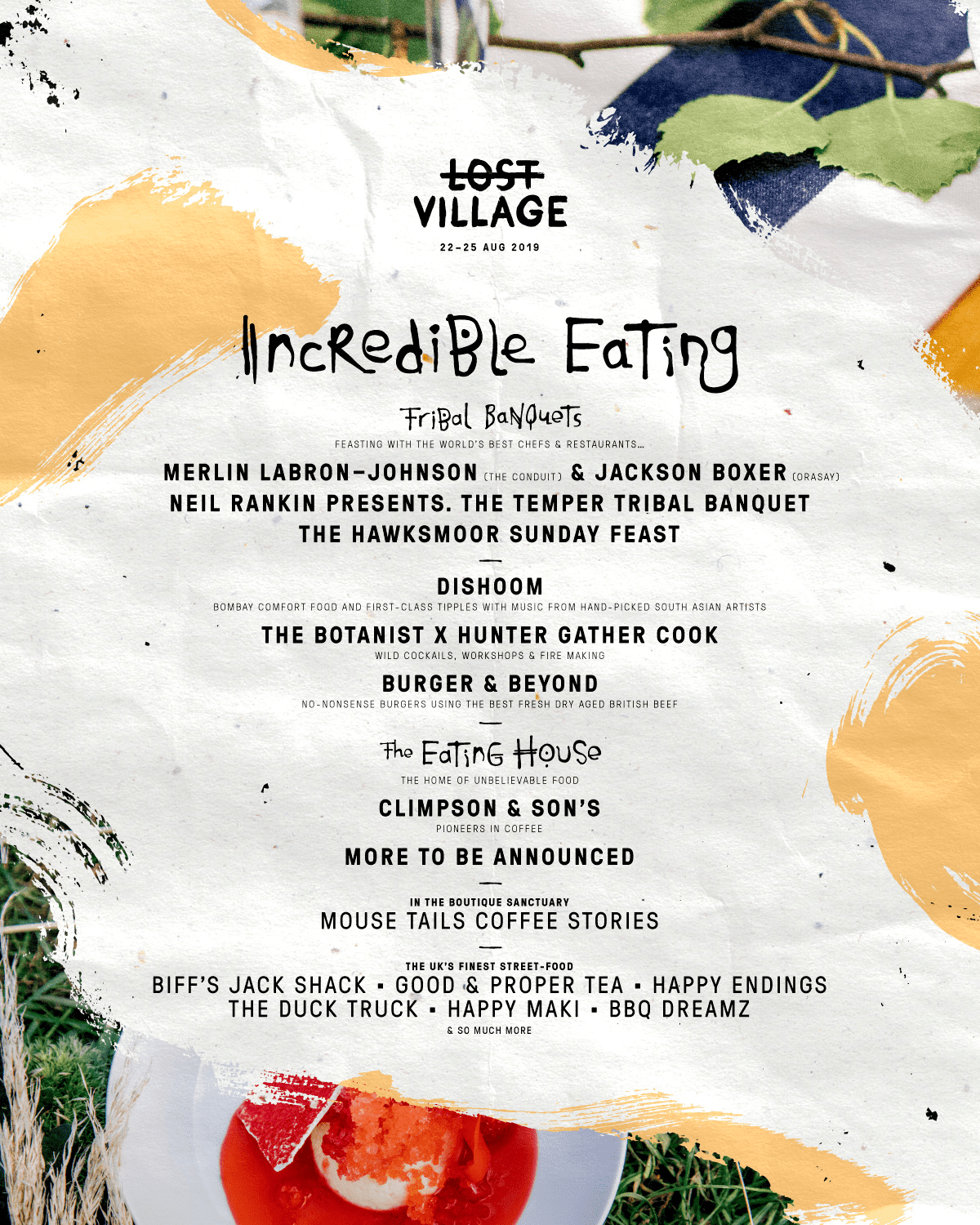 World exclusive from Dishoom, plus UK's youngest Michelin-starred chef and much more Incredible Eating announced for Lost Village this summer!
eep in the heart of the Lincolnshire countryside, hidden away from prying eyes, lies the forest of the Lost Village. Beautiful, bizarre and totally unpredictable; this four-day experience takes revellers on a journey through an abandoned world where anything is possible. As you navigate between forgotten junkyards and derelict airports, you'll unearth all manner of wonderful discoveries. Music, comedy, talks, creative workshops are all pockets of this truly surreal dreamscape.
Incredible eating sits at the very core of the Lost Village experience. Having previously welcomed the likes of Michael O'Hare, James Lowe and Tommy Banks to their infamous Tribal Banquets, a legacy of forward-thinking gastronomy has already been set in stone…
"The chefs and restaurants we're passionate about have a lot in common with the musical artists we love. They want to push the boundaries in the same way – they want to be original and defy the mainstream. This year is no exception, with Dishoom curating their one and only festival restaurant. Two of our favourite contemporary chefs, Merlin Labron-Johnson and Jackson Boxer, will be creating a special Tribal Banquet for the first time. And, of course, the legendary Hawksmoor Sunday Roast!"
–  Andy George, Co-founder of Lost Village
Lost Village 2019 will encompass a broader palette than ever before, boasting a range of debuts, previously unseen in the festival landscape.
DISHOOM CAFÉ AND BAR
After their runaway success at Lost Village 2018, Dishoom will once again be bringing their Bombay comfort food and first-class tipples to the party. For the first time, the pop-up restaurant and bar will play host to an eclectic line-up of South Asian artists and DJs, specially curated by Dishoom.
Dishoom is known for its beautifully designed cafés, warm service, first-class drinks and, of course, chef Naved Nasir's much-loved menu of Bombay comfort food – all of which will be available to hungry festival-goers. Fuelling the revelry from morning to night, Dishoom will be serving up signature dishes including the cult favourite Bacon Naan Roll at breakfast and craveable classics such as the House Black Daal, Okra Fries, and the Chicken Ruby at lunch and dinner. All accompanied by plenty of piping-hot masala chai and first-rate tipples.
"We're seriously excited about returning to Lost Village. Once again, we'll serve up some of our best-loved dishes and drinks, and everyone will be welcomed with warmth. And this year we're also incredibly proud to be bringing some super exciting South Asian artists to Lost Village and hosting them within our little Dishoom world."
–   Naved Nasir, Executive Chef at Dishoom
TRIBAL BANQUETS
The Tribal Banquets take place in a secluded spot lakeside spot. Each day welcomes a new host to curate a unique 5 course menu, with free-flowing wine and cocktails all thrown into the mix. It's a relaxed experience with spectacular food and wonderful people.
A second UK festival exclusive comes in the form of London institution Hawksmoor, who will host the Tribal Banquet on the Sunday of Lost Village, serving British grass-fed, dry-aged beef or an incredible vegetarian roast. Some would say it's the most perfect thing you could ever hope for on the last day of a festival. And they'd be right.
"We're excited to be returning to Lost Village again for the third consecutive year serving our ultimate Sunday Feast. It's a real honour to be in such great company with so many other chefs and restaurateurs that we really admire on the roster this year. We can't wait!"
–  Will Beckett, Co-founder of Hawksmoor
Merlin Labron-Johnson and Jackson Boxer are two of the finest culinary mavericks of our time – at Lost Village 2019 they will combine their talents to create one of the most exciting Tribal Banquets to date, with vegetables at the heart of the story.

Their combined history has seen Boxer open the critically acclaimed Brunswick House in Vauxhall, Orasay in Notting Hill and St Leonards in Shoreditch, whilst Labron-Johnson has opened numerous restaurants, pioneered a 'minimal waste' approach to cooking and dedicated huge amounts of time to his charitable pursuits, all whilst being one of the youngest chefs in the UK to be awarded with a Michelin star for his work at Portland. In short, this passionate and creative duo have a lot of energy – making this an unmissable pursuit for festival-goers.

The Saturday of Lost Village plays host to Neil Rankin's zero waste barbecue concept – the much-lovedTemper. Expect open-fire cooking and a Mexican inspired feasting menu, featuring cheeseburger nachos, soft-shell crab tacos and mezcal sorbet.

"The Tribal Banquets are somewhat Tardis-like. You step inside, the drinks start flowing, it's super social and very friendly. The feast unravels at a leisurely pace – all these amazing flavours, wine, cocktails – you quickly lose track of time!"
–  Jay Jameson, Co-Founder of Lost Village
THE EATING HOUSE
The Eating House is another unmissable destination for those entering the forest, showcasing exciting and innovative restaurants, all under one roof. This year's lineup consists of Jewish-inspired dishes, Mexican mavericks and coffee specialists Climpson & Son's.
A collection of meticulously curated taste-innovators complete the 2019 Lost Village food lineup, includingBurger & Beyond, Happy Endings, BBC2 Million Pound Menu winners BBQ Dreamz, vegan-sushi gurus Happy Maki and many more.
Lost Village's ever-dynamic musical line-up encompasses a worldwide palette of disco, indie, electronica, soul and beyond, this year including the likes of Little Dragon, Maribou State, Peggy Gou, Mr Scruffand Superorganism.
Beyond this you'll find comedy from the likes of Russell Kane, Chris Ramsey, Angela Barnes and more, a host of creative workshops, talks and live interviews, surreal performances and a myriad of weird and wonderful discoveries.