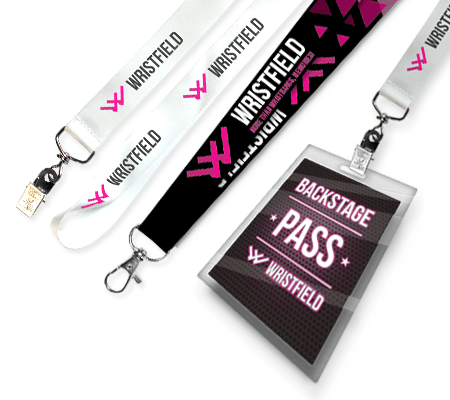 Wristfield: It's all in the wrist…
Wristbands are now much more than just a simple, non-transferable means of identification. Electronic entry, cashless payment system, and even fashion accessory are all elements that can be checked off alongside this key bit of festival kit. The Festival Buyers Guide fired some essential questions to leading supplier Wristbands24.co.uk to find out what's happening in 2017.
Why was the company created?
We saw a gap in the market to supply event organisers with high-quality products but on a limited budget, which is exactly the case for many of them. We identified how we could reduce production costs but maintain a high standard, enabling us to offer our products at a very competitive price. We also made sure that great customer service was part of the mix from day one, and were humbled that the number of satisfied customers is continuously growing. We now have over 10 years experience in the wristband and event accessory trade, and have been available to the UK market since 2010 as Wristbands24.co.uk.
Festival wristbands are now seen as fashion accessories that are often worn for months after the event. How has that changed the way festival organisers choose their bands?
That is right, a lot of festivalgoers wear their wristband for months after the event, even if they are the cheaper Tyvek style. Fabric is much more durable, but organisers still place a major focus on security because they want to make sure the wristbands will not be transferable. Nowadays the digital printed fabric wristbands are more popular than the woven type because of the constraints of design options with the latter. Modern 4C full-colour print means that our clients can now design any artwork they want for the fabric wristbands.
What new designs or styles are available for 2017?
The radio controlled flashing fabric wristbands are growing in popularity, especially since bands like Coldplay were so heavily seen to be using the technology. We've offered it since 2016, and although it's not a cheap option it delivers spectacular results. The demand for RFID solutions is also continuing to grow, which we can supply upon request. We are planning to offer RFID wristbands as stock items from July-August 2017.
Do you offer a design service, or does an organiser need send you their artwork?
Bigger festivals have their own creative team who tend to prepare and supply the printable files with their own design, but we do offer a free design service for organisers who don't have that luxury. We have several small to medium sized festivals that began by sending us their own designs as finalised files, but who simply send us a brief along with the necessary assets and we design the wristbands for them. We have received lots of positive feedback for our creative graphic work, so we are certain that it's a part of the business that provides a crucial service for certain festivals. It goes without saying that all designs are signed off by the client before production begins.
How long does it take to prepare a festival order and when should organisers be contacting you?
As soon as possible is the simple answer! The production is done using two professional, high capacity machines that are working in full time. A typical order for 20,000-30,000 fabric wristbands can be delivered in two to three weeks, but all orders are supplied with a specific delivery deadline that is calculate based on the current workload. As the high festival season approaches the lead time can increase to three to four weeks, so the sooner an organiser contacts us the sooner they can cross this part of the event off their list.
Wristfield UK – Whiteboard from Wristfield on Vimeo.