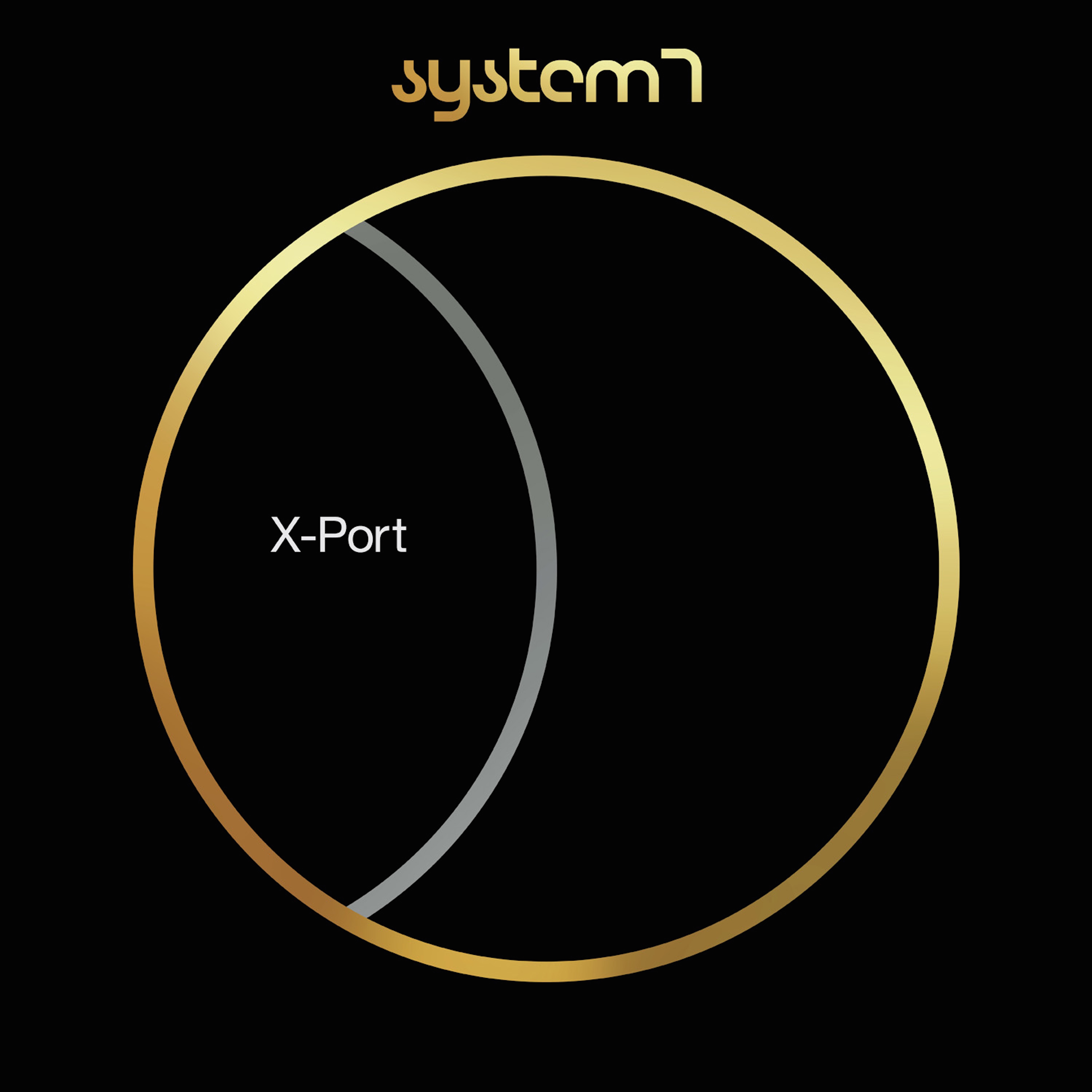 System 7 - X-Port / N-Port
'System 7 have come in for their fair share of flak and praise from the critics, but the fact is they have a durability that most dance artists would give their eye teeth for, not to mention a loyal fanbase' (Resident Advisor)
On October 16th 2015 A-Wave Records will simultaneously release the full power System 7 X-Port album and the more chilled Mirror System album titled N-Port. This ambitious release plan celebrates the 21 year anniversary of System 7's seminal Fire and Water dual albums, and presents the full range of Hillage and Giraudy's work in the field of electronica. Launching the albums with some special Live shows, System 7 and Mirror System play The Jazz Cafe in London on Wednesday October 28th and headline the Megadog 30th Anniversary event on November 21st at The Academy in Manchester.
X-Port is the new album release of System 7 – the dance music project of Steve Hillage and Miquette Giraudy, presenting a unique combination of techno and trance beats and live musicianship, and which has had a strong influence on the development of psychedelic ambient and electronic music. X-Port is the first full System 7 studio album release since 'UP' in 2011 and features collaborations with Alex Paterson (of The Orb), Japanese band Rovo (with whom System 7 released the collaborative album Phoenix Rising in 2013), and DJ/Producer James Monro.
Mirror System is the more ambient sister project to System 7, specializing in the chill-out and downtempo aspect of their sound, with deep rolling grooves, a subtle blend of rich dreamy electronics and guitar and soft minimal tech-house elements. N-Port by Mirror System features collaborations with Alex Paterson (of The Orb) and Jam El Mar (of Jam & Spoon) and also an epic Mirror System remix of Perfect Stranger's track "Free Cloud".
System 7 have forged a sound that's both identifiable and individual, which shines through on 'X-Port' especially on their collaborations with Alex Paterson (The Orb) on 'The Queen', a spacey alien Detroit inspired instrumental and on the dubbed-out ambient techno of 'Angelico Presto'. James Monro returns S7 to edgy terrain on 'Infinity Boulevard' alongside the crispy percussive tech funk of 'Chic Psychedelic (X-Port Version)'. Flanked by the potent and raw 'The Colour of Love (X-Port version)', a throbbing 7 minute epic, and the techno tour de force 'Love for the Phoenix (X-Port Version)' (loosely based on the classic System 7 track "Habibi" from the first System 7 album) which is their collaboration with Rovo, fusing chants, live violin and guitar over thumping beats. '5 Beat' picks up the pace with its charged techno beats, metallic groove and early house feeling aided by a bouncy tech bassline, segued guitar n' snarly synth lines. 'Stovepipe' stands out for its relentless unravelling beats epic that ignite and reconnects in hypnotic rhythm. 'Opal Flash', which includes a blistering Steve Hillage guitar solo, and System 7's remix of Rovo's 'Batis' present the side of System 7 that finds big success at major trance festivals such as Ozora and Boom.
'X-Port' showcases the powerful and upbeat expression of the live dancefloor energy of System 7.
Mirror System's 'N-Port' album presents a strong evolution of the deeper and more introspective side of System 7, which has a unique, dreamy, deep electronic house sound that oozes class. Featuring collaborations with Alex Paterson (of The Orb) on the rolling vibrant ambient 'spoken word' hip house deep groove 'Warn The West' and Jam El Mar (of Jam & Spoon) on the Balinese excursion 'Batu Balong', which Jam has also contributed his own winning Remix on. Jam previously collaborated with System 7 on 2 tracks on the Phoenix album, including the acclaimed 'Space Bird' track that was subsequently remixed by Dubfire.
After meeting Israeli techno-trance star Perfect Stranger (Yuli Fershat) at a festival in Panama last year, Mirror System champions his Perfect Stranger track 'Free Cloud' with their Remix which has been a staple in their Mirror System live sets for the last two years. 'Chic Psychedelic (N-Port Version)'s slinky early set/early hours tech-tinged groove gets you moving and chill out in the sonic ambient waves of the guitar-flecked 'Blue Ocean' for a real Autumn warmer. Segueing together ambient cuts and melodic tech flecked journeys, it's impossible to take your ears away from 'N-Port's sumptuous feel-good set.
System 7 continues to be one of the UK's leading Live techno lights with headline shows at festivals and events including Japan's Fuji Rock Festival and Italy's Sonica Festival this summer. From Steve's early presence in Gong and the revered ambient opus "Rainbow Dome Musick", there's a cutting experimental edge that runs through their work including championing and working early on with Detroit's Techno godfather Derrick May on the 'Mysterious Traveller' and seminal 'Fire' and 'Water' dual albums, which had a marked influence on the electronic artists that followed – check out Sheffield's Warp label for Black Dog, B12, Autechre, and AFX.
System 7's productions and DJ sets are deep and energising being firmly aimed at the dancefloor, and many of dance music's leading visionaries have collaborated and remixed their music including Richie Hawtin, A Guy Called Gerald, Carl Craig, Dubfire , Laurent Garnier and of course with The Orb on the classic 40-minute No 1 single 'Blue Room' and the first two Orb albums. And beyond dance, Steve produced the groundbreaking early 80s Simple Minds albums 'Sons & Fascination' and 'Sister Feelings Call ', which featured their classic instrumental Themes For Great Cities , which would later become a defining Balearic anthem championed by the likes of Paul Oakenfold and Danny Rampling.
Catch S7 at: www.facebook.com/System7page
The cover artwork for the N-Port / X-Port Project features the Vesica Piscis geometrical motif of two interlinked circles, which featured of some of Steve Hillage's psychedelic rock albums from his pre-System 7 days.
'X-Port' by System 7 and 'N-Port' by Mirror System albums are simultaneously released on A-Wave Records on Friday October 16th in CD and digital formats with iTunes pre-orders from 25th September.