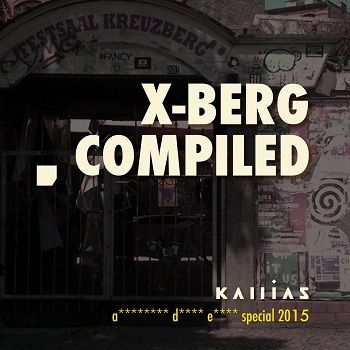 ADE Special 2015 - Xberg Compiled
Well it's time to celebrate this years ADE event taking place in Amsterdam, Netherlands from 14th to 18th October 2015. KAL 045 brings you the ultimate selection of deep house, always flirting with influences of other musical genres, so that it always stays in the family. We're going on vacation, aren't we?
Starting with the greatest flute of a flying condor the " Soul Condor" by Curry & Krawall we travel onwards by train – an "Electric Train" by Bebetta. After that we "Hold Up" and "Hold On" together with these two Kallias classics by Ante Perry & Moonbootica and Fennec & Wolf.
From there on it's getting a little bit more melancholy, but still humbing and bumping. Kallias label premiere for Frank & Friedrich with the great key house track "Drifting" and pulsating synths that not even a twin from the island could make that smooth in Leonard Bywa's "Tate".
"Craving" by Into Lala gives us that moment of thinking on the dance floor, thinking about live and singing "And I'm dancing all alone on ecstasy and why are you not here – dancing next to me!" Sad, trippin', beautiful.
A good excursion, but we gotta come back to the deeper section together with the Kallias established YOUNOTUS' "Pandora" and Daniele Di Martino's smooth remix of Toras "Jaigantic". We're moving onwards to do some heavier electronic beats joined by the Canadian Happy Medium and Clear Void resembling souly vocals on heavy tech beats in "This Is It", also to be heard in Bodega's "Brause" – we're taking a shower, aren't we?
But where are the girls? "Push It" in its Ante Perry remix, another exclusive one out of the secrets archives, forms together with Zorse and Tigons' swedish lo-fi sound a steady base. We're travelling to a country were people only eat with knifes. This is retro, isnt it?
Last track of the package resembles the wide aspects of EDM as it is the main theme of the event – we've got a great house tune, doing it a little bit deeper and moodier in a more saddened undertone – Berlinesque: "She Moves" – as made famous by Alle Farben in its Hundreds rework!
This one's our contribution for going west. Take a listen and judge for youself, we think it's worth it!