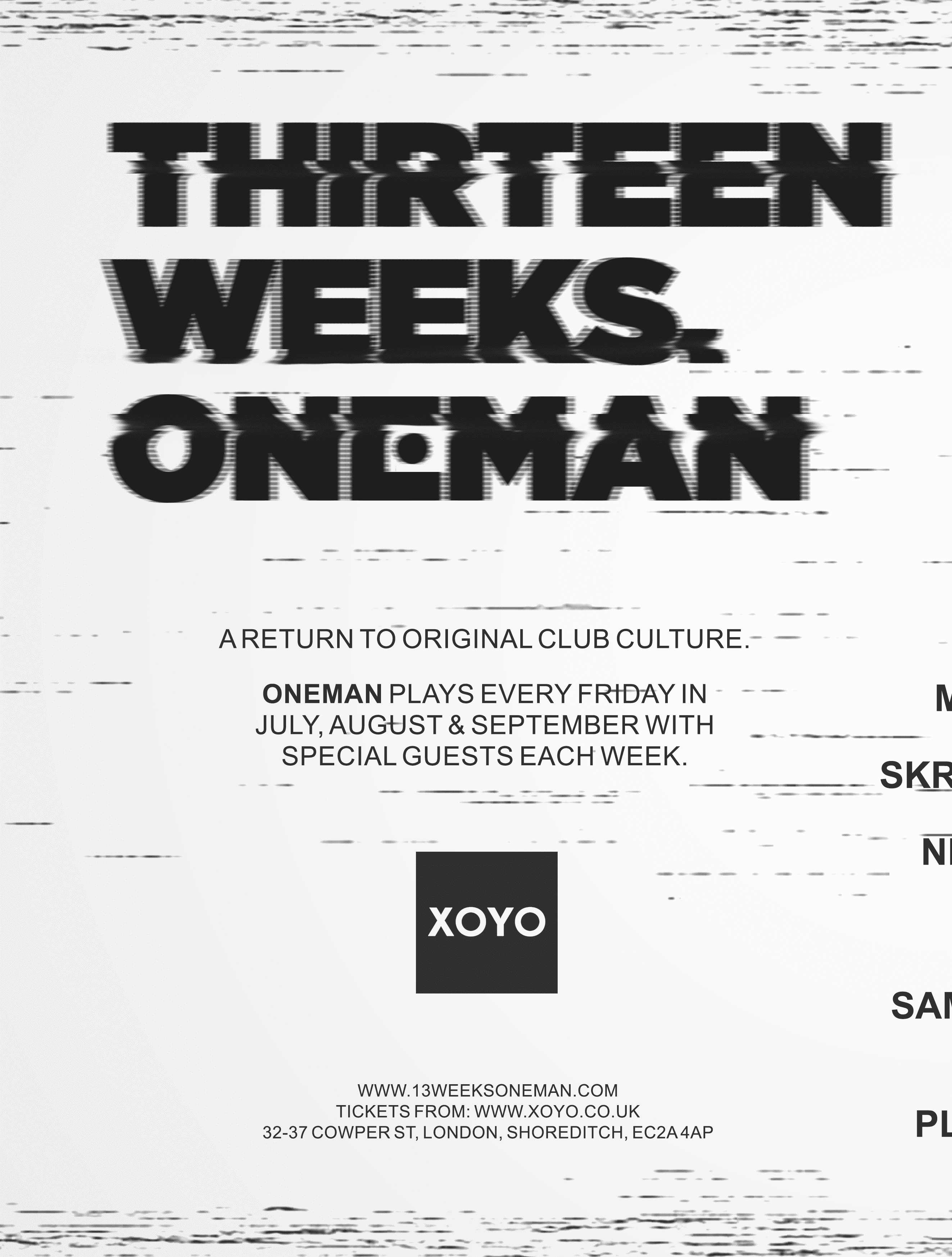 XOYO reveal their next resident: Thirteen Weeks, Oneman
Well into it's third year, XOYO's residency series has continued to deliver, so far seeing eight huge talents take on three months of consecutive Saturdays each. We recently announced that going into the second half of 2016 we would switch things up, moving the series to Friday as Tiga's successor takes over.
With that, we very proudly announce Oneman as our next resident, playing each Friday in July, August and September.
Stetham bred Steve Bishop has garnered an indisputable reputation under his Oneman moniker for his ability to synonymously blend disparate genres into hybrids that simply make you dance. Akin to his DJing style the billing for Oneman's residency is both eclectic and seamless, paying homage to his London roots.
His eight year stretch on London institution Rinse FM recently culminated in the broadcast of his four-hundredth show – a feat which cannot be understated. Reflecting his history with the station, Oneman lines-up some very special dates within his thirteen weeks with a retrospective look into four seminal genres.
Not only focused on UK-centric dance music, Oneman displays his wide-ranging musical taste as he nods towards hip hop, house and techno with Ben UFO, Just Blaze, Mount Kimbie, Giles Peterson, Skream and Artwork in session.
Friday 8th July sees Geenius, Tippa, Rosca, MA1, Donaeo and Crazy Cousins take us on a journey through UK Funky whilst Zed Bias, MJ Cole, Wookie and Todd Edwards play classic garage sets on Friday 5th August.
In an ode to dubstep, the originals; Digital Mystikz, Plastician, Youngsta and Horsepower Productions join Oneman as they take it back to celebrate genre's formative years. Originators Wiley and Slimzee come through on Friday 29th July for a grime special.
Oneman comments on his XOYO residency – "As a pure DJ this Summer's residency has been something I've been working towards for many years now. It gives me the chance to showcase some of my favourite artists and DJs that have influenced me throughout the years and to celebrate my hometown, London, the city that birthed UK Garage, Grime, Funky, Dubstep and more. I've been playing / raving at XOYO for a few years now and absolutely love the club and the staff, a family affair, so couldn't think of a better place to do this."
Find full listings below…
Thirteen Weeks, Oneman.
Friday 1st July
ONEMAN + LUNICE + HANNAH FAITH
Friday 8th July
ONEMAN PRESENTS: UK FUNKY
ONEMAN + GEENEUS & TIPPA + ROSKA + MA1 +
DONAEO + CRAZY COUSINS
Friday 15th July
ONEMAN + HITBOY + SEB CHEW
Friday 22nd July
ONEMAN + BEN UFO + KODE9
Friday 29th July
ONEMAN + WILEY & SLIMZEE + BOK BOK
Friday 5th August
ONEMAN + TODD EDWARDS + ZED BIAS + MJ COLE + WOOKIE
Friday 12th August
ONEMAN + JUST BLAZE + STWO
Friday 19th August
ONEMAN + MOUNT KIMBIE (DJ SET) + SPECIAL GUEST
Friday 26th August
ONEMAN + SKREAM & ARTWORK (CARNIVAL GARAGE SET)
Friday 2nd September
ONEMAN + NEWHAM GENERALS + CASISDEAD + SPYRO
Friday 9th September
ONEMAN + GILLES PETERSON + BENJI B
Friday 16th September
ONEMAN + SAM GELLAITRY + VIC CREEZEE B2B MARTELO
Friday 23rd September
ONEMAN + DIGITAL MYSTIKZ + PLASTICIAN +
HORSEPOWER PRODUCTIONS + YOUNGSTA + CHEF + SGT POKES