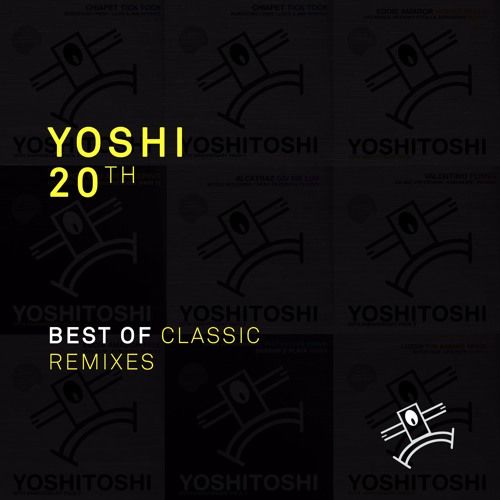 Various Artists - Yoshi 20th: Best of Classic Remixes
Few labels make it to 20 releases strong yet along 20 years old. One of them is Yoshitoshi Recordings, which this year celebrates two decades in the game. IN that time it has put out an essential selection of house and tech tunes that have found favour with both DJs and dancers. Now, to celebrate, the label has pulled together 11 top remixes and put them all on this Best of Classic Remixes selection. It also features every remix mixed together into one continuous set and is a must buy collection for proper techno fans.
There are many highlights along the way, including lots of diverse efforts that really take you from a dark back room to a more pumping main room. There are big names next to fresh stars and apparently the likes of Soul Clap, Perc and UTO Karen all turned out new remixes that will be put together for a future collection.
As for this instalment it kicks off with Robosonic's subtle but effective remix of Eddie Amador's legendary House Music tune. It is layered with rasping synths and bust sounding synths but the smooth groove rolls on unaffected. For something much bigger, the heavyweight and pumping techno roller from Nicole Moudaber is for you. It builds in bulky layers and is full of darkness.
Some former and current Minus artists then contribute remixes – Matador and Ambivalent are their names and rolling, sweeping techno is their game. The Paul Ritch remix of Westworld is a bouncy, drum led thing that barrels along with some spooky synths and haunting feelings and then CJ Jeff, Robosonic and Sharam all close out the show with various but equally vital grooves. All in all this is a great selection from a great label.