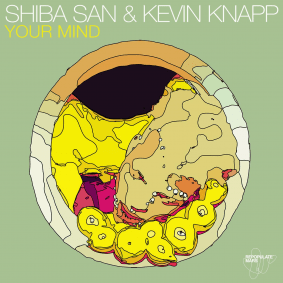 Shiba San & Kevin Knapp - Your Mind EP (Flashmob Remix)
Parisian producer Shiba San returns to Repopulate Mars alongside Hot Creations' Kevin Knapp for 'Your Mind' EP, featuring a remix from Flashmob.
Since debuting on Repopulate Mars last year, Basement Leak founder Shiba San has gone on to release via high profile labels such as Dirtybird, Kaluki and twice on Relief – including a collaboration with label founder Green Velvet. Whilst these appearances are a testament to his talent as a producer, his skills as a DJ continue to see him perform across the globe with gigs spanning New York, London, Argentina, Hawaii, Shanghai, Paris and Sydney so far this year. Pairing up with American producer Kevin Knapp, well respected for releasing on labels like Crosstown Rebels, Sola and Truesoul, the two artists collaborate for a massive outing on Lee Foss' continually impressive Repopulate Mars imprint.
Knapp's mesmerising vocals join a growling bassline and reverberating stabs to lay foundations for the moody 'Your Mind', leading into Flashmob's up-tempo remix with its tantalising melodies and pitter-patter drum sequences. Tying things together, Shiba San's solo venture 'Upside Down' blends shuffling hats with oscillating synths and echoing vocals as a rumbling low-end operates throughout.
Shiba San & Kevin Knapp 'Your Mind' EP drops on Repopulate Mars on 14th December 2018.
https://www.facebook.com/repopulatemars
https://www.facebook.com/shiba.san
https://www.facebook.com/KevinKnappMusic
Tracklist:
1. Shiba San & Kevin Knapp – Your Mind
2. Shiba San & Kevin Knapp – Your Mind (Flashmob Remix)
3. Shiba San – Upside Down