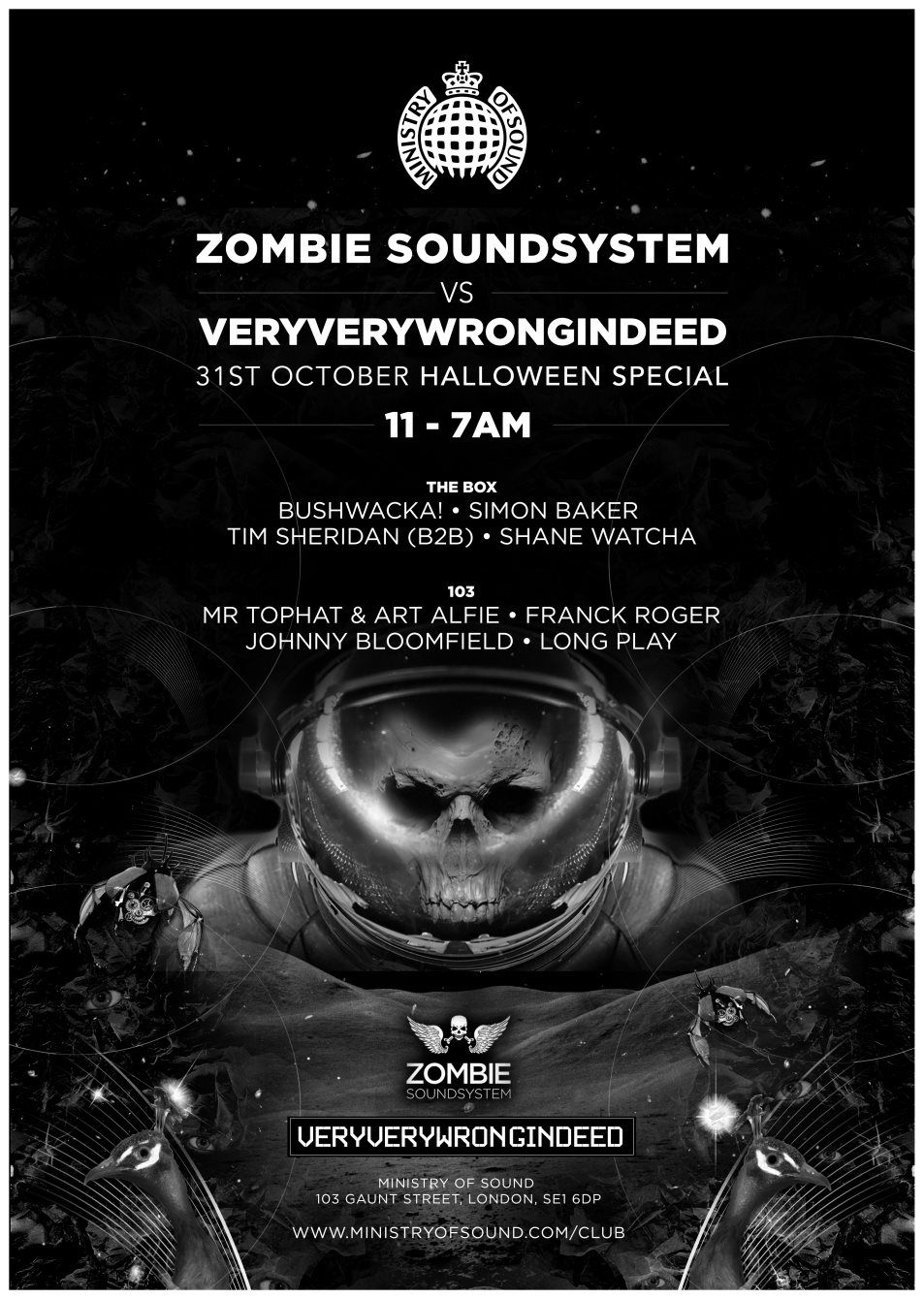 Zombie Soundsystem VS VeryVeryWrongIndeed
Hide your kids, hide your wife, because things have gone ververywrong indeed.
Headliner Bushwacka! will be terrorizing the dance floor long past the devil's hour. Worshipping an unholy mix of Tech House, Techno & Acid, Matthew 'Bushwacka' B, forged an identity for himself in the height of the Acid House explosion, giving inspiration to hundreds of ravers entranced by his boundary pushing aesthetic. He has released tracks on Get Physical, Maison D'etre, Plus 8 and more, as well as haunting the White Isle with hair-raising appearances at Cocoon, DC10 and Space.
Emerging from the gates of Hell, Simon Baker will also be wreaking havoc in The Box. Simon Baker first broke through with the writhing monster that was 'Plastik' in 2007 and continued gaining respect from press and public alike with his debut LP 'Traces' on 20:20 Vision in 2011. He has also released tracks on several labels including Cocoon, Get Physical, Kompakt, Last Night On Earth and 20:20 Vision, and more recently, Adam Beyer's Truesoul.
Awaking from their graves will be VeryVeryWrong DJs Tim Sheridan and Shane Watcha, who will be doing a back to back set sure to send shivers down the spine of the hardest of ravers. While over in 103, Mr Tophat & Art Alfie, Franck Roger, Johnny Bloomfield and LongPlay provide a horror soundtrack of House and Techno.
Now, to mark this very special occasion we're giving out 100 PRIZES on the night. So, put aside your posh frocks and Nikes, because this is a fancy dress affair. Think bearded ladies meets the Hameron.
You will be in for a chance of winning:
A winter's FREE clubbing
1 x VIP table with a bottle of Vodka
FREE event tickets
VIP upgrades on the night
A hoard of CDs and free music
Drinks tokens
T-shirts
AND MUCH, MUCH MORE…
But proceed with caution. In Ministry, no one is safe.