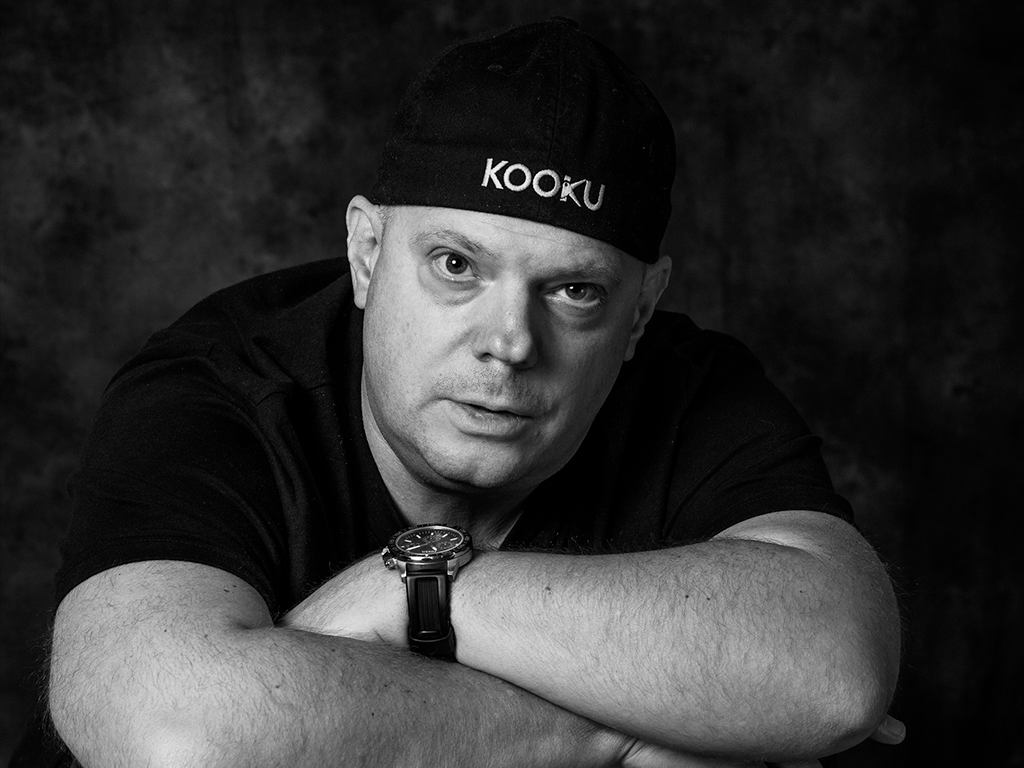 60 Seconds with Kooku
Kooku is a DJ/Producer from Northampton, UK. Despite being involved in the electronic music scene since the rave days of the 90s, Kooku only started producing during the lockdown, yet has quickly impacted the current progressive, organic, and melodic landscapes.
Fusing organic percussion with searing synth melody lines, evolving basslines, and emotional vocals, Kooku's aim is to not just be heard but felt deep in a reveler's soul.
Kooku has already enjoyed releases on labels such as Krafted, Always Music, Redwave, Resonate Together, Hexagonal, Sounds & Frequencies, and his imprints, Saline Recordings & kite.
Hi Kooku, for those don't know you, please tell us a little about yourself, where you're from and how you first got into making dance music?
Born and raised in the UK, I'm still an old school raver at heart and I finally found time and inspiration to begin producing after decades of being on the dancefloor.
Describe your sound in 5 words.
Melodic, Progressive, Organic, Soulful, Emotional.
Who or what inspires your productions?
As mentioned, the rave vibe is at the core of everything I do, even if it's not always obvious. I take inspiration from guys like Yotto, Lane8, Joris Voorn from the current era, and acts like N-Joi, Biosphere, and Empirion from my past.
What has been your most successful release?
I've had a few #1 Beatport new releases but Havasu on Krafted Digital was the most successful commercially and critically.
Your new release "nuku/jugular" has just been released on kite, tell us about this.
nuku/jugular is a continuation of the 'organic techno' of the label's first release (anubis) and is best described as organic infused melodic techno.
What was the inspiration behind the songs?
Inspiration came from tribal rhythms found in ancient music married with the rave vibes of not so ancient (even though it often feels like it!)
What are your thoughts on the current music scene?
There's a lot of noise around how unfair it is, but there's a strange equality in that too. It's tough for everyone! As with all art, greatness often comes from adversity. I find a lot of hope in that.
What's your studio set up like?
V simple. I have an iMac with Ableton Live, and an Akai MPK mini. Most of my work is done in the box.
When in the studio, do you have any rituals or bad habits?
My only real ritual is everything starts with the groove. I always write my leads after my groove, not the other way around. As for bad habits – staying at it for 8hours+ straight isn't good for the ears!
Have you any plans to make an album?
Yes! In fact, my debut album will be released later this year on Always Music.
What was the last gig you played and how was it?
Haven't really played a gig yet, just guest mixes on radio shows, but dates booked in for later in the summer.
<iframe width="100%" height="166" scrolling="no" frameborder="no" allow="autoplay" src="https://w.soundcloud.com/player/?url=https%3A//api.soundcloud.com/tracks/1479641392&color=%23ff5500&auto_play=false&hide_related=false&show_comments=true&show_user=true&show_reposts=false&show_teaser=true"></iframe><div style="font-size: 10px; color: #cccccc;line-break: anywhere;word-break: normal;overflow: hidden;white-space: nowrap;text-overflow: ellipsis; font-family: Interstate,Lucida Grande,Lucida Sans Unicode,Lucida Sans,Garuda,Verdana,Tahoma,sans-serif;font-weight: 100;"><a href="https://soundcloud.com/kookumusic" title="Kooku" style="color: #cccccc; text-decoration: none;">Kooku</a> · <a href="https://soundcloud.com/kookumusic/4beat-mix-kooku" title="4Beat Mix" style="color: #cccccc; text-decoration: none;">4Beat Mix</a></div>
Where are you most looking forward to playing this summer?
Local events in my hometown mainly, possibly a festival.
Who are you current top 5 producers? And your top 5 record labels?
Lane8, Yotto, Joris Voorn, Township Rebellion, Alley SA, Spectrum, UV, Melody of the Soul, This Never Happened, Anjunadeep.
When you're not making music, what do you do to chill out?
Spend time with my children. Watch and write sci-fi. Spin some tunes. Get out in nature.
What else is in the pipeline for Kooku?
Several more releases on kite as well developing my other label, Saline Recordings. Hopefully some more gigs, a few collaborations with other talented artists, and a holiday in Greece. Woohoo!
"nuku/jugular" is out on kite.
https://www.beatport.com/release/nukujugular/4079633
Follow Kooku
https://www.instagram.com/kookumusic/
https://www.facebook.com/kookumu/
https://soundcloud.com/kookumusic
https://open.spotify.com/artist/4xA9kQ6UjYBKFjDE8TSz2o