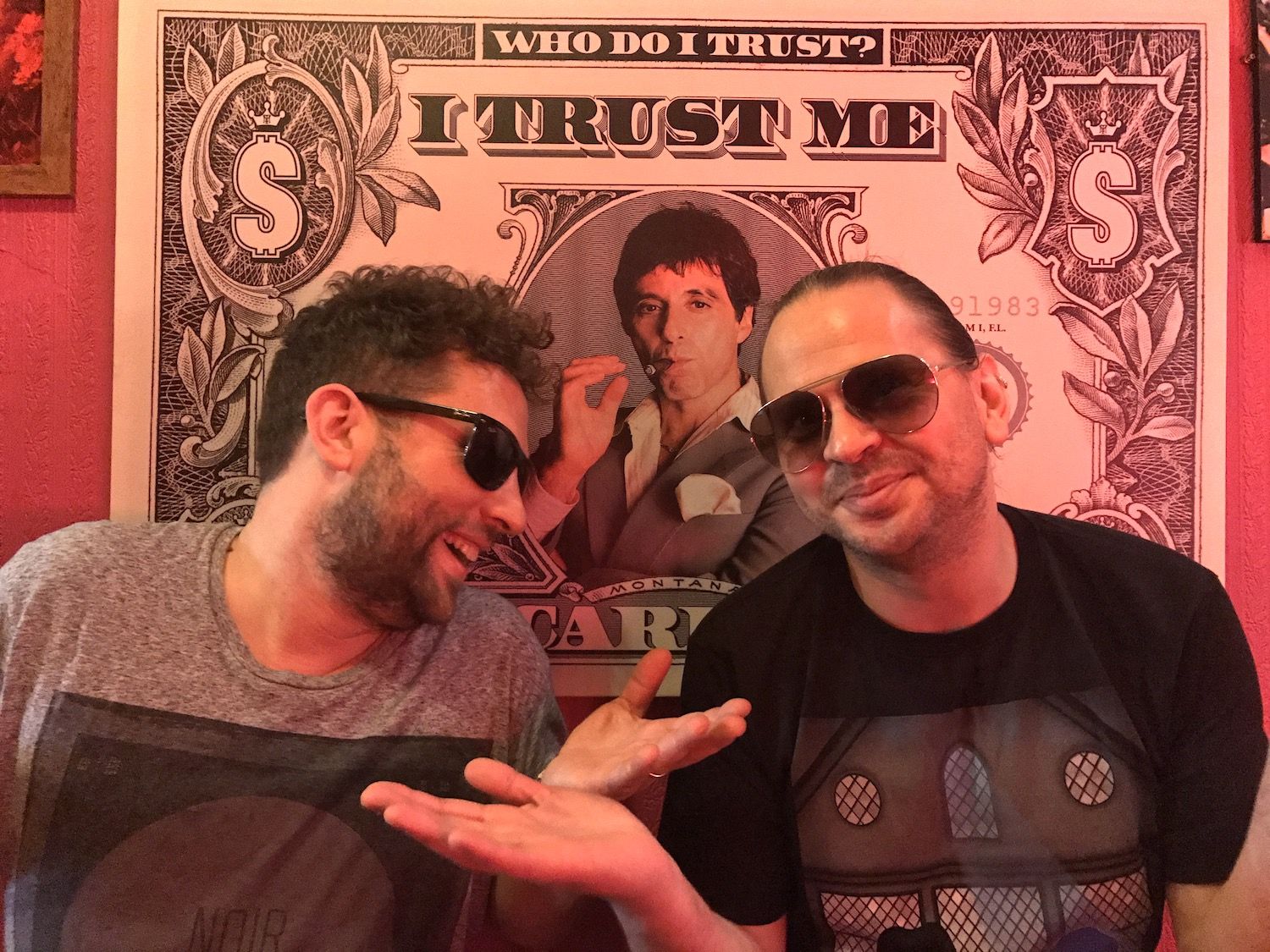 60 Seconds with The Descendants
Hi Guys, for those don't know you, please tell us a little about yourselves, where you're from and how you first got together
I, (JP) am a DJ/ Producer with a rich history in the London Club Scene and in various countries around the world. MC (Matt Cooper) is one of London's most renowned Musicians, having had major success with his own project 'Outside' and also as the Keyboard Player/ MD for  one of the UK's foremost Jazz/ Funk/ Soul Bands 'Incognito'. We're based in North and West London respectively and we met at an after hours Rave that I was DJ'ing at, when I dropped the track 'Supernova' by Nova Fronteira. MC immediately came over to the Decks and started chatting to me about it. And the rest as they say is history.
Describe your sound in 5 words
Conscious, Classic, Disco, Funk and House.
Who or what inspires your productions?
I believe a more appropriate question is 'Who or what DOESN'T inspire your productions?!'. Naturally we are inspired by music from other artists and producers that we feel (both old and new), and that influences the flava(s) of what we do, but it doesn't stop there. Inspiration can come from sounds that you hear, a life situation, something that you read or see, etc. Anything that engages the senses really. Music is literally everywhere.
You've just released your brilliant new single, 'Telling Lies', featuring Mazen Bedwei, how does it sound?
Thank you for calling it a brilliant single – appreciate that! I guess we'd say it's a classic flavoured piece of Piano/ Disco House, balancing the best of old and new. I remember when I first heard a really raw demo of the song some years back I was immediately struck by what it needed (or at least what I heard in my mind's ear that it needed!!!). Which at the time was 'A little bit of a Larry Levan/ Innfer Life/ Classic Disco treatment with a splash of Prince'. After the production was started & more parts were written 'a little sprinkle of David Morales (and several other influences)' were added, resulting in what you hear today. So the whole process was a bit like cooking really. Or Musical Alchemy – take your pick! We reckon it turned out quite nice, but really that's for the audience to decide.
What was the inspiration behind the song and what's it all about?
The story of this song is obviously about betrayal and heartbreak which is a bit of a detour from the other (upcoming) Descendants songs that are more of a conscious commentary about the status quo. The inspiration for the Music/ Sound, as aforementioned,  is a cacophony of musical genres both old and new. I even read in a very nice review recently, the drums being described as a 'tighter than tight Breakbeat'. I didn't realise that there were Breakbeats in there! To us they're just JP style Disco Drums. But, ok then! And actually it's quite in keeping with D's creative process, as MC puts it, to 'throw the kitchen sink at it'.
How did you link up with Mazen and will you be working together again in the future?
Mazen is our good Mate for many years whom we met through another renowned London Musician that Maze was working with at the time. He's our Curtis (and actually also doubles up as Curtis for the Curtom Orchestra!) So of course, yes… Absolutely we will be working with him!
There's also a set of remixes coming of the single from North Street West and Laroye & Dan Tenor City. What did they bring to the table and are you happy with the results?
We see our version of 'Telling Lies' as an artistic piece/ song as well as a club track, so I wanted to bring elements of both into the production. The remix package perfectly covers the other angles and brings the beach bar, club and after party flavas to said song. They're all fantastic in their own way! So yes, extremely happy.
What are your thoughts on the current House scene?
Based on our night out at Jimpster's & Aroop Roi's set last weekend – it's very healthy! We had an absolute banger.
What's your studio set up like?
JP – Harmonious & Zen (with amazing views) – I really need those vibes for the creative/ production process! MC – Shmancy! It's an awesome purpose built recording studio filled with treasures that you hear all over The Descendants Music. MC's is where we do most of the live recording (Vocals, Piano's, Percussion, etc) that you hear on The Descendants's tracks. Then the performances are whisked back to the Zen of JP's studio for sorting / arranging / production and the tracks are built from there.
Who does what in the studio and do you have any rituals or bad habits? 
We kind of mix up who does what (production, performance, writing, arranging, etc) according to what the situation demands. I (JP) have a bad habit of lounging and putting my feet up on the desk – I've actually been complimented several times on Social Media about how nice they are! Beware those Facebook Foot Fetishists.
Who are your current top 5 producers?
Crackazat, Miguel Migs, Chaos in the CBD, boys be kko and Soulstance.
What else are you working on at the moment that you can tell us about?
MC is currently promoting his 'Outside – Almost Out' album set for release in April and the current Single associated 'Then It Hits You' out now on Dorado Records. JP is putting the finishing touches to the next Descendants single 'Changes' (out on RamrockBlue early summer) and working on another project with one of the UK's most renowned Soul / House vocalists (who wishes to remain anonymous at this stage), set to drop late 2023/ early 2024.  Look out!
The Descendants ft Mazen Bedwei 'Telling Lies' (incl. North Street West and Laroye & Dan Tenor City Remixes) is out now on F*CLR.
https://www.traxsource.com/artist/700472/the-descendants