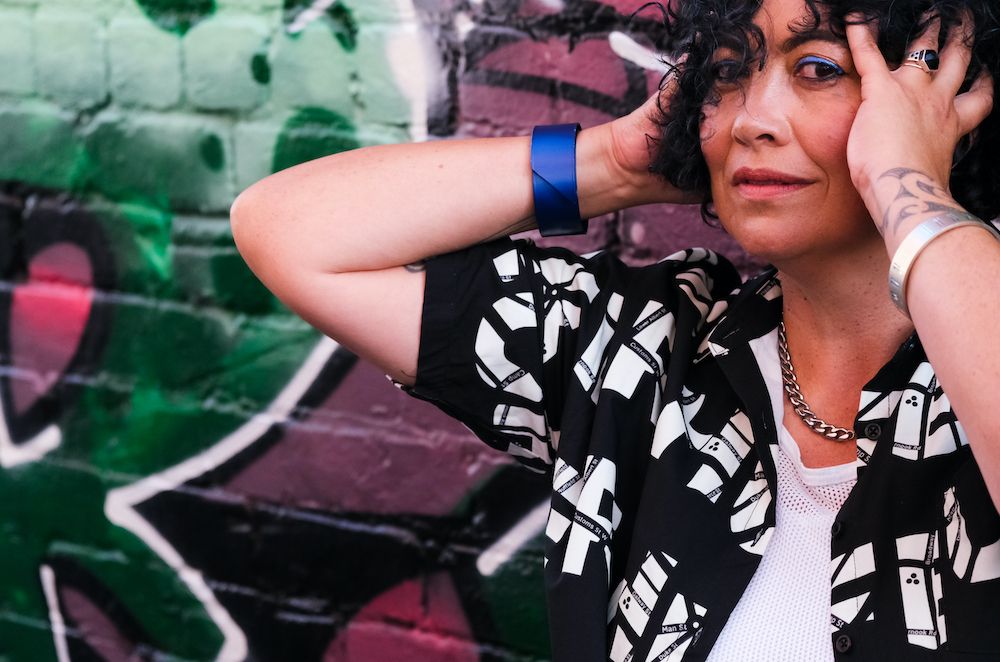 60 Seconds with Sandy Mill
60 Seconds with Sandy Mill
Hi Sandy, how is 2022 treating you so far? 
So far so good, although Omicron is hitting New Zealand hard right now. No gigs here… yet.
Describe your sound in 5 words…
Soul-Blues, Disco-Funk, Electro-Hip-Hop, mashed.
How did you first get into writing music and singing and what was your first release?
Singing covers. Joined the band 'Nicole Matsuda'. Electronic 4 piece. Writing was, and still is a process that keeps me on my toes.
First release: 'Blue Beat' by Nicole Matsuda in the 90's. A cover, so does it count?
Spacesuit S/T album – late 90's.
How do you think your sound has developed since then?
Producing my own music has given me a confidence boost, complete freedom & control. I can hear it in the music I'm making now.
Who or what inspires your music?
The News, surroundings, Whanau (Family), what I play out when I DJ. It all gets in there.
You've worked with the likes of The Basement Jaxx, Placebo, Boy George, and Notenshun, to name a few, have you got a favourite release that you've worked on? 
All the work I've done with NZ producer/ artist SJD. Actually, can I have two?
Notenshun- Soul Music.
Your new single 'Socials' has just come out on Chillifunk Records, what is it about and what can we expect to hear?
The song is about Social media; a necessary evil for a lot of creatives, using up precious time when we could be creating… I love vocal harmonies, hip hop beats, and blending genres. You'll hear this.
There is also a remix from L&T Project, what did they bring to the table?
They bought the sweet shop! haha. Really, Tom & Lofty made it their own. I re-recorded my vocal to fit,  adding a few ideas which were inspired by their mix.
When In the studio, have you got any rituals or bad studio habits when writing your music?
No rituals, as I have kids, I grab any spare time I have. Bad habit is not setting bpm when starting a new session and writing an idea then realising too late…  all. the. time. I'll remember next time!
So you also DJ and host a radio show, please tell us a bit about it?
I started at 95BFM student radio, where I learned the ropes. Back when we still used cart machines! I now host a show called 'The Taster' on BaseFM. Bringing music to the people. Turning them on to something they may not have heard before.  I'm a vinyl only DJ, I love digging for new wax.
Have you any plans for a Sandy Mill album in the near future?
Absolutely! I'm working on a few tunes right now. You will be hearing from me again.
What pearls of wisdom would you like to share with any budding singer / songwriters just starting out?
Be adventurous. Record everything; Listen. Learn a lot about your voice that way.  Delivery, tone & phrasing. Edit yourself. Find a few honest people for constructive critiques of your work throughout your songwriting process.
What are your current top 5 records? 
Sault – Rise
Nightmares on Wax – Back to Mine
Young Pulse – Love Drop 12″
Surprise Chef – Masters At Work & Harvey Sutherland remixes 12″
Sun Palace – Rude Movements remixes.
Who are your favourite vocalists?
Nina Simone, Dusty Springfield, Lady Blackbird, Cleo Sol, Solange Knowles, Ladi6, Nick Drake, Sean Donnelly (SJD),  Sly Stone, Prince, Mara TK, Donny Hathaway, Michael J Sheehy, Marlon Williams, Hollie Fullbrook (Tiny Ruins), Nadia Reid, Billie Eillish,  Fontella Bass, Stevie, Marvin, Curtis, Horace Andy, Bob Marley. I could go on for days.
What do you like to listen to when you're not in work mode? 
See above list; Mood Dependent. The Young Fathers, David Bowie, Marlon Williams, UMO, De LA Soul, Roots Manuva, Daniel Rossin, Richard Swift, Cinematic Orchestra, Anna Meredith, Avantdale Bowling Club, Talking Heads, Dizzee Rascal.
What other projects are you currently working on?
I've got a few things on the go right now, working with James Pinker (Dead Can Dance, Jesus and Mary Chain) & Tom Bailey (International Observer, Thompson Twins), Dean Webb, New Telepathics, and my as yet unnamed weird-ass solo side project.
Sandy Mill 'Socials' (incl. L&T Project Remix) is out now on Chillifunk Records.