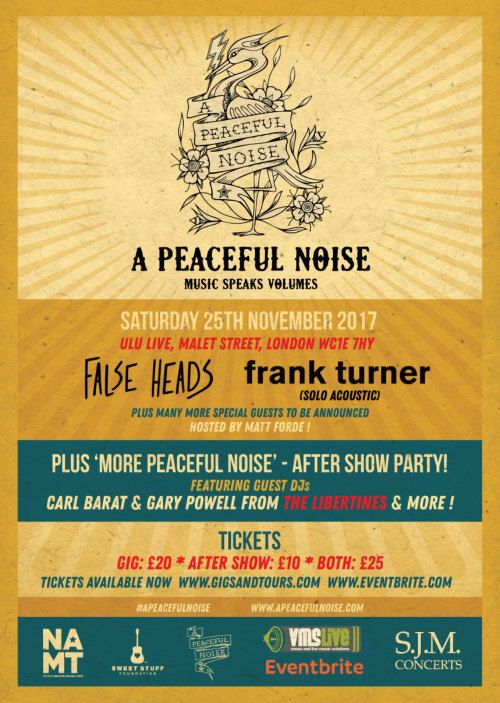 A Peaceful Noise Announces First Wave of Line-up
The Nick Alexander Memorial Trust is very pleased to announce that 2017's instalment of A Peace Noise will be held at ULU Live on 25th November. A very special night of rock n roll, the event, now in its second year, will not only feature a live show with an array of brilliant bands but will also carry on into the night with More Peaceful Noise, a star-studded indie disco after-party, both in aid of the Nick Alexander Memorial Trust and Josh Homme's Sweet Stuff Foundation.
Held at London's iconic ULU, the first acts announced for the live show include hotly tipped three-piece False Heads. Championed by rock n roll overlord Iggy Pop, the east London and Essex trio are at the forefront of the current guitar band revival. A huge favourite on the live circuit, their brand of muscular riffing has got the sort of pop nous that can't be ignored and is guaranteed to get the ULU crowd jumping. Reprising his incredible performance at A Peaceful Noise's inaugural show, Frank Turner will be making a special acoustic appearance, too. Due to head out on tour next year, this is a gilt-edged opportunity to catch Frank at his solo best. But that's not all, we have lots of amazing live acts still to announce, so watch this space for more exciting news coming soon.
A Peaceful Noise's compere on the night will once again be comedian, writer and Unspun presenter, Matt Forde (Dave, TalkSport, 8 out of 10 Cats), whocommented: "I'm delighted to be involved with A Peaceful Noise again. It feels like the purpose of the event is even more relevant now than it was in 2016. Last year's show was amazing, not just because of the important message of the event but because it was one of the best gigs I'd ever been to. This year's show promises to be even better. I can't wait"
Ensuring that the power of music continues to bring people together long into the night we are particularly excited to announce a new addition to the A Peaceful Noise experience – More Peaceful Noise – Official After-Party. An honest to goodness indie disco following hard on the heels of the live show, More Peaceful Noise will be a standalone event in its own right, with DJs on the night including The Libertines' Carl Barat & Gary Powell going back to back, plus more names to be announced, all throwing down the sort of snakebite & black-powered anthems that have made indie nights an utter joy since time immemorial.
Money raised on the night will go to the Nick Alexander Memorial Trust helping it to continue to award grants for musical equipment to community and small charitable groups within the UK, particularly those representing the most disadvantaged and marginalised sectors of society, be that through poverty, physical or mental illness, disability, ethnicity or age.
Over the last year the trust has provided funding for several life-changing music projects across the UK. These include providing sensory light up instruments for a music therapy programme teaching deaf children to talk, through to recording equipment for an education programme for hard to reach young people in Cardiff, instruments for children in rural communities who find it difficult to access live music and sounding bowls for music therapy for dementia patients in residential homes.
This year's show will allow us to continue this incredible legacy and expand the Peaceful Noise project further across the UK. A portion of the night's proceeds will also be donated to Josh Homme's Sweet Stuff Foundation.
So, join us on November 25th and celebrate music's unique ability to unite people as equals, and help to raise money for two fantastic charities.
TICKETS:
A PEACEFUL NOISE (7.30pm – 11pm) £20
MORE PEACEFUL NOISE – OFFICIAL AFTER-PARTY (11pm-2am) £10
A PEACEFUL NOISE (BUNDLE) £25