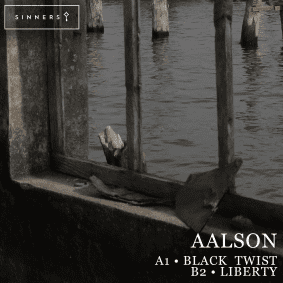 Aalson – Liberty
Toulouse's Aalson heads to SINNERS to deliver his two track EP 'Liberty'.
A rising talent within France's rich melodic house and techno scene, Toulouse based producer and live act Aalson's combination of deep, soundscape influenced palettes and a series of striking live shows across the country has seen the Frenchman go on to perform alongside the likes of Extrawelt, Teho and Kiasmos, whilst gaining support from N'to and Soul Button over the past few months alone. Following recent releases on Labo T, Steyoyoke and Click Records, he now joins Marseille's Elska and label founders ABE on SINNERS to release his latest EP 'Liberty', set for release in August, with the imprint picking up strong support to date from Kevin de Vries, Konstantin Sibold, Rodriguez Jr. and more.
'Black Twist' opens the package as Aalson fuses driving energy levels with soaring lead synths, crisp drums and hypnotic melodies to impressive effect, before unveiling title track 'Liberty' as rich, striking piano sequences take hold guided by scattered yet refined percussion shots and hypnotic synth builds.
Aalson 'Liberty' is out on SINNERS on 9th August 2019.
https://www.facebook.com/aalsonmsc
https://soundcloud.com/aalsonmsc
https://www.facebook.com/sinners.ltd
https://soundcloud.com/sinnersltd
Tracklist
1. Black Twist
2. Liberty