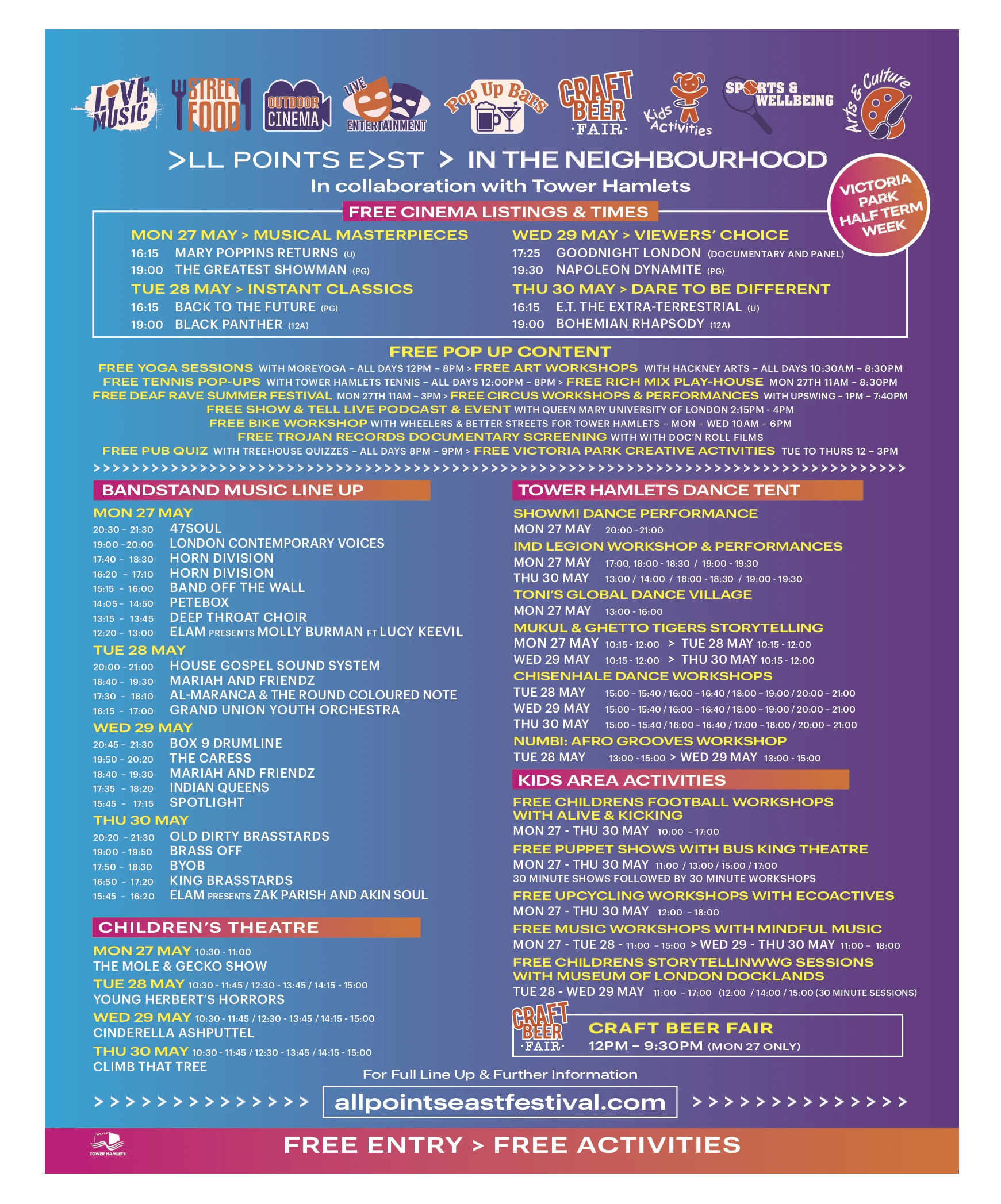 ALL POINTS EAST announces full FREE lineup at In The Neighbourhood.
All Points East's IN THE NEIGHBOURHOOD announces its full FREE line-up with even more activities!  The four-day programme, in collaboration withTower Hamlets Council, the local community and local organisations, is one of the of the biggest and best FREE activities and entertainment in London, taking place between two immense weekends of music, with headliners The Chemical Brothers, The Strokes, Christine & The Queens, Bring Me The Horizon, Mumford & Sons and Bon Iver.
In The Neighbourhood kicks off on the second May bank holiday with a jam-packed day of activities for every member of the family. Have a picnic in the park whilst listening to the free sounds of London Contemporary Voices or Horn Division on the Bandstand, or if you'd rather get up and boogie, why head over to Tower Hamlet's Dance Tent for Chisenhale Dance Workshopsor new edition to the line-up Numbi: Afro Grooves Workshop.
As a Bank Holiday Monday exclusive, we have over 20 local breweries taking part in our Craft Beer Fair and JägerHaus has teamed up with Soho Radio to bring you an unforgettable line up for music!
Got small children? In The Neighbourhood has you covered this Bank Holiday with, Children's Theatre and Kids Area, providing the little ones with hours of entertainments from free Football workshops with Alive and Kicking and free Music Workshops with Mindful Music to  free children's theatre with Half Moon Theatre and Puppet Show with Bus King Theatre.
Keeping true to their promise of making All Points East one of the UKs most accessible festivals, AEG have teamed up with Deaf Rave for Bank Holiday Monday. Expect a fun packed family day celebrating the deaf and disabled community. Activities and line-up include emerging artist SignKid, a chance to try out a SubPac, creative and musical workshops and headlined by renowned comedian John Smith.
Think this line up is too good to be true? Well, this is only the beginning, with the FREE programme lasting a total of FOUR DAYS! All Points East's In The Neighbourhood jam packed line-up continues to grow with new additions including, free pub quiz everyday from 8pm, free bike workshops Monday
to Wednesday, free Trojan Records Documentary Screening and much much more.
Here's what In The Neighbourhood has in store…