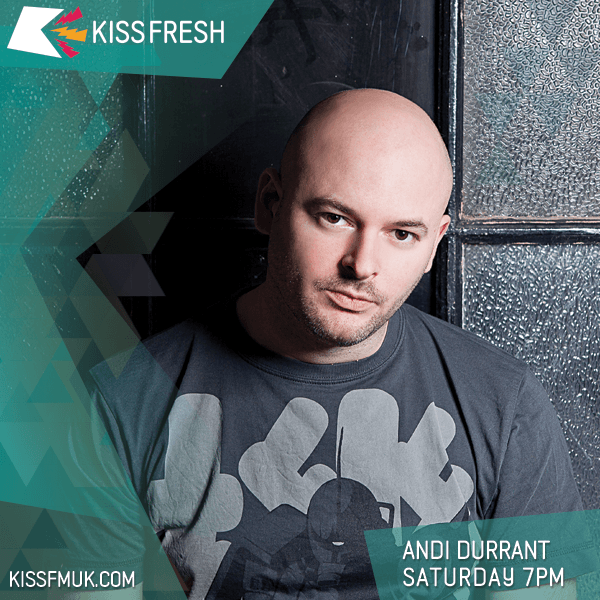 Andi Durrant returns to the airwaves with Electrik Playground on KISS FRESH
A long-time resident of Capital FM radio in the UK and formerly one half of Riley & Durrant, Andi Durrant has become a stalwart of the electronic music scene, championing the latest sounds as a tastemaker at the forefront of dance music. Since leaving Capitol FM last summer, Andi has been working hard behind the scenes and is now back with a brand new radio show on digital station KISS FRESH.
On Saturday 15th March, Andi Durrant launches a new international program showcasing the world's best new electronic music – from the biggest festival-rocking anthems to the sounds of the underground, classics and anthems, EDM, progressive, deep house, techno, trance, dubstep and drum & bass. LISTEN ACROSS THE UK EVERY SATURDAY NIGHT 7-9PM ON KISS FRESH and around the world on the stations below.
To follow the launch, join us on Twitter using #ElectrikPlayground
A few words from Andi:
"Over the last few months I've been crazy busy in the studio working on loads of new music and setting up our production house Distorted. We've launched some brilliant new radio shows and podcasts with DJs like Felix Da Housecat, Kryder, Chicane, BCM, Defected, Dave Pearce, Futuristic Polar Bears, Tidy Boys and Kissy Sell Out, and it's been great to take on a huge new challenge with an amazingly creative team."
"I'll be doing the show from my own studio each week, playing unsigned bands and producers to the biggest new tracks from the A list artists and music makers… We'll be inviting guests to record 30min sessions each week, and recording live sets from clubs and festivals around the world."
"I'm incredibly excited about joining the team at Kiss – it's the station I started at as a tea boy aged 15 and the place that got me into electronic music in the first place. I feel like I've come home and I can't wait to get involved with Kiss Fresh – a forward-thinking station championing new music and really pushing electronic artists. Here I'll have the freedom to play the music I love, on a platform you can listen to anywhere in Britain via your TV, phone, tablet or computer."
Full list of stations:
• Kiss Fresh : UK, Saturday Night: 7pm
• Party 105, New York, Saturday Night: 1am
• Party 100, Florida, Saturday Night: 1am
• Radio FG, USA, Tuesday Night: 6pm
• Radio FG, Mexico, Monday Night: 11pm
• Vanya Radio, Boston, Fri 8pm & Sat: 10pm
• Madzonegeneration,Italy, Friday: 3pm
• Electroeje, Columbia, Saturday: 4pm
• Smash Radio, Malta, Tuesday Night: 8pm
• Redseadance Radio, Egypt, Tuesday Night: 6pm
• Bondi FM, Australia, Saturday Night: 3am
• DanceRadio Canada, Thursday Night: 12am
• Castle Club Radio, Cyprus, Sunday Night: 6pm
• Crucial Radio, International, Saturday Night: 6pm
• DI FM, International, Time TBC
• Toa.FM, International, Tuesday: 6pm
+ More coming soon
For more info: www.andidurrant.com
For DJ Bookings: [email protected]
For Music and Remix requests: [email protected]
For show info and syndication enquires: [email protected]
For press: [email protected]
To send music promos please use: [email protected]