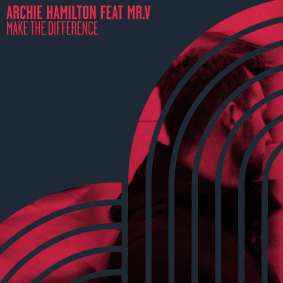 Archie Hamilton ft. Mr V – Make The Difference
Following on from the success of the most recent Moscow drop 'Waisted', Archie Hamilton's next release is 'Make the Difference' with New York's Sole Channel Music and Muzik 4 Tomorrow founder aka Mr V.
'Make The Difference' in its original form is a mesmerizing and slice of anthemic vocal house laced with the spine-tingling and sumptuous tones of Mr V. A track tailor-made by Archie for those life-affirming dance floor moments, Mr V's vocals hone in on the core values of house music in its purest form, unity and sanctuary in the freedom of expression.
On the flip is two club tools, Mr V's acapella and Archie's VIP mix, a fast tempo techno-driven banger geared for peak time energy.
"Make the Difference was originally a different track I wrote a while back and would play out with a spoken word acapella over the top. One of my favourite tracks of all time is 'Just Dance' by Mr V and I knew he'd do an amazing job at delivering a vocal for this track, so reached out to him and the whole process just flowed so easily from start to finish. I debuted the track in LA at an afterparty at 7am and it worked amazingly". – Archie Hamilton
Archie Hamilton feat Mr.V – 'Make The Difference' drops on Moscow Records on 10th May 2019.
Tracklist:
A1 Make The Difference
A2 Make The Difference (Dub)
B1 Make The Difference (VIP Mix)
B2 Make The Difference (A Cappella)
https://soundcloud.com/archiehamiltonmusic
https://www.facebook.com/archiehamiltonmusic/
https://www.facebook.com/solechannelMrV/