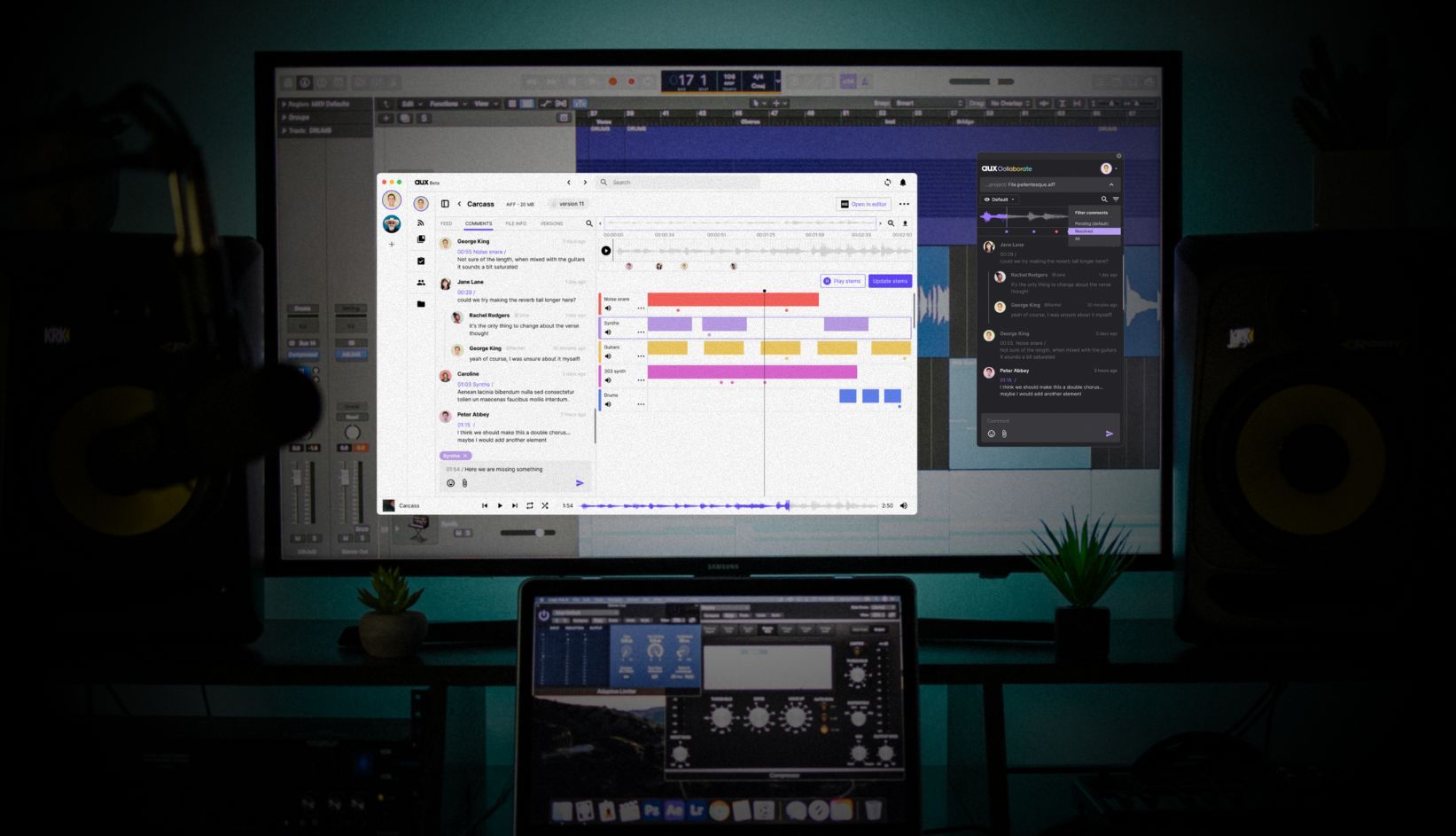 Aux Desktop App Streamlines Online Collaboration Process For Producers
Aux App (www.aux.app) has launched Version 1 of its long-awaited desktop app to streamline and improve online collaboration for professional audio producers. Musicians, podcasters and music industry professionals using Ableton Live and Logic Pro X can now benefit from new key features in Aux for desktop. These include options to invite collaborators – an exciting element that allows two creators to work on the same project with file syncing across all devices, intelligent version history of all file uploads, timestamped commenting on waveforms, and an inbuilt DAW stems player. The "Aux Collaborate" plug-in also brings a real-time chat window directly into the user's DAW allowing collaborators working together in Ableton and Logic to communicate here for the first time. Aux for desktop can now be downloaded from www.aux.app.
Founded by the UK tech start-up entrepreneur, Ben Bowler, the Aux App beta launch in December 2021 delivered extensive research into what remote creators really need to make their audio workflow clearer.
Each feature in the new desktop app (available for Mac with the Windows version coming early 2023) has been specifically designed to solve the many problems identified by creators working remotely around the world; too many versions of the same project; incessant switching between multiple file sending platforms; too much time spent scrolling through various messenger apps or emails to locate a single comment about a project. Aux for desktop eradicates all of this and more, while boasting exciting features that creators never knew they needed.
Ben Bowler explains, "The Aux V1 release is the culmination of conversations with numerous artists, producers and podcast creators to bring audio production right up to date. We discussed the pain of keeping track of versions of songs across a stack of hard drives, emails, messages and file sending services. The new Aux desktop app takes care of each step of production; from tracking versions of your personal projects automatically and letting you go back in time to previous takes, to sharing projects with collaborators whether they use the same DAW as you or not. The result is like upgrading from a cup with a string coming out of it, to a smartphone, helping musicians make more music and opening up new collaboration opportunities."
The Aux desktop app automatically syncs audio files across all devices, and with all collaborators, as it's being worked on in the DAW, using a secure, made-for-music file storage system.
With the audio player, users can share, play back and comment on files directly within Aux for desktop, without having to wait for the DAW to launch.
Whether working as a solo producer or as a three-piece band, the version history storage allows the user to return to an earlier version of the project via a full list of previous uploads.
Collaboration is at the heart of Aux. Via the desktop app, bandmates, producers, a label or a guest artist can be invited to join the project to provide feedback and upload files. Two remote artists can work together on the same DAW project – this works when two artists sync the same project folder on each of their computers. The Aux syncing algorithm keeps track of each time the DAW files are saved and updates the files on the other collaborators' devices automatically. If the file is modified at the same time, then Aux keeps things safe by keeping copies of both the conflicting versions.
The real-time chat function is set to save hundreds of hours for creators. It can be used to timestamp comments on waveforms, or as a messenger app to discuss project ideas. Comments can be easily edited or deleted, and threads resolved entirely.
The "Aux Connection" plug-in is set to transform the way collaborators work in Ableton and Logic. Available as a VST (for Ableton) and AU (for Logic Pro), the plug-in is installed and added to the master channel on the project. As the creator scrubs in the DAW, relevant comments are highlighted with precise timestamps, and the conversation can be continued with full messaging right in the plug-in window without ever having to leave the DAW.
The Aux desktop app lets artists collaborate unlike any existing tool. Artists are not forced to change the way they produce music and content, rather Aux gives "superpowers" to the tools they already use. Ableton and Logic were chosen for the Version 1 launch as they came up as the top two DAWs in the Aux survey, however, Aux App will expand beyond this selection over time.
Ben Bowler adds, "For the business, the V1 release signifies a key step in our long term plan to build Aux into an essential partner for every audio producer; serving as a foundation of future innovations, integrations and partnerships to be announced over the coming six months."
From concept to collaboration, the audio workflow has never been easier or more straightforward, thanks to Aux.
Preview Aux for Desktop here: https://youtu.be/_TuQxzYrw5k
Follow Aux
https://www.instagram.com/auxdotapp
https://www.facebook.com/auxdotapp
https://twitter.com/auxdotapp