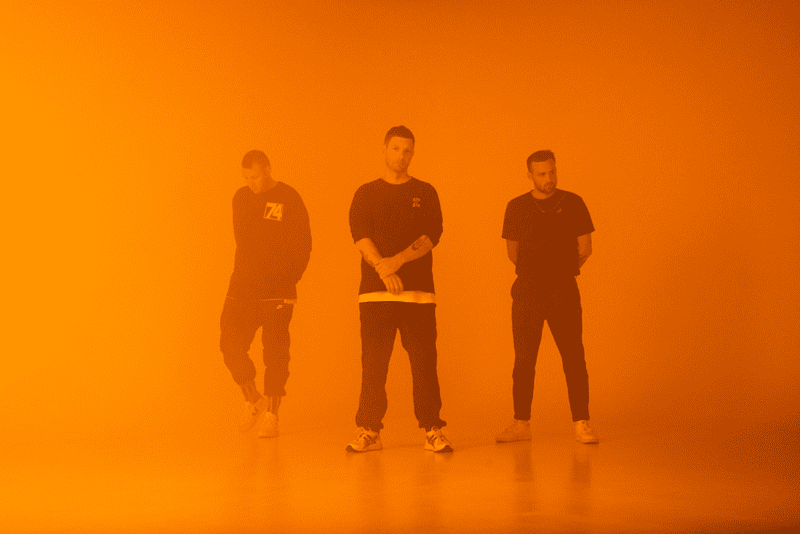 AV AV AV Release Masterful Debut Album 'No Statues'
AV AV AV have justed releaseed their debut album "No Statues".
AV AV AV emerged in 2015, and has since evolved from being a "friendship project" formed whilst on holiday in the country to being in every way a serious and ambitious project. With an nomination for a Danish Carl Prisen Award (The Danish Music Publishers Award .red) for their score music for Netflix's big series "The Rain", a Robert award (The Danish Film Academy Award) for the soundtrack to the movie "Brakland" and several other awards on their resume, AV AV AV has gained Danish and international recognition inside and outside the electronic music environment in just four years.
Now AV AV AV is ready with their debut album which is the group's biggest project to date:
AV AV AV says… "We have reached a point where it is no longer just for the fun of it. Our voice has grown over the last few years and we believe that if you have a voice you must use it. With this album we feel that we have an opportunity to comment on the world around us" .
"No Statues" is a comment about the past, the present and the future and it is a reminder that we need to cultivate community rather than glorify individuals.
AV AV AV elaborates… "What lies in the title "No Statues" is that no human being should have a statue erected in their honour. A statue is a symbol of the greatness of a single individual, but the statue does not show how the person has reached the point of their success. History has been built around these statues over time and promotes a over simplified and ultimately false reality. One person cannot change the world alone. Whether it's a scientist or a victor, the person's achievements are the results of multiple people. Stalin could not win without sacrificing his people and Einstein could not build his theories without building in the theories of people who lived long before him. When that happens we forget that it is the community that creates development and that the community is larger than the individual".
It is not just the physical statues that "No Statues" refers to. It is also a comment on what AV AV AV describes as today's mono-culture where we cultivate our own individual brand to such an extent that we erect false virtual 'statues' of ourselves. The band explains… "Today, there is so much focus on the individual. Through various platforms we build statues of ourselves where we, like the old victors, show ourselves as super humans who have success and control in every aspect of our life. But just as the physical statues, which in a way where the ancient king's Instagram, show a false reality, so do the virtual statues of today.
And once again we forget each other and the community on our quest to create our own statues" .
AV AV AV itself is a good example of the point that it is through community that development and progress occur. The three producers, Unkwon, ELOQ and DJERDUDUMELLERHVAD, who together make up AV AV AV, are each well versed in the electronic environment in particular and each bring their own unique experience to the table. It is a project in which the music is created through the collective musical inspiration of the three members which on the new album is expressed in a diversity and a variation of sound on every track.
"We are three different musicians and listeners with different references. We come from three different places where we build on a lot of other people's music, resulting in a product of three people's collective life experience and musicality." AV AV AV says.
When it comes to live concerts AV AV AV also cultivates the community and the last thing they want is to be hailed as statues on a stage. Together, they challenge and rethink the creation of the concert experience and together with the audience they create a unique space where the audience as much as AV AV AV constitutes the concert:
AV AV AV says… "We see many concerts. We are often the audience ourselves. The experiences we have as an audience are used in our own concerts. Many electronic artists stand behind a desk with a cold LED wall with visuals behind them and without any real face to the music. It is in many ways exclusionary. We have done the same. We have made that mistake. When we play live everything we do, we do with the intention of building a cohesion between us and the audience during the time we have together. When we played in VEGA (large venue in Copenhagen Denmark) we did a 360 degree concert and did the show in the middle of the crowd. In that way we were a part of the audience, rather than in front of it. In addition we started the show with the lights on throughout the venue. Everyone in the audience could see each other, see us and we could see them. We could look each other in the eyes. It created a feeling like 'we are in this together'. In total we have 20 years of live experience and we have reached a point where we can now create a concert that tells a story through electronic instrumental music. But we are just getting started, and apposed to a statue, we're always moving,"