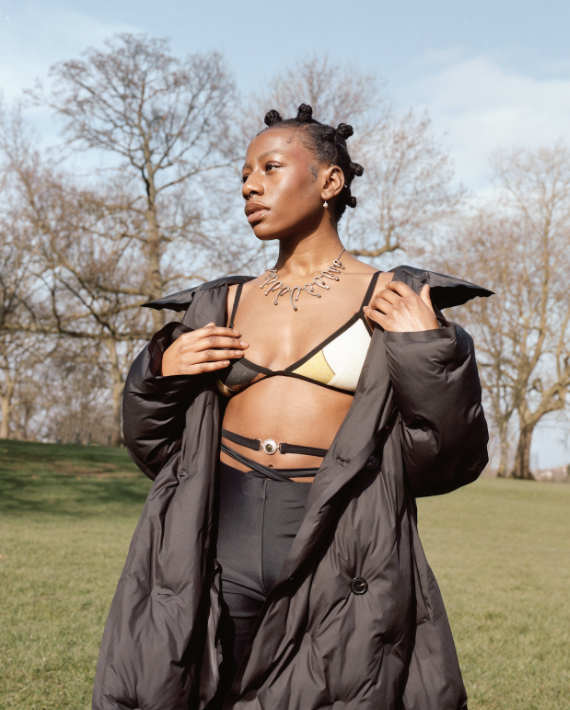 BINA. links up with Lex Amor on laidback single 'Mercedes To Hades'
Exciting South London songstress BINA. marks her awaited return with new single 'Mercedes To Hades' featuring Lex Amor, out on Friday 19th March.
The second single release from her forthcoming This Is Not A Film EP, 'Mercedes To Hades' sees BINA. and multifaceted North London artist Lex Amor flex their seductive vocals amidst delicate, downbeat production. A smooth, emotion-tinged ballad with dark undertones, 'Mercedes To Hades' captures BINA.'s inner talent and sophisticated aesthetic, a teaser for the highly anticipated EP to come. 
BINA. explains: "I was deeply involved in what you can call a situationship, and when I wrote Mercedes To Hades, it was inspired by a specific event that forced me to face a reality that I didn't want to face." 
She continues: "So in this specific event, I took a cab to his house one morning to help him with something, and his mum was on the phone to him; she kept referring to me as his girlfriend (because she saw me with him so often) and he corrected her a couple times in front of me. I don't know why, but it hurt! I think it's because of the fact that it shattered my delusions – I had pieces of the puzzle and I'd filled in the blanks and dreamt up the rest. I was in a lot of pain, emotionally, because the reality I'd built in my head didn't align with his reality, but I kept showing up for this relationship which didn't exist."
Inspired by the likes of Solange, Erykah Badu and IAMDDB, BINA. burst onto the scene in 2019 with Humble Abode, a debut EP that fused elements of alternative R&B, neo-soul and jazz, swiftly setting her out as one to watch. Her music has since been supported by BBC Radio 1Xtra and The Fader amongst others, while she has performed Hoxton Underbelly, New Wave Mag and Boiler Room.
Her first release of the year, 'Mercedes To Hades' captures the brilliance of this exciting young talent.