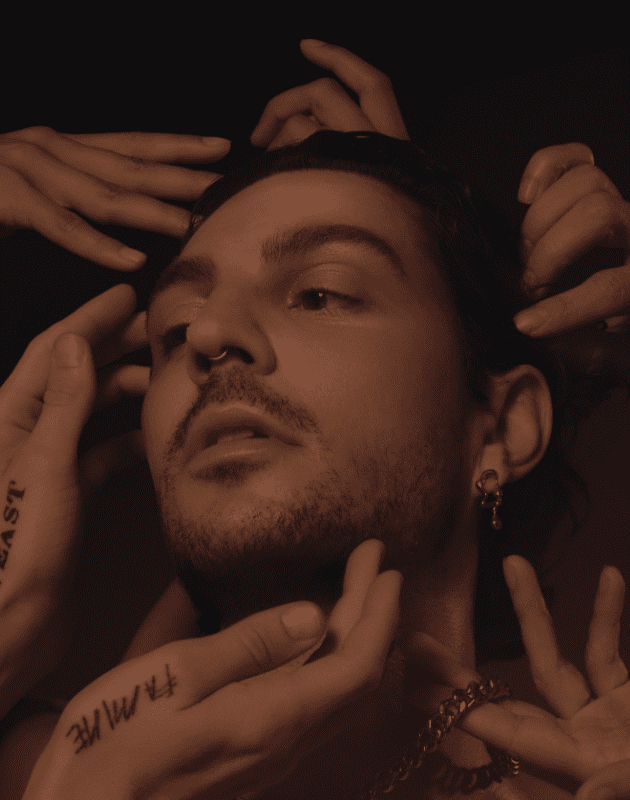 BOY UNTITLED –  'IMPOSTER' – Steamy, club ready pop from L.A.'s Queer movement
⚡ BOY UNTITLED X GESS – 'IMPOSTER' ⚡
— 23.11.2020 — 
Press shots – BOY UNTITLED + GESS
L.A. based recording and visual artist BOY UNTITLED is making his mark on the world with an impactful blend of vulnerable electronica and no-boundaries pop. After his self-titled project in 2019, BOY UNTITLED returns in Nov 2020 with new single 'IMPOSTER', a collaboration with fellow queer artist GESS. 'IMPOSTER' is a haunting, yet clubby anthem layered with tribal drums and vibrating bass. It also serves as an introduction to the darker, explorative side of BOY UNTITLED's output; as he dives into new dimensions of his artistry and sonic explorations. 'IMPOSTER' will be the first single from his ZENITHproject to follow in 2021.
IMPOSTER an emotional, and personal track that marks a re-birth for BOY UNTITLED and the first footprint of his ZENITH project. Here, we delve into the ideas of feeling seen for who we truly are, and the barriers that we create for ourselves to protect our identities and perceptions of safety. Rattling the idea of our vulnerabilities and disguises, 'IMPOSTER' crosses the themes of club-ready track for those losing themselves to feel they belong, and a personal statement from BOY UNTITLED. 'IMPOSTER' was co-created by GESS, another artist operating in the L.A. queer movement who serves moody, dark beats.
"IMPOSTER," on its surface, is a song about confronting imposter syndrome and the crippling effects it can have in our lives and this video is a visual metaphor about the masks we wear in the social media/public sphere. On a deeper level, it's about the current state of our world and how we've had to adapt to new methods of human connection in 2020. Relationships that exist between lenses, mirrors, and technology. Are they real? Do they satisfy? At its core, "Imposter" asks: "Where does the person I present to the world meet the person I'm too afraid to be?" 
BOY UNTITLED began his career in the LA queer-art scene as a producer and creator, and since then has grown a network of fans and family who support the movement. His sonic explorations have been describes as "intoxicatingly lush" and "very human" and have been supported by the likes of Billboard, Nylon, and OUT! Magazine, as well as shows at The Viper Room, The Hi-Hat, The Mint and more. His trademark sound is authentic, no-boundaries pop.
⚡ BOY UNTITLED X GESS – 'IMPOSTER' ⚡
— 24.11.2020 — 
STREAM THE TRACK NOW : <iframe src="https://open.spotify.com/embed/track/3HXnjOgBUGUcurOvRg6DXf" width="300″ height="380″ frameborder="0″ allowtransparency="true" allow="encrypted-media"></iframe>
Press shots – BOY UNTITLED + GESS
BOY UNTITLED : 
Socials links : Website / Spotify / Apple Music / Instagram / Facebook / Twitter / Youtube