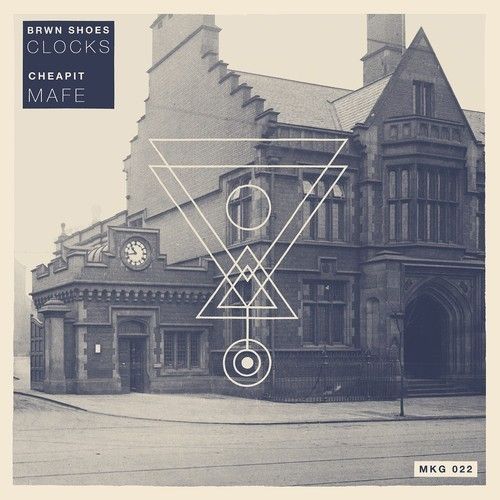 Brwn Shoes & Cheapit – Clocks & Mafe
For it's 2014 swan song the Marketing Music label look to Brwn Shoes and Cheapit for a stunning split artist releaseŠ
Tim Paris' Marketing Music has been mutating musical boundaries for almost a decade now, releasing an eclectic mix of singles that reflect the broad tastes of the label's head honcho. After a one year hiatus due to Tim's commitments elsewhere, the imprint returned in 2014 with a stellar single from Idioma which saw critical acclaim alongside DJ support from the likes of Ewan Pearson, Tiga & Tim Sweeney to name but a few. Now Marketing Music is ready to drop the final chapter for 2014, a superb split artist release that sees two french producers vie for attention with two equally exceptional cuts.
The release opens with Brwn Shoes, a French born, London formed and Valencia based producer who has had success to date with music on Danton Eeprom's Fondation Records as well as Join our Club. He delivers the hypnotic and ethereal 'Clocks', an instant classic that draws on stray FX, bubbling bass, taut drums and an infectious arpegiated top line to create a unique and otherworldy sound. Part way through a vocal drops with a simple 'tick, tick, tick..' refrain but it is the relentless never ending melody and steady bassline that lend this track its title and its true charm.
The second track on the release comes from Cheapit AKA Marc Antoine Bianco, best known as one half of Parisian duo Villanova who have released orignal music and remixes through labels such as Cocoon, My Favorite Robot Records and No.19 Music. Here Bianco turns in Mafe', a solid and arresting track that brings together dark bass stabs, swirling disembodied vocals, and an intensity born of its broken percussion, subtle edits and atmospheric drops, quality stuff from start to finish.
Marketing have delivered once again, laying the groundwork for what is certain be an exciting year ahead for the imprint and some real talent in the shape of Brwn Shoes and Cheapit.