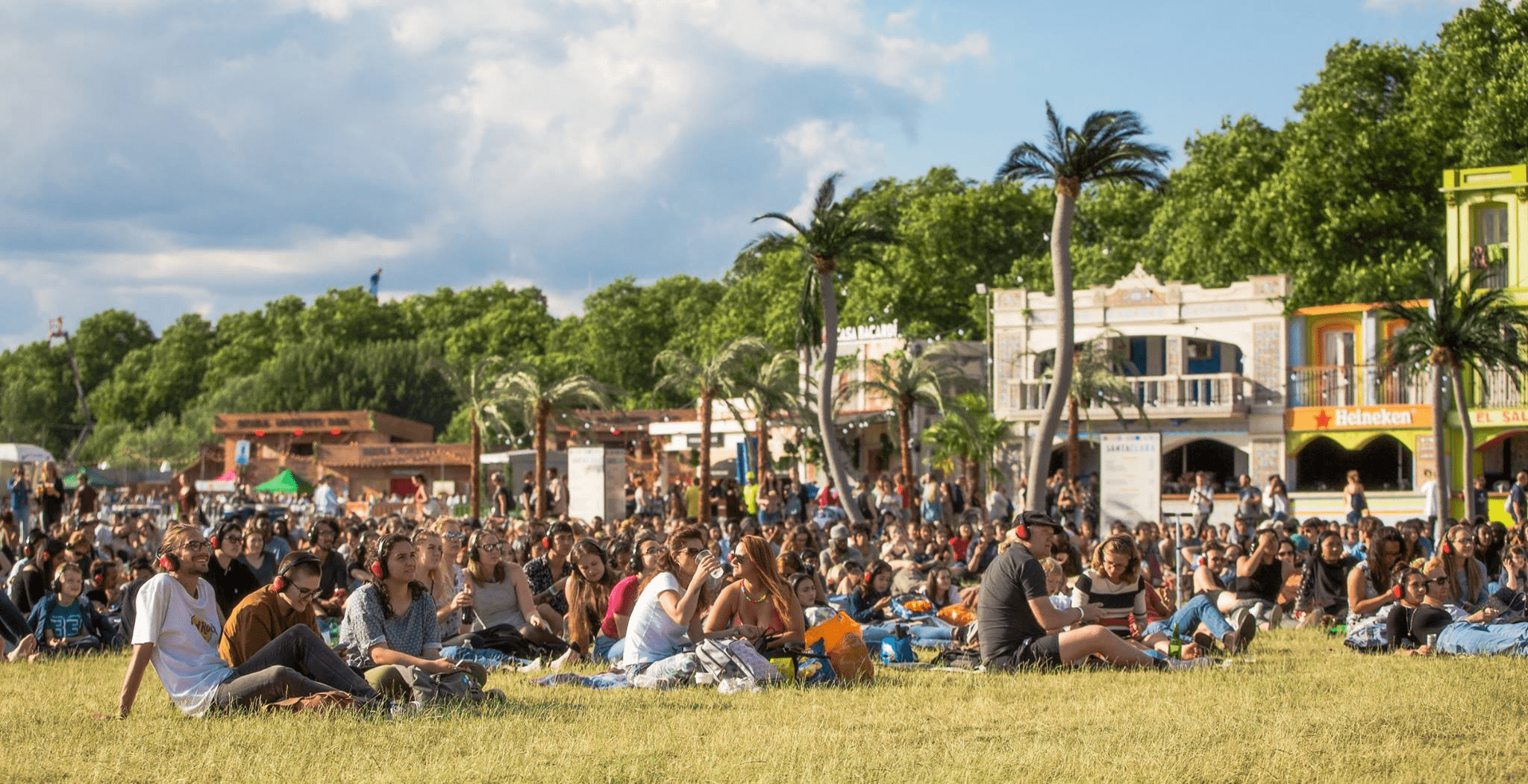 BST Hyde Park – Sigur Rós FREE Hyde Park Performance, Open Air Cinema, Craft Beer Fair, lululemon Yoga, Family Theatre & Much More For OPEN HOUSE 2019
Enjoy the long days and warm summer nights with four days of FREE activities and FREE entry in the heart of Hyde Park
Free Movie Nights, Live Music and Entertainment, Street Food,
Pop Up Bars, Tennis Screenings, Main Stage Yoga with lululemon, Cabaret, Family Theatre, The Royal Parks Showcase, Piazza Birra Moretti & much more
Plus Sigur Rós Bring Their Free Live Ambient Performance
'Liminal Soundbath' To the Great Oak Stage Open House
Monday 8th – Thursday 11th July 2019
Full information at https://www.bst-hydepark.com/events/open-house
Download hi-res images here
As well as the unbeatable music line ups, Barclaycard presents
British Summer Time Hyde Park
opens its doors during the week to host the hugely popular 4-day summer event
OPEN HOUSE.
Back for a seventh year with ever-growing demand, Open House offers something for everyone, and the best bit is… it's all FREE!
Whether you want to indulge in some delicious street food and kick back to watch the tennis, or head down with your mates to see a cinema classic as the sun sets on Hyde Park, Open House is here for you all week long. Bigger than ever before, Open House returns with its free vibrant live music & entertainment, including drag cabaret, the sensational open-air cinema nights, live tennis showings, mouth-watering street food, pop up bars AND there's lots for the family too, including the delightful Chickenshed Children's theatre!
Plus there's more brand-new activities on offer for 2019. For the first time in an outdoor festival setting, you can enjoy the ambient LIVE sound and sensory experience by Icelandic masterminds, Sigur Rós, during their free Liminal sound bath at BST Hyde Park.
Practise your 'salute the sun' with free yoga sessions by yoga gurus,lululemon. And once you're done, you can always relax with a refreshing beer at the best Craft Beer Fair in the UK,  Craft Beer Rising presents Brew Summertime. Just don't do it the wrong way round! Plus The Royal Parks Showcase returns for another budding year at Open House for those avid gardeners out there.
In collaboration with The Royal Parks, the free programme takes place between two legendary weekends of music, with headliners Celine Dion (5thJuly), Stevie Wonder (6th July), Barbra Streisand (7th July), Florence + the Machine / The National (13th July) and Robbie Williams (14th July).
Come down and enjoy free activities bringing a true taste of summer to your week, all at Barclaycard presents British Summer Time Hyde Park! Here's what the Open House has in store….
FREE OUTDOOR CINEMA / MONDAY-THURSDAY (5.30PM AND 8.30PM)
Following the ever-growing demand over the past six years, BST Hyde Park is hosting four evenings of themed movie nights at one of the biggest outdoor screenings in London. Whether you want to break free with Bohemian Rhapsody, need to spice up your life with Spice World – The Movie or fancy something out of this world with Guardians of the Galaxy, Open House has got you covered.
Two films will be shown each evening at 5.30pm and 8.30pm. Entry is free and on a first-come-first-served basis. Headphones are provided.
Musical Monday (Mon 8th July)            Blockbuster Classics (Tues 9th July)
5.30pm             Mamma Mia! (PG)          5.30pm             The Greatest Showman (PG)
8.30pm             Grease (PG)                   8.30pm             Guardians of the Galaxy (12A)
Cult Classics (Wed 10th July)               Icons of British Music (Thurs 11th July)
5.30pm             Back to the Future (PG)  5.30pm             Spice World – The Movie (PG)
8.30pm             Dirty Dancing (12)           8.30pm             Bohemian Rhapsody (12A)
SIGUR RÓS PRESENTS LIMINAL SOUNDBATH FREE EVENT @ GREAT OAK STAGE / TUESDAY (7PM)
For the first time ever, Icelandic band Sigur Rós take their spectacular live ambient performance outdoors to Hyde Park. Created and performed by Jónsi, Alex Somers & Paul Corley, Liminal is their ambient music arm and the sound baths let you slow down, focus on your senses and be present in the moment! Explore Iceland on the longest day of the year through a unique film, join in a serene and calming meditation and enjoy the stunning music of the live Liminal soundbath. We can't think of a better way to wind down! Book your free place for 9th July online now at https://www.bst-hydepark.com/events/open-house.
FREE YOGA WITH LULULEMON @ GREAT OAK STAGE / WEDNESDAY (7PM)
Join
lululemon
 for a free yoga class on the Great Oak Stage at BST Hyde Park. Set in the incredible surroundings of Hyde Park, the yogis will take the main stage to teach this one-off breathwork class to the stunning sounds of
London Contemporary Voices
. A grounding flow and uplifting meditation will close the practice, guaranteed to put a smile on your face. Sign up will be available closer to the time of event, please visit www.bst-hydepark.com/events/open-house
THE ROYAL PARKS SHOWCASE / MONDAY-THURSDAY
Summer is perfect time for budding and experienced gardeners alike to get their green fingers out, and Open House is the perfect place to do so. The Royal Parks Showcase is back for another triumphant year! Full details to be announced.
FREE TENNIS SCREENINGS @ WIMBLEDON SCREEN / MONDAY-THURSDAY (12PM ONWARDS)
Want to watch the tennis outdoors this summer without the trek to Murray Mount?  Join us for FREE Wimbledon Championship screenings from midday onwards – just bring a picnic blanket, grab a spot on the grass and you're ready to catch all of the action.
FREE LIVE MUSIC @ THE BARCLAYCARD STAGE / MONDAY-THURSDAY (4PM – 10PM)
On the Barclaycard Stage from 4pm – 10pm every night, enjoy a FREE evening of live music at Open House, with acts including the great musical talents of the London Contemporary Voices, The Old Dirty Brasstards, the University of Westminster artists and BIMM. Plus many more fantastic acts to be announced. Time to get your groove on!
FREE DENIM: THE REUNION TOUR [email protected] BARCLAYCARD STAGE / TUESDAY (7.00PM)
DENIM is an all-singing, all-dancing, all laugh-inducing queer pop girl band for the ages. The Denims are peeling back from their recent stadium shows to treat an intimate audience in Hyde Park and re-connect to their 13-billion-strong fan base (wow.) This family friendly drag show combines stunning costumes, live music and side-splitting comedy. After this stellar performance, you'll see Beyoncé and Whitney Houston in a whole new light!
CRAFT BEER RISING @ BARCLAYCARD VIP SUMMER GARDEN / WEDNESDAY + THURSDAY 4PM – 10PM
The UK's biggest and best craft beer festival Craft Beer Rising is launching an outdoor version this July, Craft Beer Rising presents Brew Summertime.There will be a supreme selection of craft beer and street food on offer, which you can enjoy to the soundtracks of the summer! Tickets start at just £5.90 plus £1 booking fee, making this unique Hyde Park experience is an absolute steal. Visit https://www.craftbeerrising.co.uk/brew-summertime to book tickets now.
FREE PERFORMANCES BY WEST END KIDS @ THE BARCLAYCARD STAGE / MONDAY-THURSDAY (3PM – 4PM)
West End Kids have performed at the Queen's 90th birthday celebration, the Commonwealth State Banquet, Hampton Court Palace, Royal Albert Hall and now they're performing for you in Hyde Park! They will be performing songs from your favorite artist and shows including Hairspray, the Greatest Showman, Priscilla Queen of the Desert and many more.
STREET FOOD MARKET AND POP UP BARS / MONDAY-THURSDAY (12PM – 10PM)
Whether you are a pizza lover, prefer a sushi wrap or have a major sweet tooth chocolate brownies, the OPEN HOUSE street food market has it all. You will be spoilt for choice with the finest traders on offer all week long, co-curated by Sourced Market.
You can also cool off in the summer sun with a draft & craft beer, wine, spirits or even a cocktail at OPEN HOUSE's pop up bars – serving from 12pm onwards.
PIAZZA BIRRA MORETTI / MONDAY-THURSDAY (12PM – 10PM)
Piazza BIRRA MORETTI offers an immersive Italian experience in the heart of Hyde Park, as part of a summer of events to bring people together around the table. The piazza offers immersive theatre, 3-meter football table and live music throughout the week, and if you are feeling peckish, Pizza Pilgrims will have a truck in the Piazza too!
On top of this BIRRA MORETTI are offering two exclusive balconies to win. The lucky winner and 3 friends will experience a VIP area at Open House to enjoy a complimentary Italian meal and drinks. You can enter online atwww.ilgrandeinvito.birramoretti.com/ Make time for what matters and enjoy great beer, great food and great times at Piazza BIRRA MORETTI.
GORILLA CIRCUS WORKSHOPS ALTITUDE LIVE SHOWS / TUESDAY-THURSDAY
Ever fantasised about joining the circus? Now you can give it a try and climb a 30 feet ladder for your first flying trapeze lesson with Gorilla Circus Flying Trapeze School. Jump from a 30 feet high platform and perform tricks usually seen in a Big Top circus on a full-sized flying trapeze rig. Plus making its debut at Open House will be the exhilarating  live Altitude shows. Altitude seeks to explore our relationship with height, fear, freedom and adrenaline. Set on a unique kinetic structure the show blends the traditional with the unexpected. Not one for the faint hearted!
FREE FAMILY THEATRE WITH CHICKENSHED @ BARCLAYCARD STAGE/ TUESDAY-WEDNESDAY (10.30AM – 2PM)
Returning to the Hyde Park for a third year, Chickenshed's Tales from the Shed has teamed up with the Brit School's Community Arts Practice as it continues to grow and grow! This fun theatre experience is one for the whole family to enjoy.
BARCLAYCARD SENSORIUM / MONDAY-THURSDAY
Barclaycard invites you to reconnect with your senses at the Barclaycard Sensorium. Reset, revive and awaken as you journey through the space.  Immerse yourself in colour and sound, get your taste buds tingling and even add a dash of sparkle to your festival look.  All before the chance to release your inner music star on camera, leaving you ready to go out and get more from the festival with all your senses firing. So whether it's taste, touch, sound, smell or sight, be ready to expect the unexpected and get more from your festival. All thanks to your Barclaycard.
www.bst-hydepark.com
facebook.com/BSTHydePark
@BSTHydepark