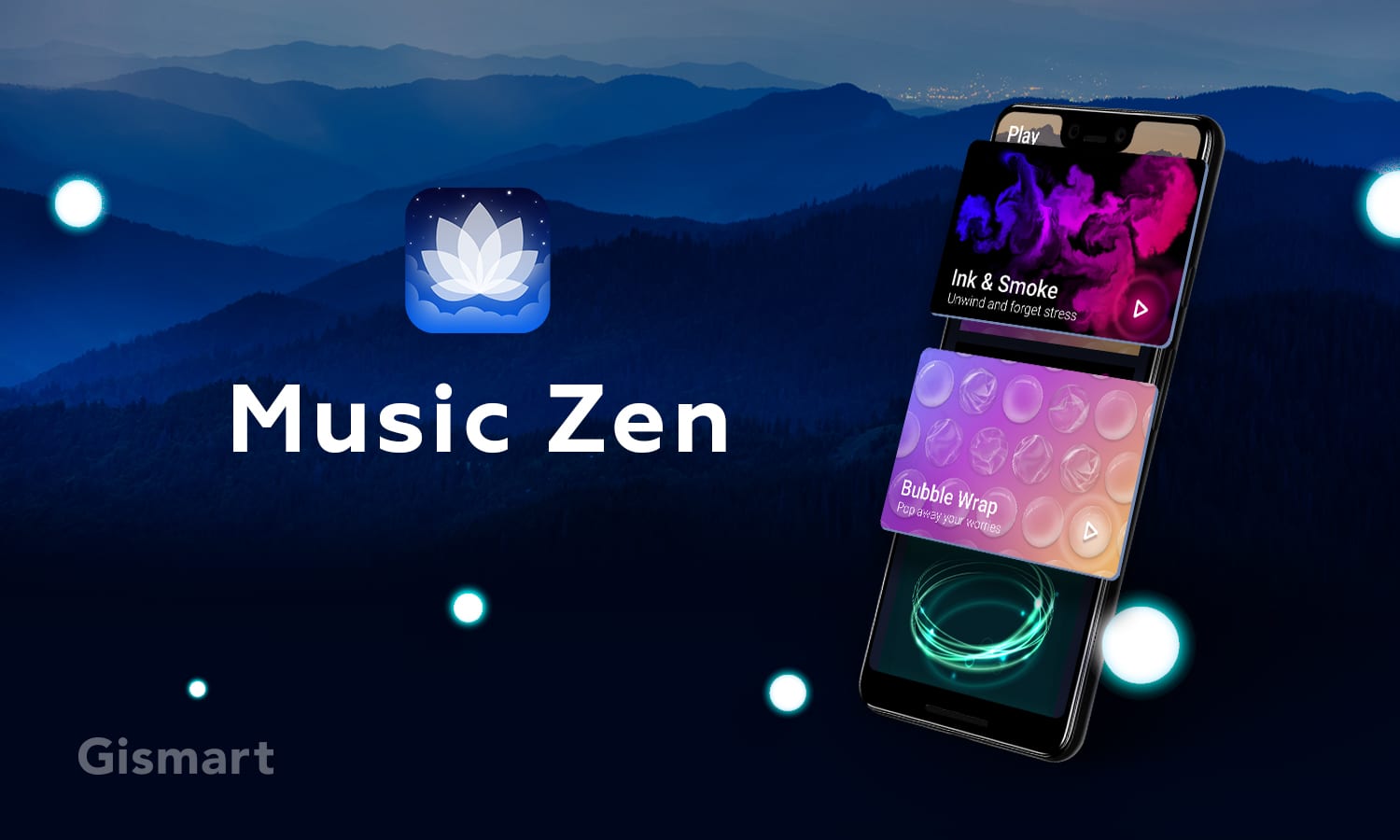 Chart-topping, award-winning meditation app Music Zen debuts on Android
Music Zen, the popular and award-winning relaxation app is now available on Android. Developed by Gismart, a leading entertainment apps developer, Music Zen is a music-focused mindfulness and meditation app that offers a wide spectrum of self-care practices for relaxation. The app is aimed at anyone subject to stress or in a stressful situation, seeking to add more mindfulness into their everyday routine, helping them find and maintain mind-body balance.  With professionally designed breathing exercises, guided meditations and relaxing sounds, users' inner zen is just a click of a button away. The app also features calming visual scenes and music mini-games with a variety of relaxing compositions to choose from.
Music Zen is the first Gismart product in the Health and Fitness domain. Initially released in September 2018 on the App Store, it quickly became the second most popular mental health app worldwide following Calm, the American unicorn valued at $1 bln in February 2019. Now, less than a year since release, Music Zen has raced ahead of Headspace, a long-term competitor of Calm that has attracted investment of $75 million since its inception in 2014, in downloads. In April 2019, Music Zen iOS was honored with a Bronze A'Design Award in the Mobile Technologies, Applications and Software Design Award Category. The A'Design Award and Competition is an award for designers, innovators, and brands that want to showcase the work that they believe represents fantastic design and deserves to be recognized. It is expected that the long-awaited Android version of Music Zen will repeat the success of its iOS counterpart.
Pavel Hasanov, Product Manager at Gismart, said: "Music Zen offers a wide range of high-quality content to ensure a pleasant and diverse experience. We genuinely believe Music Zen helps people deal with the stress that many of us face every day and make them feel happier and more relaxed."
Key features:
– CALMING SCENES – Enjoy high quality imagery of beautiful landscapes which will help you detach from your stressful surroundings and create a peaceful mindset. Stunning images will distract from daily chaos and mentally transport you to calm, beautiful places, with soothing nature sounds.
– GUIDED MEDITATIONS – Themed daily meditation exercises that were carefully developed by professionals help users re-centre, find their inner zen and create their own inner sanctuary.
– BREATHING EXERCISES – The way you breathe affects your whole body. Music Zen's breathing exercises are an effective way to relax, reduce tension, and relieve stress.
– RELAXING GAMES – Ink & Smoke and Bubble Wrap help alleviate stress and anxiety, and improve mental focus.
Music Zen is available to download on the Google Play Store and the App Store