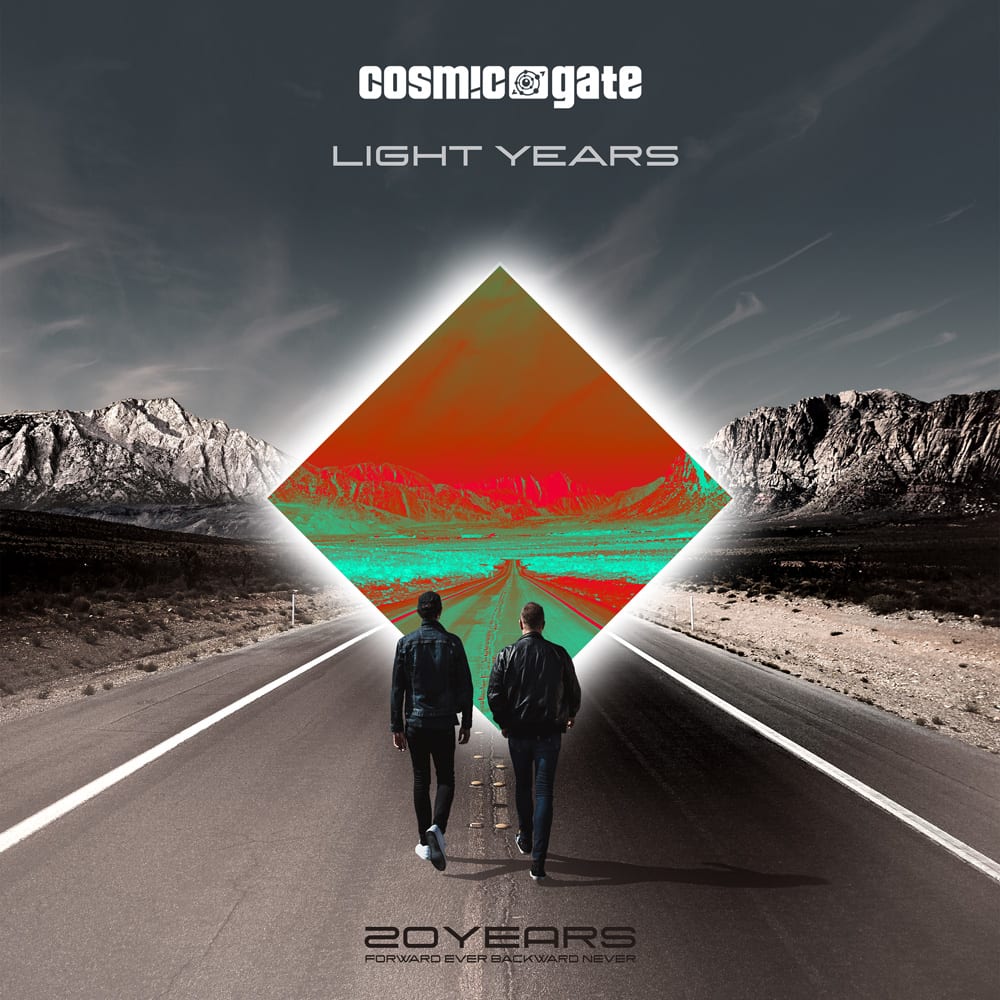 Cosmic Gate – New Single – 'Light Years' Released Today
Drawn from the ranks of their '[Forward Ever Backward Never]' LP (details below), the new CG single hits today! After Nic & Bossi's recent 'Need To Feel Loved' and 'Come With Me' outings, 'Light Years' sees the duo getting instrumental, and in about the finest, most floor-persuasive way imaginable. Channelling in all that 20 Years know-how, its production may major in uplift, but no one is getting short-changed in the harmonic feels dept. either! Cool and melodic in all the right places, euphorically summit scaling everywhere else – you can experience that 'Light Years' feeling for yourself right here, right now (stream or download here: https://cosmicgate.complete.me/lightyears)
[
Previously
] Fair to say Cosmic Gate have had a pretty charmed start to their milestone twentieth year. The first six months alone have seen the duo serve the aforementioned brace of Beatport #1s with the MINT-playlisted 'Come With Me' and the "
profound
" (say DJ Mag) "
9/10"
ranked 'Need To Feel Loved'. January brought word of their first Grammy nomination and further saw the group kick off their
Forward Ever, Backward Never
tour – one that to date has touched 30 cities globally.
Evermore those shows have seen Nic & Bossi introduce IDs from their impending ninth longplayer, but further hard facts on [Forward Ever Backward Never]'s contents have remained elusive. Into the new month and we can at last give it to you complete & straight. And for fans old & new, that's gonna make for some mighty fine reading!
The headline: well the album's nigh, like proper nigh! There are less than 20 sleeps to wait, as Aug 23 is drop-day and its tracklist, advance clips and presale are this very moment live & kicking. You can head to your portal of choice (https://bit.ly/32T9K4T) to see what's what, but hold up another minute and we'll give you a couple of useful insights!
On its announcement Cosmic Gate commented that it was their intention to "take us closer to the 360 of who we are, where we've been and where we're going. In order to do this, the group junked the 'greatest hits album' blueprint and approached their 20 years commemorator from four separate production angles.
'Forward Ever' places new Cosmic Gate productions like latest single 'Light Years' & 'Come With Me' side by side with 2.0 rebuilds of immortals like 'The Wave' & 'Not Enough Time'. It also serves as a platform for reworks of tracks that personally have been beyond inspirational to Cosmic Gate – 'Lizard', 'Need To Feel Loved' and 'L.E.D.' among them. Further, it features new takes by others on classic Cosmic moments from the past 20. In that respect, Nic & Bossi have called on the redoubtably future-minded talents of Ilan Bluestone, Andrew Bayer and others to prepare 'Be Your Sound', 'Fire Wire' and others for next-decade clubfloor glory.
20 Years – [Forward Ever, Backward Never] is an LP without precedent – a 'greatest hits' the likes of which you've never heard before (but more than likely will again!). It lands August 23 and you can presave/pre-order it here (https://bit.ly/32T9K4T) from today. More #FEBN news to follow shortly…

Tracklist: Cosmic Gate – 20 Years [Forward Ever Backward Never]
Cosmic Gate & Emma Hewitt – Be Your Sound (Ilan Bluestone Remix)
05. Mauro Picotto – Lizard (Cosmic Gate Remix)
06. Cosmic Gate & Jan Johnston – I Feel Wonderful (Greenhaven DJs Remix)
07. Cosmic Gate – Fire Wire (Andrew Bayer Remix)
08. Cosmic Gate & Denise Rivera – Body Of Conflict (Elevven Remix)
09. Cosmic Gate – The Wave 2.0
10. Cosmic Gate – FAV (Patrick White Remix)
11. Cosmic Gate & Emma Hewitt – Not Enough Time 2.0
12. Cosmic Gate – Human Beings (Rolo Green Remix)
13. Rank 1 – L.E.D. There Be Light (Cosmic Gate Remix)
14. Cosmic Gate – Exploration Of Space (Grum Remix)
15. Cosmic Gate – Analog Feel (Estiva Remix)
16. Cosmic Gate – Conciousness (Genix Remix – Cosmic Gate Edit)
cosmic-gate.de
facebook.com/cosmicgate
twitter.com/cosmicgate
soundcloud.com/cosmicgateofficial
blackholerecordings.com
soundcloud.com/blackholerecordings
facebook.com/blackholerecordings
twitter.com/BlackHoleRec