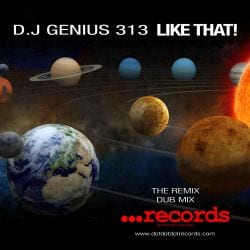 D.J Genius 313 – LIKE THAT!
A native son of Detroit, D.J Genius 313 (born: Sidney Jordan), has had a musical career spanning decades across several genres of music.
Attending high school with Detroit's own Eddie 'Flashin' Fowlkes, his love for electronic dance music was forged early on as a member of Twins, a social club crew who threw huge parties in the early '80s. They were inspired by the European new wave music and progressive fashion seen in UK magazines like The Face and iD. This was then interpreted by late night Detroit FM radio shows such as the Midnight Funk Association, hosted by legendary radio host The Electrifying Mojo.
Jordan was featured as part of the famous Hot Mix Crew on Detroit's WGPR and later ended up living in the same building as Juan Atkins, helping the techno originator put his studio together. Juan later returned the favor by critiquing Sidney's first techno tracks.
Come take an intergalactic ride with "Like That!" This potent cut — and its pared-down dub — feature classic-sounding elements and a chunky groove that undeniably come out of the Detroit-Chicago house music axis. Proper vibes. It's part of a long line of releases bearing the name of Sidney Jordan/D.J Genius 313 — there's a treasure trove of music waiting to be sprung onto the dance floor.
Label and Artist Links:
www.dotdotdotrecords.com
www.mixcloud.com/j2grecords/sidney-jordan-dj-genius-313-classic-promo-mix/