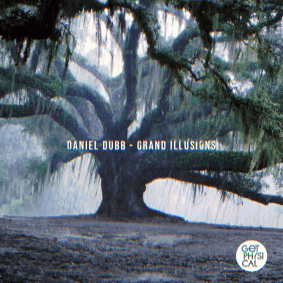 Daniel Dubb – Grand Illusions (LP)
Get Physical's fantastic 2019 reaches new heights with a full length artist album from Daniel Dubb.
The keen eared out there will have already heard a lead single from the album, 'Grand Illusions', which was released back in January and gave a great taster of what to expect from this emotive and sensuous house record.
The artist is someone who crafts meticulous grooves that have come on mainstays like Rejected, Saved, 8Bit and Viva. He runs his own DV8 label and has topped Beatport charts with his tracks before now. This time out he shows off his broad array of skills on a journeying and brilliantly complete house album.
Things kick off with 'Moments In Time' Feat. Kyla Millette, a jazzy and lounging track of live sounding drums and exquisitely soulful vocals. After the glowing keys of the title track, 'Oceans Apart' Feat. m.O.N.R.O.E. & Hennessy is a more driven house cut with crisp hits, but further spine tingling vocals.
An absorbing interlude shows off Dubb's knack for dusty and romantic ambiance and tracks like the excellent 'Lost' stay cosy and cuddly and the gorgeous 'Peppy's Lullaby' is a beatless spring awakening. The final section includes the subtle depths and heart aching vocals of 'Without Luv' and more piano led melancholic ambiance with 'December 11th,' then a fantastic Dubb remix of UK songwriter Charlotte OC sinks you into an elongated groove that features more trademark emotive vocals and pensive pianos.
Grand Illusions is a fantastic journey through the rich sounds and classy styles of house purist Daniel Dubb.
Tracklist:
01 Moments In Time Feat. Kyla Millette (Intro)
02 Grand Illusions (Original Mix)
03 Oceans Apart Feat. m.O.N.R.O.E. & Hennessy (Original Mix) 04 Unspoken Dreams (Interlude)
05 Lost Feat. Jonathan Rosa (Original Mix)
06 Peppy's Lullaby (Original Mix)
07 Without Luv (Original Mix)
08 December 11th (Interlude)
09 Charlotte OC – Colour My Heart (Daniel Dubb Remix)
10 Sekond Chanc€s (Outro)