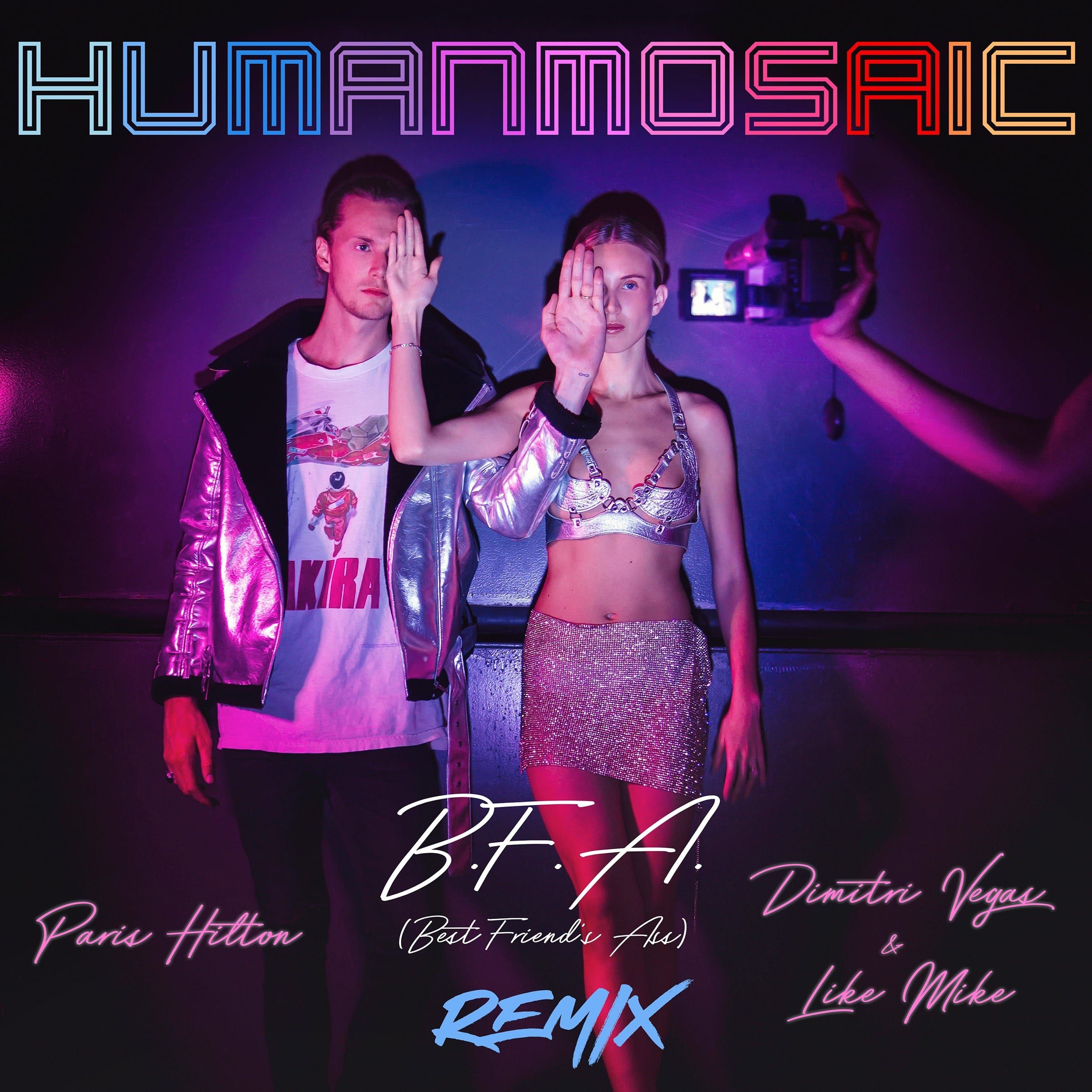 Dimitri Vegas & Like Mike vs. Paris Hilton 'B.F.A. (Best Friend's Ass)' (HUMANMOSAIC Remix)
Say the name Hilton and stripped back, underground house is probably not the first thing that springs to mind. Yet husband and wife duo Tessa and Barron Hilton unveil their new music project HUMANMOSIAC by utterly flipping the script on Dimitri Vegas & Like Mike vs Paris Hilton single 'B.F.A.'
What was a tongue-in-cheek, irreverent slice of big room EDM is stripped down to its bare essentials, then built back up into a tough, driving house cut, one that sounds nothing like the original. Rumbling, relentless bass elements and lithe synth lines push through infrequent smatterings of popping melodic bursts and filtered vocals, taking the track from the heights of the main stage and throwing it onto the dirt of the dance floor.
Of course, it would be all too easy to dismiss the Hiltons straight off the bat. The music industry is known for sniffing out ghost productions or those jumping on the bandwagon for a quick 15 minutes of appropriated fame. However the pair have been immersed in electronic music for years and have been honing their production skills for the past three. Half-German Tessa traveled back and forth to Germany throughout her childhood and picked up the DJing bug during her early teens. Spending a year within the darkened halls of Berlin's Berghain, Kraftwerk and Sisyphos, she cites influences as wide ranging as Ben Klock, Aphex Twin, Lazre Hoche, Juan Atkins, Nina Kraviz, Magda, Bicep and Octo Oct. Film school graduate Barron has always had a natural appreciation for the symbiosis between screen and score, and brings a more ambient and cinematic element to the HUMANMOSAIC project. 
Although not an official remix, the edit is more than timely. With Dimitri Vegas & Like Mike nabbing the DJ Mag Top 100 Award at last week's Top 100 DJs awards ceremony in Amsterdam, the Belgians are yet again at the top of the EDM tree. With this free-to-download little gem, HUMANMOSAIC signal their intent to start climbing some electronic branches of their own.
HUMANMOSAIC // LISTEN:
https://soundcloud.com/wearehumanmosaic