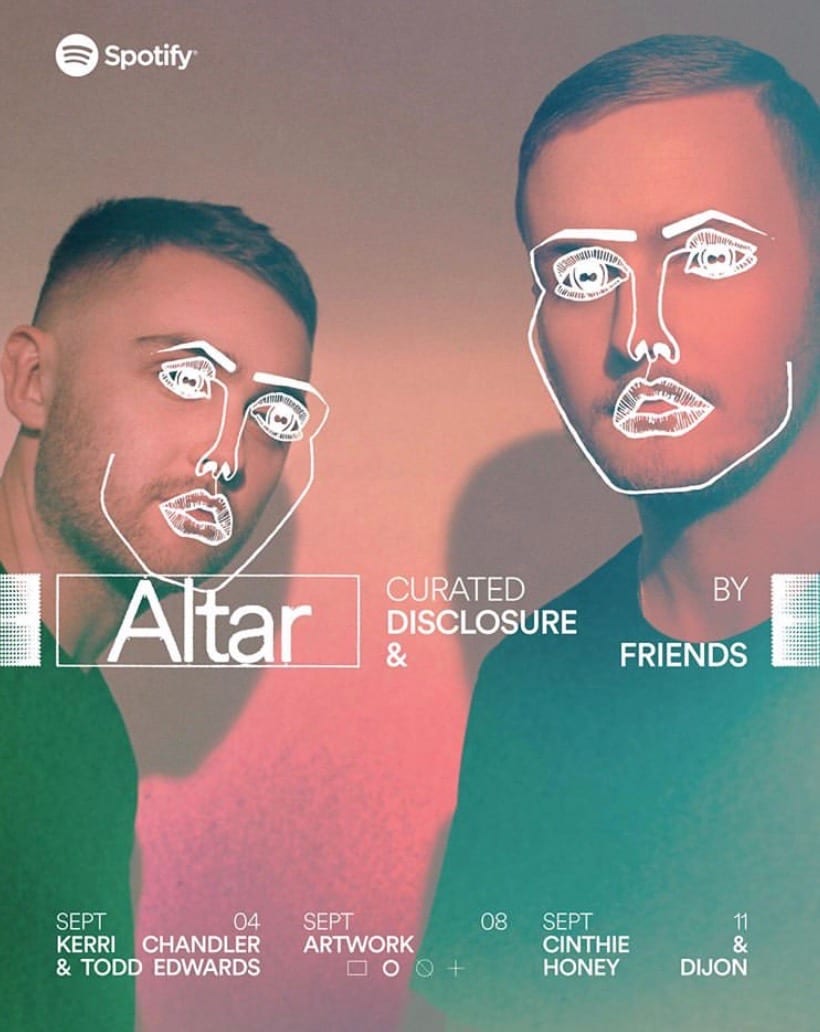 Disclosure and friends curate Spotify's 'Altar' playlist
In celebration of their latest studio album 'ENERGY', Disclosure announced on Instagram last week that they have teamed up with Spotify to guest curate its hugely popular alternative electronic playlist 'Altar'.
The playlist hosts tracks from some of the world's most prominent artists from house, UK garage, dubstep, contemporary electronic and beyond such as Channel Tres, Mount Kimbie, Erika de Casier and more.
The first playlist – co-curated by Disclosure, House titan Kerri Chandler and genre-defining Todd Edwards – went live last Friday (4th Sept) and includes everything from house classics to 90s garage and more.
Tomorrow's playlist (8th September) will see London's dubstep pioneer Artwork join the music duo on a collection celebrating the influences that contributed to their earliest work. Then, Berlin house icon CINTHIE and globe-trotting DJ and producer Honey Dijon will wrap up the week-long partnership on Friday 11th September as they partner with Disclosure to bring together some of their favourite tracks of the moment.
Disclosure said, "We are super excited to be curating Spotify's Altar – we've got three instalments centring around a different genre and time in music that is special to us. We also wanted our friends to be involved, so expect carefully curated selections from us along with the legendary Kerri Chandler, Todd Edwards, Artwork CINTHIE and Honey Dijon. This was a lot of fun to put together… enjoy!"
Check out the 'Altar' playlist here: