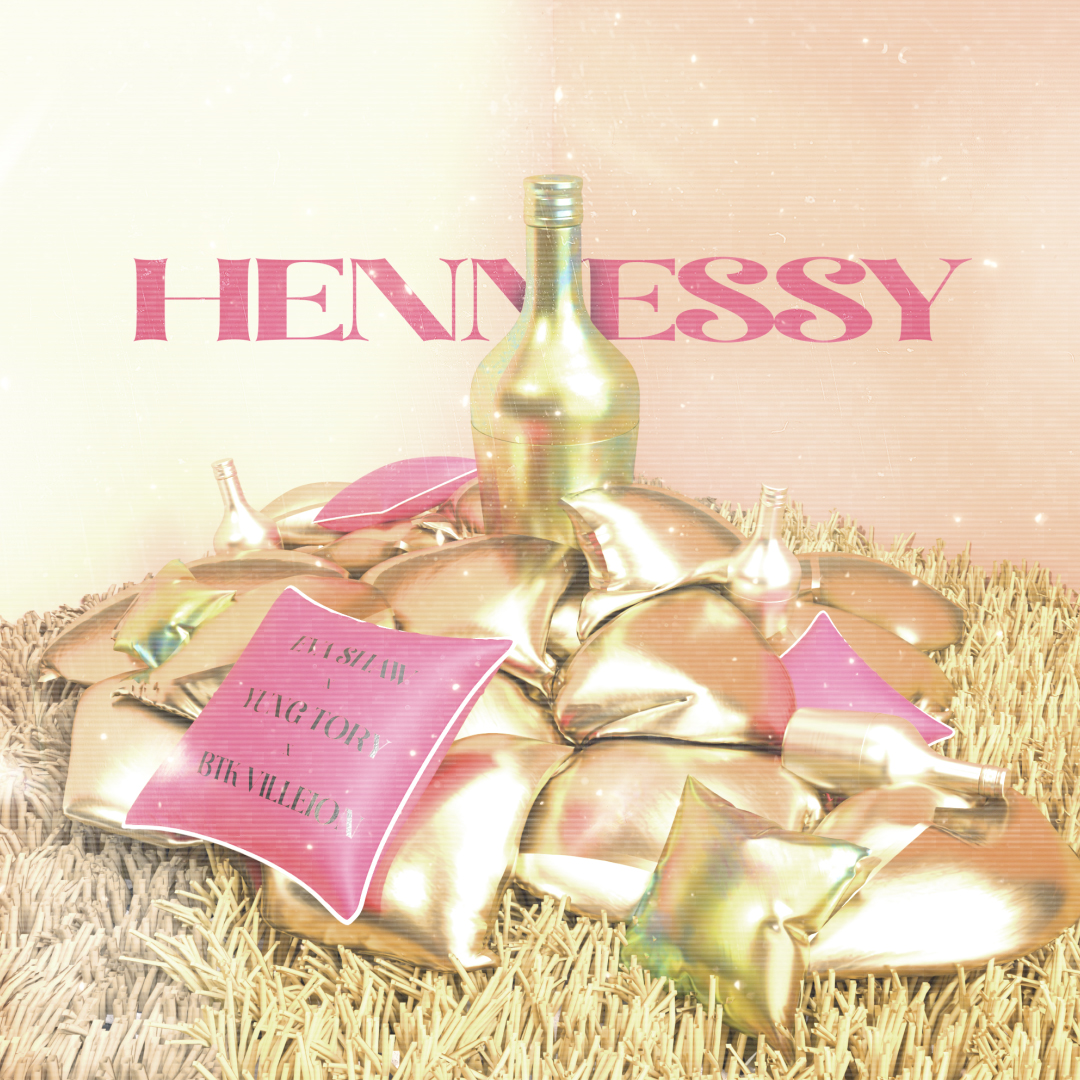 Eva Shaw present "Hennessy"
Eva Shaw announces the release of her new single Hennessy today.
Hennessy is an emotional, pop/hip-hop, love-themed crossover collaboration between producer Eva Shaw and rappers Yung Tory and BTK Villeion.
A creator and fashion fan, Eva also announces the launch of her new fashion brand VEHEM together with a limited run of designer ski masks on Monday 15th February 2021. Having collaborated previously with brands such as G Star, this is the first time that Eva has branched out on her own with this new fashion venture. The skimask headwear is designed with an animated expression, with the 'mouth' section pulling up over the wearers mouth for optional face coverage. "I wanted it to feel futuristic and I got inspired by aliens for this design" Eva explains "The mask is both funny and scary at the same time. My fellow DJ Steve Aoki actually just ordered one and I can't wait to see it launched". The website VEHEM online will launch on Monday 15th February 2021.
Toronto born Eva Shaw is internationally recognized as an innovative music multitalent; music producer, topline writer, fashion collaborator, owner of hip hop label Mad Fatti Ent., DJ, radio host- the world of Eva Shaw is always evolving. This new track showcases Eva's ear for a hook, as well as her driving passion for collaboration and creativity. Eva's first single release Charizma was signed by Calvin Harris to his own label Fly Eye. The cut was also premiered by Tiesto on his world renowned Club Life podcast. Eva's first major label release was licensed to Sony Records, featuring Poo Bear who wrote Justin Bieber's Grammy winning song Where Are U Now, and other hits. Eva has created official chart topping remixes for artists such as Rihanna (No. 1 slot on the Billboard dance charts), Ludacris, Fifth Harmony, David Guetta and more.
Yung Tory comes from Toronto, Ontario, and has been rapping music since 2015. He was first noticed by Lil Durk who signed Yung Tory in 2017. He was signed to DefJam Recordings in 2019 and subsequently released his debut album Rastar that Spring. The song of the same name was sampled by Jorja Smith on Be Honest featuring Burna Boy. He released his debut EP Still Here in September 2019. Yung Tory's album was released on Timbaland's label Mosley Music Group.
BTK Villeion is a rapper on the rise who overcame the greatest of odds to be where he is today. BTK is now on a mission to leave a meaningful impact on this world. Upon leaving his home on the Ivory Coast of West Africa and moving to the United States as a war refugee, BTK Villeion and his family faced the harsh life of living in a low-income community in Indianapolis. The environment he was brought up in led him to make the wrong decisions, which eventually landed him in and out of jail. It was during time in prison in 2014, that he would sing to pass the time. His cellmates found interest in his voice and signed him up for the prison talent show. Although not under the best circumstances, his cycle of going in and out of jail taught him how to find solace in music, specifically rap. It was through rough obstacles that the rapper realized his talent for rap and decided to push forward.  Now signed to Eva Shaw's own label Mad Fatti, BTK is prepping a string of hits on the way.