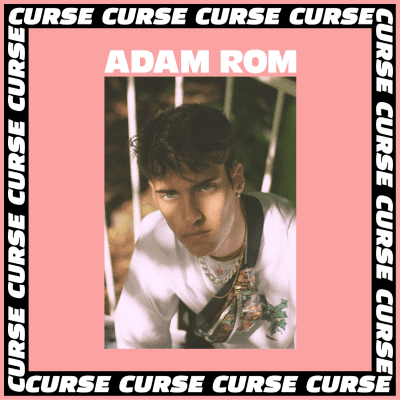 Exciting new talent Adam Rom drops vibrant pop track 'Curse'
Following up on his acclaimed debut track 'Obvious', Self-produced Adam Rom returns with wistful new single 'Curse' set for release on Friday 19th July.
With 'Curse' taking an emotive pop style fusing trap and house elements which are parallel to 'Obvious', the track blends organic and electronic elements, pairing steel drums and piano chords with a sparse trap beat that perfectly complements Adam's effortless vocals.
"Curse' is pretty much about when relationships go wrong – and the head vs heart scenario that comes up so often during those uncertain times," Adam explains. "I think that feeling of inner conflict is super relatable, it's something so many people have been through and I wanted to get that across with this record."
Taking influence from globally recognised star Justin Bieber and electronic production artist Mura Masa, 17 year old Adam Rom released his debut single 'Obvious' back in May, which has racked up over 200,000 streams on Spotify and YouTube collectively. The animated record was featured as Best New Pop on BBC Radio 1 and subsequently went onto secure multiple plays and support from BBC Radio 1's Scott Mills who said, 'If Justin Bieber did that, that would be a worldwide smash'. 'Obvious'also reached the top 40 in the Shazam Top 200 charts after being played on hit ITV2 reality show Love Island, with Adam looking poised to become a leading light of the British music scene.
With fruitful influences from his family throughout his youth, Adam's musical journey began when he picked up a guitar aged 12, the drums and piano soon followed, and when he was then introduced toLogic Pro X production software, it felt like a natural progression. Armed with the skill-set needed to create his own music, he first began penning lyrics and recording tracks in the summer of 2017 and is yet to look back.
Set to play his debut gig at fashion festival Tokyo Girls Collection in Japan on Friday 9th August, Adam Rom proves he is a young talent in possession of all the attributes necessary to become a star, with 'Curse' representing the next exciting chapter in the story of Adam Rom.
For more information on Adam Rom, please visit: