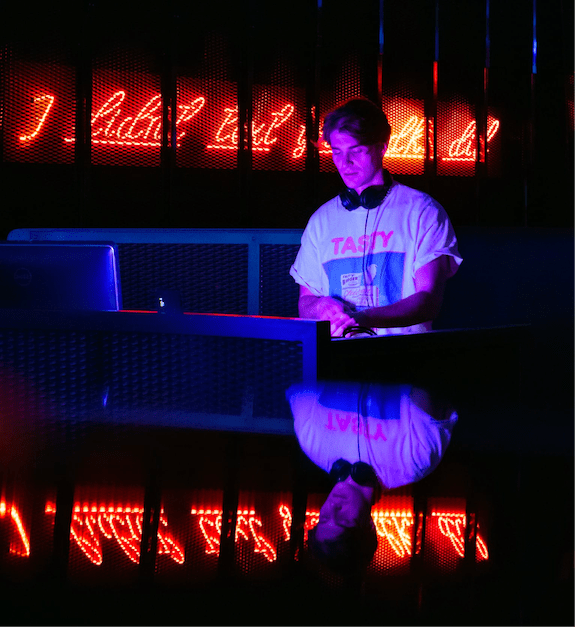 German electro-pop star Phil Soda gives us a the low down on his latest single 'Look Back'
In his short but successful production tear, Phil Soda's already planted strong foundations on established labels ChillYourMind, Mr. Revillz and Selected. A self-taught producer and DJ, his releases on those imprints have accumulated millions of plays within just a few months. Additionally, fans and music artists have become familiar with Phil Soda and his taste in tracks through his Soda Pop Playlist on Spotify. Across his socials, Phil Soda has amassed a large community of fans that includes more than 1.4 million TikTok followers and 195k Instagram followers.
Marking his first single under the Columbia Germany banner, Phil Soda drafted in 21-year-old artist Thandi to deliver a sombre tone to the pulsating, nocturnal energy that 'Look Back' emits.
We caught up with Phil to hear more about his career and latest single.
Q: Hi Phil, welcome to IHOUSEU! Congratulations on your latest single 'Look Back' with Thandi. It's a great track. Can you tell us how this song came about and how you and Thandi ended up working together on it?
A: Thank you, I'm glad you like it! Look Back actually took a long time to finish, about a year, I guess. I had the first rough draft finished and was looking for new singers and songwriters to work with when I found Thandi. So I contacted him, sent him the draft and he immediately had the first ideas for the verse and recorded it. That was about 95% of the track but what made it take a year were the last 5% with some minor changes here and there.
Q: Have you played it in your set to a crowd yet? What was the reaction from the crowd like?
A: Unfortunately I haven't played 'Look Back' to a crowd yet. I played it on my twitch livestream and the feedback was very good.
Q: How did you get into music production & DJing?
A: I was always inspired by Djs and Music production. I tried myself out and kept doing it. Last year I decided then to finally release my first track and since then it was all worth it.
Q: And how has your sound evolved over this time?
A: I tried different types of songs. Some have a happy warm vibe, some have a darker mysterious sound. I don't like to stick only to one sound.
Q: Who are the artists that inspire you musically? 
A: I wouldn't say that I have one specific artist that inspires me since that would literally make me sound like them. I'm my music taste has a really wide range, artist wise and genre-wise.
Q: As a DJ, what events are on your bucket list to perform at?
A: My goal is to play on the biggest stages in the world as for example Tomorrowland, a German festival called Parookaville and of course Las Vegas
Q: How would you summarise your 2021?
A: I would summarise 2021 as a very exciting year. I travelled a lot, got to know many people from the Music industry. I signed to major label Sony, Columbia and released new music. So all in All it was the best year of my life so far. I can't wait for 2022!.
Q: And how is your 2022 shaping up? What can fans expect from you?
A: My fans can expect a lot of new music, also with collaborations with other artists. And hopefully, corona lets me play some shows, haha.