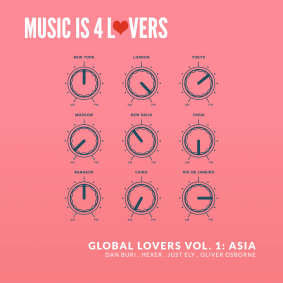 Global Lovers Vol. 1: Asia
Hot on the heels of their Jay Blakk remix package, US record label, music blog and party brand Music is 4 Lovers launch a new series that shines a light on dance music's global sound. To kick things off, Volume 1 looks across the globe to Asia.
The compilation begins with a spacey groover from Just Ely, based out of Phuket, Thailand. His loose limbed drums and hits get you moving as warm bass and serene pads light up the grooves and whispered vocals add sensuality. Next it is to Oliver Osborne, a producer from Singapore who picks things up with a bouncy jungle jam. His popping drums and vocal yelps are brilliantly arresting and will ensure the floor blows up.
The heat continues on a blazing techno tune from Bangkok-based artist Hexer. The precision synths bring a feeling of robot automation to the cosmic and journeying drums that take you on a real adventure. The inaugural sampler concludes with another Bangkok artist Dan Buri. His slow-mo beach vibes are laden with languid synths and vocal chants that sink you in a perfectly deep house reverie.
This innovative release has already had early support from names like Âme, Piem and Horse Meat Disco.
Be on the lookout for more Global Lovers volumes to come from Italy, Australia, Ibiza, NYC, California, and more.
Tracklist:
1. Just Ely – Play It Again (Original Mix)
2. Oliver Osborne – Fog (Original Mix)
3. Hexer – The Loop (Original Mix)
4. Dan Buri – Andaman (Original Mix)