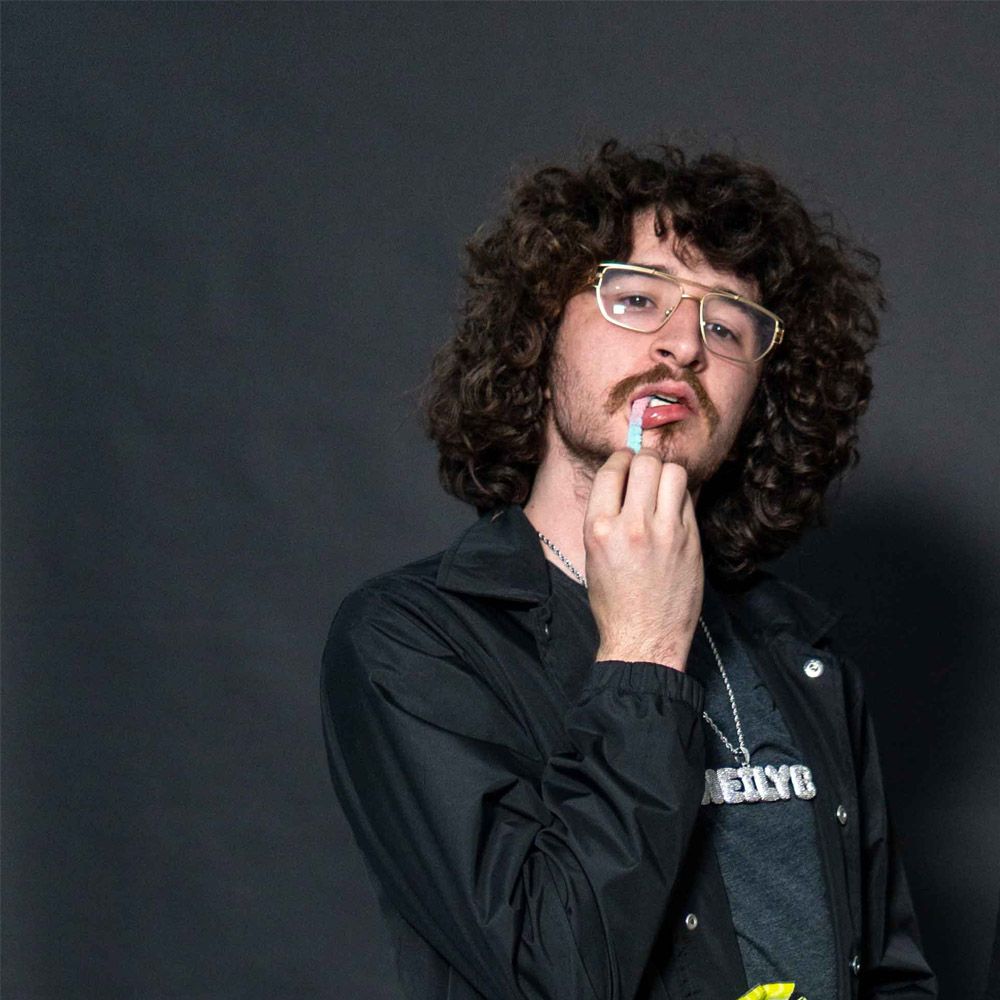 I House U Meets: Bagel-loving Chicago star Heily Beatz
"A set you won't forget!" Heily Beatz (Hi-lee Bee-tz) is a Chicago-born and raised underground hip-hop and EDM cross-genre DJ sensation who has been making a name for himself in Chicago's experimental music scene over the past 7 years.
At just 25 years old, he has worked with various Lyrical Lemonade artists and is the Lead Producer & Engineer at 4835 Studios. Heily's toothy grin and friendly demeanor have helped him form close collaborative musical relationships with Joliet rapper and engineer IGoByLC, and Ethereal R&B singer Morgan Gold. His production bonafides are further evidenced by his work with: Elevatd, No Montana, Dead Weight, and Ellis D to name a few. Heily's Chicago-roots run deep, with Chance the Rapper's Acid Rap and Twista's Kamikaze as his introductions to hip-hop. Being the eclectic figure that he is, Heily's work is further influenced by artists spanning from Lil Durk, to FKJ, to Led Zeppelin. His iconic mop of curly brown hair and tight control over sonic spaces has graced the stages of legendary venues such as: House of Blues, Metro, and Subterranean.
With his first label-released single from Pharaoh Phonix (2022) titled "Big Moves" amassed well over 30,000 streams on Spotify within the first few weeks of its release, Heily is ready to continue taking the dance music scene by storm as a charismatic curator who's unafraid to dip his toes into any genre that will get a crowd moving to create "A set you won't forget". We figured it was about time we dipped into Heily Beatz's bagel-loving world…

Hey Heily, how's it going? Can you tell us where in the world you are right now and what you're doing?  
I along with Morgan Gold & her fiancé/main producer reside in the heart of downtown Chicago and we work out of our resident studios (4835 Studios & 2Queen). We spend our collective days working long hours on not just producing entrancing and progressive music, but collaborating with other artists through engineering and song writing. Because of our busy schedules, the few times you will catch us out side of the studio is when we are booked for a show at anywhere from a DIY spot to legendary venues including Jay Pritzker Pavilion and House of Blues.
For our readers who aren't familiar with your sound right now, can you break it down, and also tell us what artists have inspired you so far?
With inspiration from The Weeknd, 070 Shake and Kalani, Morgan has coined her sound as a new genre "Etherial R&B", because of the ambient and intimate sounds she produces. The sound of my brand "Heily Beatz" is developing in two directions (beats & dance tracks). Starting my old brand, my focus used to be solely on doing what ever it takes to be a career DJ. But after I met DJ Nonstop (DMX's DJ) at a Sprint store, and I started to learn a few tips from him, he quickly recommended that I focus a little more on production than DJing. He explained to me that in his time, a DJ can go a long way. But in today's market, the producers are the people who tour and work with the most artists. From then on, I started working on my skills of producing beats and dance music from hobby to career. Initially I wanted to solely produce dance music, but through engineering pretty much exclusively Hip-Hop and R&B artists, it became expected of me to create beats not only prepared, but on the spot too. While doing that, my passion for House and Bass music never withered. Since I was taken under the wing by ELEVATD, my sound turned into tracks that currently have a heavy focus on the low end because I like how it physically moves the body when it is at a speedy tempo, and conversely how feels like a hug when played at a laid back pace. With that in mind and my love for dance music, every track I produce in any genre always has an element where someone can move their body or head to it regardless of the message.
Congrats on 5309. We're curious to know, what does 5309 stand for? And what's the story behind the song?
It's about sex. Lesbian sex. Lesbian sex in a car. Being Morgan's DJ, it is expected for us to have at least one song out together, so we made it happen. I was at my studio (4835 Studios) and I was playing around with ambient chords and sounds, and eventually that night, the composition just kind of fell together. I immediately heard Morgan's voice on it and sent it to her right away. I always name songs before sending them for archiving purposes and I named it "Cigs After Sex" because that is the vibe the beat gave me.
I guess that name gave inspiration for the lyrics because when we recorded the song with her fiancé 730 Skylar at their resident studio (2Queen), I asked what it was about, and without missing a beat Morgan excitedly said "Lesbian car sex, and we should call it 5309!…" Why the title? "…Because of 8675309". Given that all 3 of us like women and cars, there was no hesitation to agree with the concept.
You worked on the original edit with vocalist Morgan Gold, and you bought Elevatd in for the remix. You all hail from Chicago – do you know each other well or is this the first time that you've worked together?  
Morgan Gold and I met in a L.A.S.E.Rs and Holography class at Columbia College, and we would take the CTA home to our prospective red line stops; which is where we did most of our friendship kindling. But it was not until about two years later that we began having a strong working relationship. As for ELEVATD, I was working as  Chicago's top rated bud-tender (according to google reviews) at a medical dispensary and my coworker (IG: @berny.prproj) found out I was a EDM producer and he was quick to let me know that he shoots videos and photos for these really cool dudes he met in his frat years ago. To be frank, I almost picked up a job at a prominent studio, but decided to work at the dispensary instead. If I did not do that, I would never have met my now EDM mentors. But anyways, I started working with Dennis (left deck) from ELEVATD to help me with re-branding from "DJ Heily B" to "Heily Beatz" and organizing DJ sets. It led me to doing a live stream in their studio (@homemusicprod) where our friendship and professional relationship became solidified after I met and showed Chris (right deck) a bass song I made called "Thriller" that was inspired by my favorite song by them "Decimation".
After that night, I asked Chris to help me mix by heavy track "Dienasty" at my studio, and in that session we learned that he lived right down the street from me. From then on, because our studios are 3 minutes away from one another, we began carpooling and hanging out on a regular basis. Naturally through hanging out with both ELEVATD and Morgan Gold, both names came into conversation and both brands became fans of each other's work. At the end of the day, my policy is: "My network is your network. What I know is yours too.". When "5309" was in the works, Chris asked me to play it for him, as we always share WIPs and it instantly clicked that this remix must be made. From then on, the song became the first track all 3 of us worked together on. Debuting our collective professional relationships to our unique audiences.
The remix came out the same day as the original – why did you decide to do it that way around? And do you feel you personally managed to step outside the original edit enough to bring a new perspective?  
We simply wanted both versions to get the same amount of love. While the songs hold the same vocals chords, and theme, they have contrasting vibes. One provides a dreamy lullaby essence while the other gives an adrenaline pumping motion. As bass heads, we all like that the first song brings your guard down only to ravage it in the drop of the remix. It ads more life to the project. The remix is definitely a step out of the norm for everyone involved. Not only is it the first (of many) EDM track Morgan Gold is on; It is the first collaboration with ELEVATD, Morgan Gold & Heily Beatz and all of our first official Drum & Bass tracks. This idea opened the door for all of us to branch out to new directions within our brands. I mean it seems to be working because the other day I had people from Tokyo telling me how they can't stop playing the project because of its grasp and unique qualities. I didn't even know any of us had footing there.
You've been a growing force on the Chicago music scene. Can you give us more of a low down on what's hot there right now?  
What's hot right now is "Girl's Night" (@girlsnightchicago). Quick shout out to Eddie from @thehummingbyrd for getting the connection solidified. It is every 3rd Monday of the month at Subterranean in Wicker Park (Chicago). Hosted my Morgan and our friend No Montana (look up our single "Leg Room" on your streaming service) and sounds by @squadooble; The residency's primary objective is to support and show case the hottest female (usually LGBI) singers & rappers with the occasional stand up comic. Everyone there is always very supportive, and Morgan and Hannah do a great job with A&R because every act is worthwhile. Besides, I don't know about you, but what better way to wash away the Monday blues than to have a beer while surrounded by a room full of talented women?
There's so much prestige and legacy linked to the electronic music scene in Chicago. Do you feel any pressure to represent the next generation of music producers coming out of the city?  
I do feel pressure to represent the next generation. After being taken under ELEVATD's wing I have been learning not just what it means to produce cutting edge music, but how to present it to an audience who is always looking to consume what is new and zesty. I find most people have one or two genres that they are known for and they stick with it. It works for most, but I believe with my DJ roots it is important that my shows and releases present my fans and potential conversions with songs that are not only expected, but also out of all of our comfort zones. Because at the end of the day, I want people to hear what I put out and not just feel the vibe, but be immersed in it from Tear Out to Downtempo. Something I do find interesting though is the same crowd who gets wet for Morgan's etherial tracks is the same crowd who likes to ride rails. I find that people who like electronic music in Chicago tend to have a taste for more than one genre. For example: people who like bass music tend to love house too. Except for House heads. Chicago is the home of House music, so that crowd tends to be very hard core in their dedication to that genre and will stop dancing the moment the song leaves the 120-132bpm range. While that is a direct contradiction from my previous statement, that seems to be my only outlier because even my trap artists who come to my studio with Lil Durk and Polo G youtube beats want to come rage at my underground raves. Like I said, EDM is a vibe and it is open to all.
If we were coming to town for a night out with you, where would you take us and what would you make sure we didn't miss out on (feel free to include bars, diners, skateparks etc, anywhere that people from outside the city wouldn't know about)?
Have you ever been to Build-A-Bear? Just joking. If you came in on the 3rd Monday of the month, we would prepare to go to Girl's Night. First, I'd suggest grabbing a drink at this crusty cash only dive called "L&L" which is creepy for no reason other than John Wayne Gacy allegedly used to drink there, and give you a "Chicago handshake" which is an Old Style beer to wash down a shot of this musty liquor called "Malort" which is a Chicagoan delicacy. After that, we would be loose enough to hit the skate park down town on Roosevelt and burn some calories for dinner later. Once ready for some food, we would smoke Illinois grown cannabis for a bigger and badder appetite for pizza at "Dimo's" in Wicker park. A hip-to-the-jiive local pizza circuit with great vibes and interesting toppings  It just so happens to be down the street from "Subterranean" where would catch Girl's Night around 9pm. After watching the dope show before turning in, there is a high chance if I am not playing a local club, my friends are, and we should check out places like "Emporium" an arcade bar with really cool live music. To be honest, after that, I'd be spent and say "see ya later".
What's next for you?  
Stay tuned for Morgan Gold's second album in 2023 and my 2 track bass EP "Sub Club" (pre-save in IG bio) in January! For updates on another moves like shows and gigs, stay tuned on our Instagrams (@ELEVATD, @heilybeatz & @morgangoldmusic). Oh yeh, Heily Beatz cozy march is out now on my website (in IG bio). Super cozy hoodies are a great gift for not just your self, but your S/O who keeps stealing yours.
Finally – what's with the bagels??
ELEVATD asked that in the same exact way. Morgan and I both love bagels to a fault and the music video is sponsored by local punk band's (@totallycashed) side hustle "Totally Bagels". Shout out to Trash for making the best bagels and cream cheese in Chicago's punk scene. Besides, look at em. Doesn't their aesthetic and soft delicious essence embody the theme of the song?