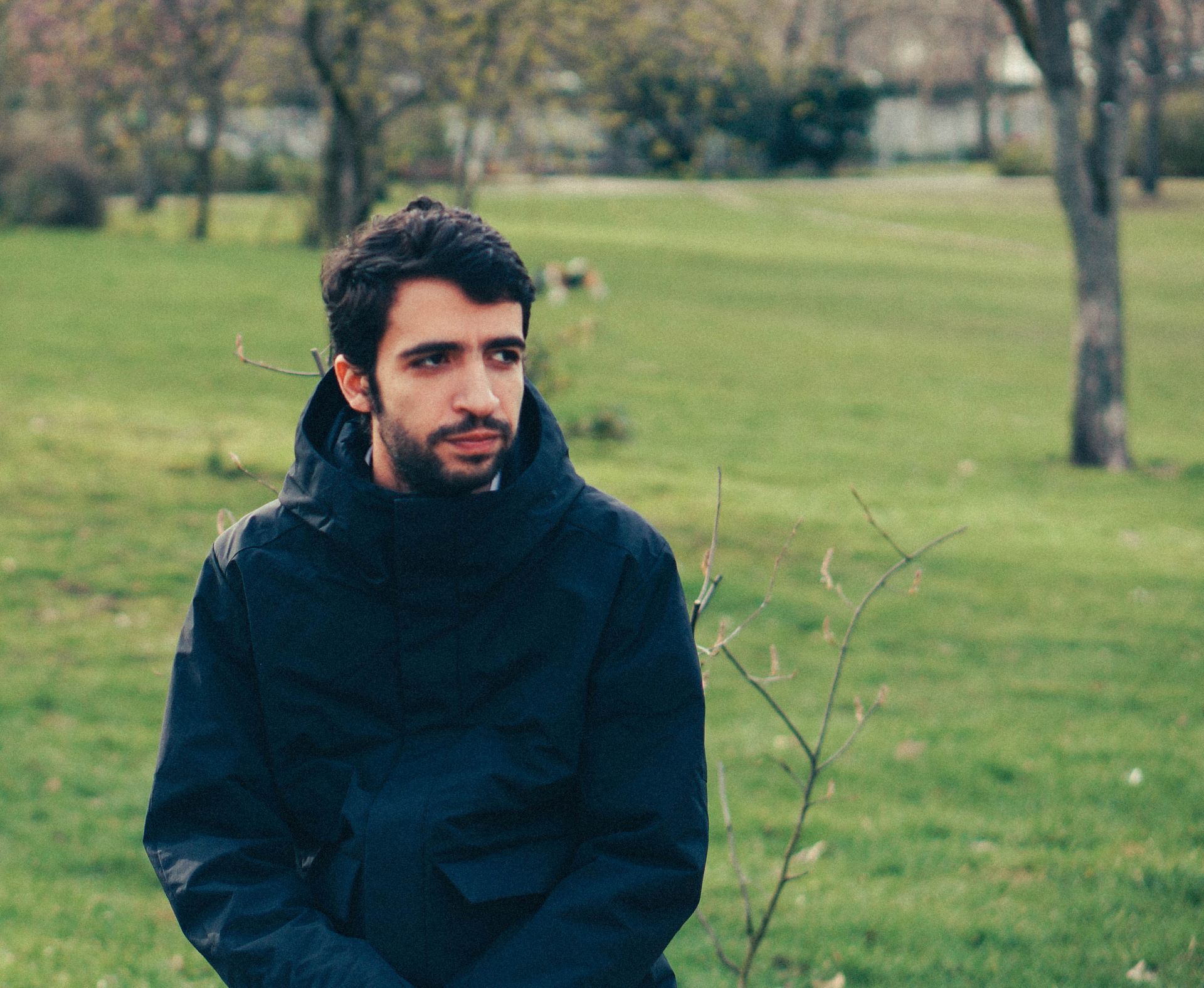 Interview: All Day I Dream's Fulltone on Music Architecture
Egyptian talent Fulltone has been steadily building his reputation in the deep and organic house spaces; in the past five years alone, he's signed music onto the likes of Seven Villas, Kindisch, Akbal, Shanti Moscow Radio, and Voltaire, to name a few.
His latest arrives on another powerhouse: All Day I Dream. Following two various contributions to the label's beloved Sampler series, the natural next step is a standalone release from the producer. Love In Space is a well-designed record, comprised of four thematically connected, yet distinctive tracks. Its melodious layers feel particularly expressive, with emotions running high from start to finish. Not to mention, Fulltone's employed a variety of instrumentals that lend themselves perfectly to the spacey theme—from sweeping string sections, to choice percussion, to futuristic synths.
Fulltone's knack for sound design may very well come from his extensive background in actual design, as a professionally trained architect and graduate of the prestigious Faculty of Fine Arts. Though his fulltime profession lies entirely in the music world, it's clear he applies all his lessons on structure, harmony, and balance into the sonic formats he creates under today. Curious to hear more about these parallels and his creative process in general, we sat down with Fulltone just ahead of his grand EP unveiling.
We heard you used to be an architect before finding your way into music. Can you apply any of the lessons you learned in building design & structure into how you construct a piece of music?
Yes it's true, I graduated from the Faculty of Fine arts architecture department in 2011 and worked as an architect for 3 years before taking music fulltime.
During college years our professors used to always tell us that "architecture is frozen music" & "architecture is the mother of all arts" which I kind of believe is true. Even though I didn't end up working in architecture forever, it still is the best thing that ever happened to me because it has taught me so much about art & science. In my head I believe architecture and music have so much in common in the sense that they are both "part art & part science;" in architecture you have the creative part of the design, form and use of space, but you also have the science "mathematical" part which is the proportions, loads, structure…etc. The same way in music you have the creative part of the composition, sound design, arrangement but you also have the "science" part which is managing the frequencies in the audio spectrum, mixing & mastering.
There's also a saying that "architecture is not the walls but it's the spaces between the walls," also the same way with music I feel like it's the spaces between the notes that create a tune or otherwise if everything is playing the whole time it would become just noise!
You come from a very rich culture, in which many of its instruments + music styles have been sampled in organic/melodic house. How has your homeland influenced your musicality? How did you find yourself creating melodic house in general?
There's no doubt that I'm a product of the environment I grew up in (country, family, friends, places, food, culture…etc) and that also in my head the definition of culture or civilization is an interaction between the human being and the environment around them. So yes, I'm sure growing up and living in Egypt had a huge impact of who I am now. But having said that I also didn't grow up listening to Arabic music because my parents didn't really listen to Arabic music. I mostly grew up listening to bands like Beatles, Pink Floyd, Camel…. that's the kind of music we had in our house and of course this helped shape my taste in music. I started taking piano lessons when I was around 8, learning how to read notation and playing classical pieces which wasn't at all exciting for a kid; it's more like, "ufff I have this stupid piano lesson tonight at 8!!" Then later on when I was around 14 I got my first guitar and that was really when I started to get into music and learn that it's possible to compose my own tunes and maybe record them with a tiny microphone on the computer. Couple of years after that I was introduced to Ableton 6 and slowly started migrating towards electronic music because the sounds were infinite and way more interesting to me than the basic band formula (guitar, bass, drums, vocals). So for me it was a journey that started with guitar in a rock band and now I have my own studio filled with acoustic instruments and a lot of electronic synths and drum machines
With that said, what are your thoughts on white DJs sampling other cultures – do you feel it's cultural appropriation? Is there a more thoughtful/respectful way of utilizing samples (especially if from a sacred hymn) in one's work other than deciding it sounds good and just tossing it in?
There's no doubt that sampling is an art in itself and finding samples and manipulating them is very exciting and interesting. However I sometimes don't get it when for example I find a foreign guy making a track using an Arabic sample and when you ask them have you ever been to this country or this or that, it turns out that it's a sample he/she found on YouTube and sometimes it could be a sample of a sacred prayer from a culture somewhere…it just sometimes feels off to me. I'm not saying I don't use samples but I try to be conscious about the samples I use.
Tell us more about the Fulltone sonic evolution in general. We read elsewhere you grew up listening to progressive rock…does this play into the music you gravitate toward today?
I started with playing guitar then got into music production (Ableton 6 at the time) then got into playing exclusively live sets sometimes alone and some time as a band, then into DJing because it's so much fun to do and gives me the chance to express my self/taste for longer time duration because the maximum I can play a live set for is probably 90 min.
And of course my background plays a huge role in my taste in music; l like to feel something when I listen to a tune. It doesn't have to be sad or happy or this or that, it could be a groove that makes me feel I want to move. But for sure I need to feel something!
What's your go-to tip for breaking through writers' block, and have you applied this trick to any recent music of yours?
Honestly—I have no idea! I don't know where inspiration comes from and why it doesn't come sometimes. I know that my input greatly effects my output, but I mean sometimes I'm in a down mood and I go to the studio and I end up with a happy uplifting tune that kind of fixes my mood, sometime I go to the studio super active and cheerful and I end up with a mellow, melancholic track, and other times I end up with absolutely nothing! But the one thing I learned is that working more produces more music and also that hard work beats talent anytime. Of course both is the perfect combo, but I learned that I can never rely completely on one of them. It's both hard work and passion that drive me to go to the studio everyday and work on new music.
We know you love your hardware when it comes to production. Is there a particular piece of gear you own that completely changed how you approach musicmaking or even influenced your sound? How so, if so?
Unfortunately, I'm one of those people yes. I love music equipment in all its forms…synths, guitars, drum machines, microphones, preamps, speakers! I just love them all and I'm constantly reading and researching new equipment but turned out it's a very expensive interest that needs a lot of money and space. I'm not saying that equipment is everything, but to me they're just tools or more colors
In my pallet. The one piece of equipment that I absolutely can't live without is Ableton Live. But if I would have to choose some of my toys I would choose: Elektron Analog rytm, Prophet 6, Moog Sub37, Gibson Les Paul, Mojave audio 201 fet microphone and my Neumann speakers
You're an artist who's open about having a full time job while maintaining your DJ career on the side. This path is one that many don't often consider, feeling that they'd only be fulfilled if they're surviving completely off their electronic music careers. Can you speak to the benefits of DJing/producing as a side job? How does the stability of a regular job empower you as an artist?
I think I was extremely lucky with this—when I graduated in 2011 I was working as an architect fulltime with music on the side, then slowly it shifted to being fulltime music and part time architect, then in 2016 I made the shift 100% to music. I now own a music studio company with two partners and we mainly make music for TV commercials, sound design, record, produce, mix and master music for artists and bands. And this really gave me the freedom of not depending financially on Fulltone because I feel like if I depend financially entirely on Fulltone I'll have to start accepting anything I get just because I need the money, but this way I can really work at my own pace with less pressure.
Let's talk a bit about Love In Space—what sparked the concept/idea for this EP, and how did it come together?
I started working on the music for Love In Space end of 2019, I had a few gigs lined up and I always like to make new tracks for my live sets; luckily I was in a creative mood at the time and these four tracks were born, I played them live a few times and the feedback was amazing, kept tweaking them until I was 100% happy with them and here we are now
The name "Love In Space" came when I played the tune to my wife and she was like I love this sound, it sounds like buttons from a spaceship playing a melody.
How do you go about choosing labels to submit music to, and what makes All Day I Dream stand out in your opinion?
I've been in love with ADID since day one! I just love music that works on both the dancefloor and on the couch at home and All Day I Dream for me is exactly that, it's house music with emotion which I really connect with.
Any final words, or bits in your pipeline you'd like to tell the readers about?
I just took my first vaccine shot yesterday and hoping that it's a one step closer to reuniting with all my friends around the globe and to playing music to live audience again.