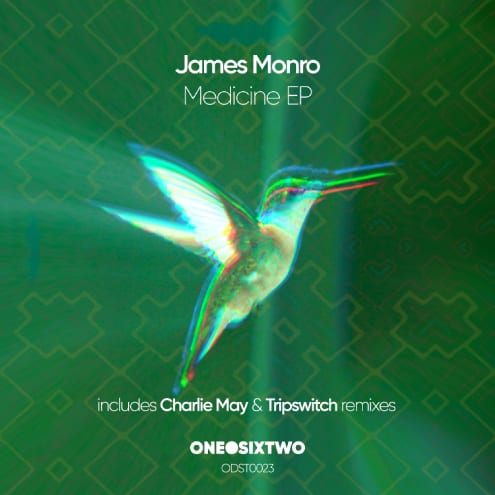 James Monro returns to onedotsixtwo with his superb 'Medicine EP'
Tripswitch's onedotsixtwo platform continues to build its global vision of bringing together the finest "Proper Progressive" House producers, with the return of Brasil-based James Monro to the label with his 'Medicine EP'. This latest essential package is further boosted with masterful remixes from legendary mousejockey and studio orc, Charlie May, and the main man himself, Tripswitch, both on jaw-dropping form.
A story of a profoundly inspirational and transformative awakening forms the basis for this EP. James dived into his studio within days of participating in an Ayahuasca ceremony (traditional spiritual medicine) with a Brasilian tribe in the Amazon basin, with a view to trying to capture a hint of the deeply affecting emotional insight and sense of healing he experienced. As a music producer he was also intrigued by and tried to capture the subtle sonic expansion that took place during this ritual.
As a result, the 'Medicine EP' is a brief mindful dive into the mysteries of plant and tribal based medicine, expressed via an intersection with technology. 'Medicine 1' rides on an intricately layered hypnotic groove, laced with an unrelenting acidic undertow, as it steadfastly expands towards an ever-spiralling emotional insight into a hidden world. 'Medicine 2'expands the rhythmic theme and expands James's exploration of depth and melodic harmony within the sonic process. As an aural experiment aiming to capture something of the Ayahuasca experience, both tracks deserve repeated focused listening.
As one would expect from a renowned studio polymath, Charlie May implements a respectfully bold experimental vision for his remix of 'Medicine 1', diving deep with a perfect low-slung, quirky dub tribal groove. It is then left to Tripswitch to create a suitably euphoric finale to the project with his remix of 'Medicine 2', teasing out and maximising the track's tension with an epic breakdown (or two) and his trademark soaring melodious atmospherics.
James Monro is a true sonic chameleon, who constantly blurs the boundaries between simplistic style genre boxes. He's an artist whose boundless creativity sees his music released on a demonstrably diverse spectrum of labels, from Kompakt to Bedrock to Bonsai and back again. He also runs the legendary Flying Rhino Records, writes under numerous aliases and is loved and adored by club audiences around the world for his DJ sets encompassing a unique and seamless mix of deep, hypnotic music that aims to create a space to come together and be transported to a place of pure, pulsating energy and euphoria – making music fun and essential food for the soul.
Beatport: https://www.beatport.com/label/onedotsixtwo/62965
onedotsixtwo Info: http://onedotsixtwo.com